Pedal it Pink returns to Liverpool
FOLLOWING the success of the 2009 event, Breast Cancer Campaign's Pedal it Pink is returning to Liverpool on Sunday, 18 April 2010.

The women-only cycle ride, sponsored by Santander, has now gone nationwide but organisers and participants are especially excited about the prospect of returning to the site where Pedal it Pink first began; in Sefton Park.

Over 500 women dusted off their bikes to take part in the first Pedal it Pink and there are hopes of increasing this number in 2010. One woman that is determined to take part again is Diane Alderton from Allerton, who completed Pedal it Pink last year after she was diagnosed with breast cancer in October 2007.

After having a mastectomy followed by reconstruction and chemotherapy, Diane is now on the road to recovery. She said:- "I did the half marathon and absolutely loved it! The atmosphere was fantastic and the beautiful sunshine on the day was an added bonus! It was great to see lots of women cycling for this very worthwhile cause and I'm stunned by the generosity of those who sponsored me £1,000! I can't wait to head back to Sefton Park this year and do it all again."

Someone else who was in the starting line up last year was Olympic cycling champion, Victoria Pendleton, who is an ambassador of Pedal it Pink and took part in the Liverpool event with her mum. She said:- "I really enjoyed the event, it was refreshing not to ride on a road for a change. It was so good to see so many women out there supporting such a great cause and everyone was really supportive of one another, clapping and cheering each other on. What a great way to spend a sunny Sunday afternoon!"

Pedal it Pink has a variety of cycle routes to choose from so there is something to suit all abilities. Beginners can opt for the family 5K lap (which is also open to the men and children in your life) and those wishing to push themselves that little bit further can select either a half (13.1miles) or full (26.2miles) marathon distance. All routes are completely enclosed within the park, so it's safe, traffic-free and suitable for all existing and aspiring cyclists.

Samantha Gold, Senior Events Manager at Breast Cancer Campaign said:- "We have raised over £100,000 so far through Pedal it Pink and would like to encourage you to help us continue to add to this amount by joining us for the second Liverpool event. Not only is cycling a great way to stay fit but the challenge of the event is sure to make it a fun day out for friends and family with all proceeds going to a very worthwhile cause."

If you would like to register for one of the Pedal it Pink rides and help put the brakes on breast cancer, please visit:- breastcancercampaign.org, email or call:- 020 7749 3700.

Cycling is a great form of cardiovascular exercise, which helps to burn fat and if done regularly contributes to a healthy lifestyle. Cycling is also great for toning leg muscles and can burn up to 500 calories an hour.
To get a copy of the course layout please click here.
Hayley is a very surprising contestant!
WITH the Miss Southport finals coming up on 19 May 2010, it is interesting to note that one the contestants, Hayley Carvel, aged 24 is in the last year that she can enter the competition. Hayley is a really interesting as she works as a stewardess on a billionaire's private jet. She currently works 3 weeks on and 3 weeks off. She has also worked in lovely Moscow! She has also worked for the Prime Minister of Lebanon, so she lives a real jet setting life! Hayley is hoping she will be successful and go on to represent her region in the Miss England finals. Good luck Hayley.
HIPS THE HOT TOPIC AT HOSPITAL EVENT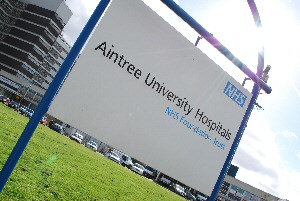 ONE of Liverpool's top joint surgeons discussed the past, present and future of hip replacements at an event at the Clinical Sciences Centre on the University Hospital Aintree on Tuesday, 13 April 2010. Mr Simon Scott, a Consultant Orthopaedic Surgeon at Aintree University Hospitals NHS Foundation Trust, talked to members of the public about the significant developments made in hip replacement surgery. His talk included the introduction of bespoke joints based on lifestyle, age and activity, as well as the progress that's been made in surgery times, post operative care and general surgery recovery. The event was part of a series of talks at the hospital aimed at helping the public understand the role they play in their own health. Joint replacements are one of the hospitals most popular types of surgery, and is increasingly common amongst young people.