THE ARMY JOINS THE FUN AT LIVERPOOL PAGEANT!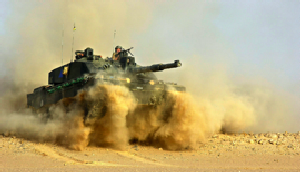 "WELL it is called the Pageant of Power!" commented Event Organiser James Hall as he revealed that an awesome Challenger 2 Main Battle Tank will be joining the race and rally cars, motorbikes and power boats that will converge on the Strand, Liverpool cpop.co.uk/liverpool-pageant-of-power on the evening of 25 May.

"We've always had strong links with the Army at the Cholmondeley Pageant of Power (cpop.co.uk) and thought it would be fun to replicate at least part of that flavour in Liverpool. We will be raising money for the Help For Heroes charity so it all ties in nicely. It certainly will be spectacular to see the Challenger 2 in action on the Strand!"

The Liverpool Pageant will be 2 and a half hours of frantic, noisy action on land, sea and air starting at 7pm, 25 May when the roads will be closed to normal traffic. Entries will include Le Mans winning Jaguar, Bentley and Maserati cars; a collection of modern supercars from Lamborghini and Ferrari as well as the latest models from Cholmondeley sponsor Bentley. 2 wheel heroes Neil Tuxworth and 12 time TT winner Charlie Williams will be on hand with modern and classic racing motorcycles.

"With super racing powerboats and jetskis in the docks plus a squadron of helicopters and the incredible Breitling Wing Walkers in the air this is an evening that Liverpool is unlikely to forget! I guarantee that this will be one of the most spectacular events that even this great city has promoted. I can't wait for the action to start," said Mr Hall.

On the back of the Liverpool Pageant of Power, Liverpool ONE will be running a week-long programme of dynamic events and exciting activities over 22 May to 29 May 2010.

Attractions for kids and big kids alike, include a climbing wall, inflatable assault course and paintball range on Chavasse Park, as well as flight simulators, Aprilia bikes and F1 virtual driver games which will be located throughout Liverpool ONE. The Ministry of Defence will also be at Liverpool ONE throughout the week raising money for Help for Heroes and hosting displays and demonstrations.

Said Estate Director, Chris Bliss:- "The Liverpool Pageant of Power is set to be a thrilling event, the likes of which has not been seen in the city before. It's given us the opportunity to bring a whole programme of new interactive activities to Liverpool ONE which we hope will be enjoyed by families and visitors throughout the whole week."

The Liverpool ONE Pageant of Power runs from 22 May to 29 May 2010, with the city-wide event taking place on the evening of 25 May 2010.

The Liverpool Pageant of Power is a preview of the 3rd Cholmondeley Pageant of Power (17 July 2010 and 18 July 2010), Cholmondeley Castle, Malpas, Cheshire.
For more information about the Cholmondeley Pageant of Power and discounted tickets:- cpop.co.uk/buy-tickets-online from £13.50 or telephone:- 01829 772432.

For more information about Liverpool ONE's events, visit www.liverpool-one.com/website/

Cholmondeley Pageant of Power ticket details...

Paddock Tickets:- £25 – access all areas
Park Tickets:- £15 adult – access to the general park area – excludes the paddock area which includes the start, car and bike pits - £5 child ages 4-15

All tickets bought in advance get free access for 2 children per adult ticket.
All group bookings of 10 or more get 10% off
Camping:- Caravan £20 / night, tents £15 / night
Arts festival honours four centuries of history
A Merseyside arts festival will celebrate the anniversary of a 400 year old landmark. The Prescot Festival of Music and the Arts this year commemorates four centuries of Prescot Parish Church, Knowsley's only Grade I listed building. The church's steeple dominates the Lancashire town, standing at a height of 150 feet and marking the highest point above sea level in Merseyside. Performers brought in especially to celebrate the historic occasion include Professor Ian Tracey, who as a young man was Prescot's Parish Organist. He went on to become Chorus Master of the Liverpool Philharmonic Chorus, and Organist and Music Director of Liverpool Cathedral, as well as Patron of the Prescot Festival since its inception in 2005. Also during the Festival, a performance of Mendelssohn's epic choral work Elijah will be followed by a Tapestry of Music, featuring a 17th century repertoire. But as usual, the Prescot Festival programme will present a variety of periods and genres of music and arts. An evening of jazz with the Swingshift Big Band, a recital of modern music with tuba quartet Tubalate and Songs from the Shows with the ever-popular Birkenhead Operatic Society are just a few other delights lined up for the 10-day event.

"We're excited to be tying in this year's festival with the anniversary of one of the area's most beautiful buildings. The church is one of Merseyside's hidden gems, and we look forward to making it a central theme of what will be – as usual – a packed programme of high quality arts and entertainment." said Artistic Director Dr Robert Howard.

The Sixth Annual Prescot Festival runs from Friday, 17 June 2010 to Sunday, 28 June 2010. The full programme is online.
ARRIVA WANTS MYSTERY TRAVELLERS
ARRIVA North West is inviting senior citizens to become mystery travellers on bus services in St Helens. The company wants to hear the views of older people about their experiences on the buses, and how they think services could be improved.

Michael Watson, General Manager at Arriva's St Helens depot, said:- "We are really keen to recruit some older mystery travellers, because we would like to get feedback from them on everything from the standard of driving to the cleanliness of our vehicles. This will help us to ensure that our services are top notch. Everyone who takes part will be in with a chance of winning a cash prize."

For this initiative Arriva North West has teamed up with Senior Voice in St Helens, which aims to empower older people in the borough.

Norman Roberts from the Senior Voice Forum said:- "We are delighted to be working with Arriva North West to give pensioners the opportunity to have their say about bus services in St Helens. This is an important issue for older people because many of them rely on public transport, and we know our members will be keen to take part and share their experiences as a mystery traveller."

Senior citizens who would like to become an Arriva mystery traveller can pick up a form from Senior Voice at Age Concern, The Mansion House, Victoria Park, City Road, St Helens, WA10 2UE.

For more information about Arriva North West services, please visit:- arrivabus.co.uk.
Southport Country Heroes
SOUTHPORT Country Heroes takes place on Victoria park on the 8 May and 9 May 2010, to raise funds and awareness to the armed forces, Help for Heroes and the Army Benevolent Fund. A two day Country music festival organised by the Veterans Fund it has some of Britons best country stars such as Brian Hughes and the Lonesharks who won best country album of the year. Also staring is local singer Chrissy Byrnes an incredible scouse lady with a great voice. Chrissy will make the stage her own with her talent and humour. The Dirty Hat Band, another favourite from Accrington, a seven piece band will have you dancing, clapping and stamping your feet.

Reets Dance Ranch will keep the dancers on the floor while outside we have a Western Show, American Automobile Club, Trade stands, Army Benevolent Fund paintball and Help For Heroes. Other acts include Settlers Creek, Richard Palmer, Desert Wind, Crown Top Kinks, Donna Wylde and MT Allan. Tickets on the gate or for more information phone Steve on:- 0791 491 8381.
KELSALL CHARITY GALA
EVERYONE in the region is invited to attend the annual Kelsall Charity Gala for some wholesome fun in aid of Clatterbridge Cancer Research on Saturday, 8 May 2010, on Kelsall Community Primary School's fields, Flat Lane, Kelsall, Tarporley, Cheshire, CW6 OPU.

The fête promises to be a Darling Buds of May extravaganza on Kelsall Community Primary School's fields with live performances from the school's choir and band, and the Weaver Dale Dance Club.

The fete kicks off at 11.30am with a 6-a-side football competition for junior age boys and girls, followed by flower demonstrations, karate, a children's entertainer and raffle draw.

The event is organised by the Kelsall Committee, set up 31 years ago by local woman Lilian Lightfoot following the death of her husband from cancer, aged 43. It started very small as a garden sale before she teamed up with local man John Coppack to found the Kelsall Charity Gala.

The Gala itself is like a large garden fete and over its history many celebrities have turned out to open it, such as Ken Dodd, Jean Boyt, Pamela Powers, Nigel Jay and the Duchess of Westminster.

This year, Clatterbridge Cancer Research's Head of Research, Professor Ross Sibson, will be there to cut the ribbon at the official opening at 2pm where he will be presented a cheque of £4,500 raised by the Kelsall Committee over the past year.

Now run by Lilian's daughter Angela Harrop, the Committee has raised over £250,000 for Clatterbridge Cancer Research over the years, helping scientists to better understand the genetic aspects of cancer to find more effective, personalised treatments for patients across Cheshire and Merseyside.

Angela says:- "Since my mum's death from cancer 11 years ago we have tried to continue in her footsteps to help beat cancer and hope to do so for many more years to come. Finding a cure for cancer is a mission close to my heart and I owe a big thank you to my fellow Committee members who work so hard for such an important cause. This Gala promised to be a lovely afternoon, bringing the people of Kelsall together."

If you would like to fundraise for Clatterbridge Cancer Research or join the Kelsall Committee, please contact Natalie Childs-Fielding on:- 0151 343 4300 or via email. To keep up to date with all Clatterbridge Cancer Research events, please visit the charity's new-look website.

The Kelsall Committee also hold jumble sales throughout the year to boost the fundraising total, the most recent in March bringing in £1,200. The next jumble sales in aid of Clatterbridge Cancer Research will be held at the Kelsall Community Centre on Saturday, 10 July and 9 October 2010, from 1pm onwards.

Cheshire and Merseyside has some of the highest cancer incidence and mortality rates in country, so independent charities like Clatterbridge Cancer Research, which receives no government funding, have a central role to play in improving outcomes for patients across the north west.

Clatterbridge Cancer Research funds world class research into the genetic aspects behind the causes of cancer and needs in excess of £2 million each year to sustain its current work – that's £5500 each day needed to support its team of scientists, clinical trials nurses, their premises and equipment such as the genome reader.