2010 Fashion Briefing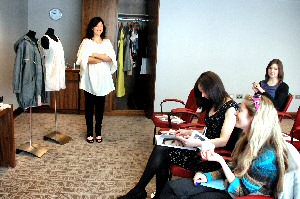 OUR editor felt a bit out of place on Wednesday, 28 April 2010, when he attended a fashion briefing at the Hilton in Liverpool One. Attending the talk were specially invited representatives of media, all finding out what types of things you are going to expect the ladies to be wearing this year for summer. "I have done many fashion events over the years, but this was the first time I was the only male in the room! Yet it was fascinating to hear and I ended up asking more questions than I had anticipated." Patrick told us, after the exclusive event. Taking to the floor was British designer Kristy Doyle, whose flagship store is located at Liverpool One. Over the hour long, fascinating presentation, she told those in the room all about what she and her colleagues had predicted this year's Spring/Summer fashion trends to be. 2010 will see festival chic city wear taking centre stage, with dresses becoming more common than trousers for social occasions. Work wear will be light, but hard wearing fabrics, with hot pants being more of a trend than trousers, but both will, this year, have a bit more sexy feminine look. Breathable fabrics will be a must, Kristy tells the ladies... Shockingly, and we will be interested if this happens; keep an eye out for lots of panama hats, for both work and play! This year Kristy Doyle is predicting more pink and light gray colours to be in, as well as the odd hint of yellow and cream. With bags becoming more and more of a fashion accessory for ladies, the must- have bags will be far bigger than you have seen over the last few years, during which they have tended to shrink. Kristy feels that high street names and fashion names will be mixed and the bag will become one of the most important parts of the party girl kit. So, keep the idea of mixing cheap with expensive, and you will not go too far wrong, Kirsty predicted. "I have never thought about it until she said, it is scarf season. Girls at this time of year do tend to get scarfs, and it makes sense now I have been told about it. Please, can any of the girls shed light on this? I'd like to know if what I have concluded is correct, so do let me know. But it makes sense to me as most girls, I think, would want to look summery and scarfs make sense, as nights are still nippy at times. Until Kristy said I would never have noticed!" commented Patrick. So what type of scarf should young fashion conscious ladies be looking out for when shopping? Well, Kristy has told us that light patterns and soft pastel colours are to be the in thing this year. Especially in for this season will be the colours pink and again cream… Also surprisingly, after a long absence from the normal every day fashion lists, fascinators are making a definate reappearance, after being lost to the wedding market for so long. This addition of 1920's and early 1930's styles of headwear, is quite surprising. As the recession still lingers, the fabrics are lighter this year and made more for durability, this allows for many of the accessories you will find over the summer to move into Autumnal markets. For the girls most talked about accessory, high-heeled footwear, black suede wedge and nude heels will be a must to enhance your seductive fashion sense. To find out more about the trends to follow this summer, and as the Southport Weekender is on in a week's time, marking the start of Merseyside's big music event calendar, log on to next week's edition and we will bring you a bit more about what to expect. Also if you have any questions you want us to ask, then do let us know. We can also reveal that we are also looking now for models for a fashion show. So watch this space!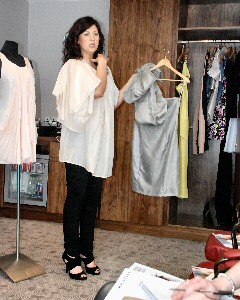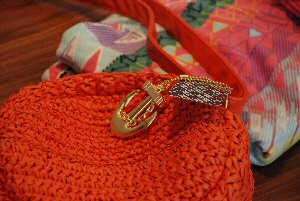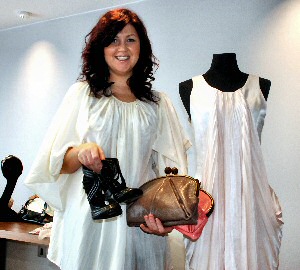 Airport Ambassadors report for duty as college students give a helping hand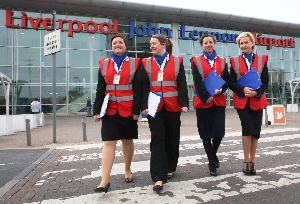 STUDENTS from St Helens College have started work at Liverpool John Lennon Airport (JLA), as Airport 'Ambassadors' to help passengers travelling through one of the UK's top 10 busiest airports with any queries they may have.

The volunteers are all studying at St Helens College for a Level 2 Diploma in the Aviation Environment and their role as Airport Ambassadors fulfils the 'Meet and Greet' Travel and Tourism Services part of their course. The students are hoping for potential future careers based at an airport in areas such as airline cabin crew or working for a handling agent looking after passenger check-in.

The scheme is a joint venture between JLA and St Helens College which is renowned for its courses specifically linked with the airport and airline industry and is part of the Airport's growing work with schools and colleges, aimed at giving students the opportunity to experience at first hand the workings of a busy regional airport.

The nine students, who have been given the title... 'Airport Ambassador', are all aged between 16 and 18 years and were hand picked by lecturers at the College based upon the criteria agreed between the Airport and the College and will be based at the Airport four days a week for the coming weeks. The students will be working throughout the terminal building, in areas including the check-in hall, arrivals area and the departure lounge and will be on hand to answer general passenger enquiries and to come to the aid of departing or arriving passengers who perhaps appear unsure about what they need to do or where they need to go.

The students will not only be familiarising themselves with the airline operations at the airport but will also be on hand to assist others at the airport looking after customer services, public transport information and at the Information Desk. The Ambassadors are also likely to play a key role in guiding passengers through some of the disruption caused by the ongoing £12m development works currently underway at the Airport.

Dave Otter, Head of Training and Development at JLA commented:- "The experience we are able to give to these students is unique in the region. Unlike some work experience where students don't really get too involved, these Ambassadors will be working with Airport front line staff, dealing face to face with our passengers, and making a real contribution to the Airport's business. There is no better way than this, to help those looking for a future career in aviation, to understand just what makes the Airport tick."

Debbie Sloan, Curriculum Manager for Travel and Aviation Studies at St. Helens College said:- "St Helens College is delighted to be working in Partnership with JLA. It is an excellent opportunity for our students to apply the Customer Service Skills they have been developing during their Aviation Industry programme of study."

Airport Ambassador, Gemma Hardy, 17, from St Helens added:- "I'm both a little nervous but at the same time really excited about working here, when I think that we'll be giving passengers advise on anything from where to check-in over sized baggage to what can be carried in hand luggage, but we know there's lots of experienced staff working with us whilst we get up to speed on things. The experience we'll gain will be fantastic though."

To find out more information regarding studying Airport and Airline Related Courses at St Helens College please contact Maureen Briers – Course Leader on:- 01744 623153 or:- mbriers@sthelens.ac.uk.
ASBO, JASON O'BRIEN
ON Thursday, 22 April 2010, a 2 year Anti-Social Behaviour Order (ASBO) was issued against Jason O'Brien, 17, of Gilbert Street, Liverpool 1.

The ASBO was obtained following complaints from City Centre residents about abusive and threatening language, riding a motorcycle on the pavement, throwing stones and lighting fires.

The order prohibits him from:-

* Riding a motorised vehicle on a pavement / pedestrian area in parts of the City Centre including Duke Street, Great George Street, James Street, Park Lane and Paradise Street

* Entering the grounds of Chung Hok House, Pine Court L1

* Setting fire to any property

* Using verbally abusive language or behaviour which causes harassment, alarm or distress to any person in the Liverpool 1 area of Liverpool

The ASBO was obtained by the Liverpool Anti-Social Behaviour Unit in conjunction with Merseyside Police.

Neighbourhood Police Constable Kevin Byrne said:- "I would like to thank the local community for their assistance in securing this Anti-Social Behaviour Order. We will continue to work with our partners to ensure that we deal robustly with those who care little for the impact of their behaviour on others. Merseyside Police and its partners are committed to reducing anti-social behaviour and will ensure that the conditions of this, and any other ASBO, are enforced."