Severe winter halves rare black grouse numbers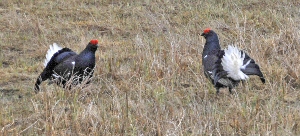 FOLLOWING the hardest winter for more than 30 years, endangered populations of black grouse in northern England have dropped to their lowest recorded level, according to recent monitoring carried out by scientists from the Game and Wildlife Conservation Trust. Numbers of black grouse in England had recovered from 773 males in 1998 to a peak of 1200 males in 2007, but two successive poor breeding years in 2007 and 2008 reduced numbers to 730 males in spring 2009. Numbers have subsequently halved to 400 males following the past severe winter.

This is a major set-back in the recovery of black grouse, particularly as this enigmatic 'red' listed species had started to make a promising recovery in many of its former haunts in England, where three years ago black grouse exceeded their 2010 Biodiversity Action Plan target of 1000 males.

Visiting their traditional lek sites, where black grouse carry out their spectacular mating ritual, Dr. Phil Warren, a Trust research scientist, has been counting black grouse to see how badly they were affected by the freezing conditions and deep snow. Dr Warren said:- "We have been running the North Pennines Black Grouse Recovery Project for the past 15 years and we had stemmed the decline and increased numbers to a peak of 1200 in 2007. However, the past two wet summers have badly affected the breeding success and this has been compounded by appalling conditions this winter."

Of even more concern, is the black grouse population in North-West Northumberland, where Phil Warren reports that his recent counts show that this small isolated group, which was already teetering on the edge of extinction, now numbers less than 15 males and is almost certainly doomed unless major steps are taken immediately to save this very threatened group.

Summing up this enormous set-back in the recovery of black grouse in northern England, Phil Warren said:- "The funding for the 15 year North Pennines Black Grouse Recovery Project has now ended, but the Game & Wildlife Conservation Trust as joint lead partner of the black grouse Biodiversity Action Plan (BAP) will continue to fight hard to save this very threatened bird. Although this is a huge blow to all those that have been involved in black grouse recovery, it does underline the importance of conserving populations at levels that can withstand these periodic random factors such as weather. Our work to improve the conditions on the fringes of moors has proved very important as the population in the Pennines has recovered sufficiently to withstand these extreme weather conditions."

Moorland management is an essential ingredient of black grouse recovery. Phil Warren explains:- "We have encouraged grouse moor owners to establish small areas of native woodland on the fringes of their moors to provide emergency food sources when other food sources such as heather are covered by snow. These have proved crucial, with black grouse numbers declining by 15% at leks which had access to some native woodland cover, compared to numbers halving at leks where no woodland was present. We pray for a good breeding season this year as despite our continued habitat and predator management to save this species, the most important factor determining annual breeding success and survival is the weather"

The Trust has produced a conservation guide for black grouse recovery. Further information can be obtained from Dr Phil Warren, the Game & Wildlife Conservation Trust, telephone: 01833 622208 or visit the Trust's website:- gwct.org.uk.
Women admit they don't know it all…and getting the gas man in is a 'man's job'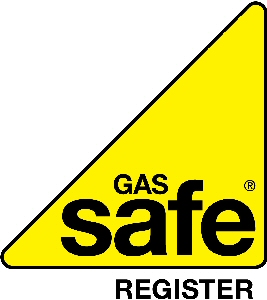 ACCORDING to new research from Gas Safe Register, women claim to make 3 times as many household decisions than their male partners. But when it comes to actually carrying out some jobs around the home, they admit they don't know it all and would rather leave some jobs to the guys.

The research carried out for Gas Safe Register, the official list of gas engineers, found that getting the car serviced (40%), buying garden equipment (28%), and getting the gas man in (21%) were the top three jobs women say they leave to their partners. Women confess that they either lack an understanding to carry out these jobs, regard them as 'men's work', or fear they are more likely to be conned by cowboy tradesmen. Worryingly, only 40% of women say they feel sure enough of their knowledge of gas to deal confidently with a gas engineer. But, with unregistered gas fitters doing around 250,000 illegal gas jobs every year, Gas Safe Register is urging women to get to know gas, as it could save their lives.

It's surprising how the divide between the sexes still seems to be alive and well when it comes to household tasks. The women surveyed said they feel more at ease with jobs such as supermarket shopping, deciding on what colour to decorate the house and picking out the furniture.

Mother of 2, Jan Collins from Manchester explains how this lack of confidence simply comes from a lack of knowledge:- "I'm a confident woman with my own career and am more than happy to make most of the decisions at home. But when it came to employing a gas man to fit our new fire I wasn't confident enough in my knowledge of gas to handle the situation. The gas fitter wanted to do the job for cash and I felt I didn't know enough to negotiate or discuss this any further with him. As a result, we were conned by this man and have had to spend more money to put it right."

According to the study, women say they would feel more comfortable taking action on tasks such as dealing with the plumber or gas fitter if they had more knowledge in those areas.

Sarah Hill, consumer spokesperson for Gas Safe Register said:- "We want to make it easy for everyone to understand gas safety, have the confidence to act on it and avoid risking the safety of their family and their property. We are concerned that so few women feel they have enough understanding of these areas, when it is a simple case of knowing the right questions to ask. All gas engineers have to be on the Gas Safe Register by law. You can find or check a Gas Safe registered engineer in your local area quickly and easily online or by calling our free helpline. When they turn up at the door, don't let them in unless they have a Gas Safe ID card. Look at the back of their card to see if they are safe to work on the specific gas appliance you need them for. Using an illegal gas fitter can lead to gas leaks, fires, explosions and carbon monoxide poisoning. Gas incidents like these killed 18 people in the UK last year and hospitalised a further 310 (Source: HSE Gas Safety Statistics), so it's better to be Gas Safe than sorry."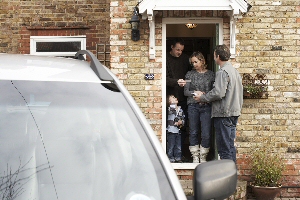 There is a free factsheet available from Gas Safe Register that provides simple tips on how to stay Gas Safe. For further information, and to download the factsheet go to:- GasSafeRegister.co.uk/safetytips.