May we call on you to save lives this month?
THE month of May traditionally brings warmer weather and the National Blood Service (NBS) is encouraging blood donors to enjoy the brighter days by helping to save lives.

As summer approaches, the need for blood increases. So it's important to spread the word to new donors and to those who haven't donated in a while. The NBS welcome's new and returning donors to help keep the blood flowing all through the year.

Anyone aged over 17, weighing more than 50 kg (7 stone 12 lbs) and in general good health could potentially start saving lives by becoming a blood donor. To book an appointment call:- 0300 123 23 23 or visit:- blood.co.uk.
BLOOD DONOR SESSIONS TO BE HELD DURING MAY 2010

Liverpool Donor Centre
Unit 6, 2 Moorfields
(Entrance on Dale Street)
Liverpool
Monday/Thursday/Friday/Alternate Saturdays: 8.20am until 3.30pm
Tuesday/Wednesday: 12.20pm until 7.30pm
Thursday 6.5.10
Sports & Social Club
Charnock Road
CULCHETH
2.00pm-4.00pm & 5.30pm-7.30pm
Friday 7.5.10
St. John's Parochial Centre
Greenway Road
WIDNES
2.00pm-4.00pm & 5.30pm-7.30pm
Monday 10.5.10
Royal British Legion
Lord Street
BURSCOUGH
10.00am-12.00pm & 2.00pm-4.15pm
Wednesday 12.5.10
Lauries Centre
142 Claughton Road
BIRKENHEAD
2.00pm-4.00pm & 5.30pm-7.30pm

Thursday 13.5.10
All Saint's Social Club
Off High Street
GOLBORNE
2.00pm-4.00pm & 5.30pm-7.30pm
Thursday 13.5.10
Mobile Donating Unit
Car Park near Tesco's
BROUGHTON SHOPPING PARK
10.00am-11.45am & 1.30pm-3.30pm
Friday 14.5.10
Civic Centre
Civic Way
BEBINGTON
2.00pm-4.00pm & 5.30pm-7.30pm
Saturday 15.5.10
Grosvenor Assembly Rooms
Grosvenor Street
LISCARD
10.00am-12.00pm & 2.00pm-4.15pm
Monday 17.5.10
Lowton Civic Hall
Hesketh Meadow Lane
LOWTON
2.00pm-4.00pm & 5.30pm-7.30pm
Tuesday 18.5.10
Leasowe Castle Hotel
Leasowe Road
MORETON
2.00pm-4.00pm & 5.30pm-7.30pm
Wednesday 19.5.10
Aintree Racecourse
Ormskirk Road
AINTREE
2.00pm-4.00pm & 5.30pm-7.30pm
Thursday 20.5.10
Civic Hall
Southport Road
ORMSKIRK
2.00pm-4.00pm & 5.30pm-7.30pm
Saturday 22.5.10
Holy Trinity Parish Hall
Rosemary lane
FORMBY
10.00am-12.00pm & 2.00pm-4.15pm

Monday 24.5.10
Methodist Church Hall
Liverpool Road/Sandon Road
BIRKDALE
2.00pm-4.00pm & 5.30pm-7.30pm
Tuesday 25.5.10
Crowne Plaza Hotel
John Lennon Airport
Speke Road
SPEKE
2.00pm-4.00pm & 5.30pm-7.30pm
Wednesday 26.5.10
Victory Hall
Salacre Lane
UPTON
2.00pm-4.00pm & 5.30pm-7.30pm
Thursday 27.5.10
St. Mary's Millennium Centre
Meadow Lane
WEST DERBY
2.00pm-4.00pm & 5.30pm-7.30pm
Friday 28.5.10
Everton Football Club
Goodison Road
WALTON
2.00pm-4.00pm & 5.30pm-7.30pm
LIVERPOOL ONE PRAISED AT INTERNATIONAL ICSC AWARDS
LIVERPOOL ONE has been awarded 2 prestigious awards by the International Council for Shopping Centres (ICSC) at its European Conference in Prague, the only development in the UK to be recognised by the awards.

Liverpool ONE came out top in the category for New Development Extra Large (over 80,000sq m) beating two rival projects both based in Portugal. Liverpool ONE was also the sole recipient of the prestigious ICSC ReStore award recognising retail regeneration. In particular the ReStore distinction awards the developer, Grosvenor, and the local authority for a successful partnership that delivered a sustainable result for the local and regional community.

The 2 ICSC awards recognise the work, vision and design by developer Grosvenor and architect BDP in the creation of Liverpool ONE.

The ICSC's judging panel, comprised of senior international figures within the industry, were impressed by the scheme, commenting:- "Liverpool ONE is more than a shopping centre - it is a groundbreaking and dynamic mixed-use project that has transformed 17-hectares of Liverpool's city centre into a newborn destination. 26 different architects working to one master plan led by BDP designed Liverpool ONE's 30 buildings in 5 distinct districts built around the city's existing streets. The result is a complementary yet diverse mix of 130,000 square metres of retail space, 21,400 square metres of restaurants and leisure activities including a 14 screen Odeon cinema, 512 apartments, 2 hotels, offices, a 2-hectare park and a new transportation hub. Land acquisition required negotiation with 275 disparate interests, and essential services had to be relocated before work could even begin. And all of this was accomplished in a tight time-line of just 4 years, opening just in time or Liverpool's year as European Capital of Culture."

Chris Bliss, Liverpool ONE Estate Director, said:- "We very proud to be acknowledged by such a prestigious international group as the ICSC. Liverpool ONE has now won 49 awards, celebrating every aspect of the Liverpool ONE scheme from planning and design to regeneration and management. The continued recognition on the international stage is testament to the work of Grosvenor, BDP and the Liverpool ONE team. The ultimate accolade however is the public's reaction to what has been achieved, and people continue to visit Liverpool One in increasing numbers."

Liverpool-born Terry Davenport, head of BDP's Northern Retail division and the mastermind behind Liverpool ONE's design, said of the latest clutch of awards:- "In terms of retail design the ICSC awards are the most prestigious in the world and I'm thrilled that the achievement of Liverpool ONE has now been officially recognised on an international scale. Liverpool ONE has now notched up nearly 50 industry honours since opening in 2008."

The awards follow a very strong performance from Liverpool ONE. Footfall is 10% up for the year-to-date compared to 2009, and is set to beat the 24.1 million achieved last year, currently welcoming over 2 millions visitors every month. In addition, sales for the first quarter of 2010 are up by 37% versus the same period in 2009.

The city has also benefitted significantly from Liverpool ONE. According to leading research company, Experian, Liverpool has jumped from 15th to 5th in the UK's ranking of retail destinations. In addition, the city has risen from 16th to 6th in terms of number of international tourists visiting per year and outranks New York as a venue for conferences, with footfall rising significantly across the city since the launch of Liverpool ONE.

Other professional bodies and organisations that have formally recognised Liverpool ONE as an exemplar of large-scale urban development include RIBA, RICS, BURA and The Royal Town Planning Institute. Accolades and awards have come from a raft of specialist business magazines including Retail Week, Property Week, Regeneration and Renewal, Estates Gazette, Building Magazine, Design Week and Retail Leisure International - where Liverpool ONE won the International Retail and Leisure destination of the year.

Every year, ICSC Europe presents awards to the best new and refurbished or extended retail developments in Europe. Acknowledged to be the most prestigious awards within the Industry, the 2010 Awards were presented at the 35th ICSC Europe Conference from 28 April to 29 April 2010 in Prague, The Czech Republic.
IN SEARCH OF THE OLDEST TRUCK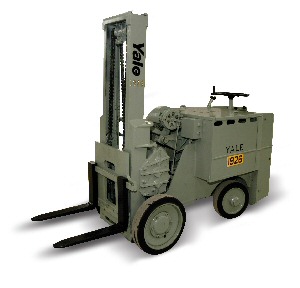 WIDELY recognised as introducing the very first electric powered low lift platform truck to the European market, Yale is calling on businesses in the North West to find the oldest Yale forklift truck or pallet truck, still in operation today, to mark its 90th anniversary year in 2010.

In 1919, the very first battery powered low lift platform truck was manufactured in Staten Island, New York by C.W. Hunt Co which was purchased by Yale & Towne Manufacturing Co in 1920. Yale is offering a trip to the Big Apple in return for information on the oldest Yale forklift truck or pallet truck still in operation.

Richard Czepukojc, Yale Europe's marketing communications executive, explains:- "We regularly receive feedback from our customers saying they are still using a Yale forklift truck or pallet truck purchased in the 1960s and we know of one operator that up until a few years ago was using a platform truck that was well over 40 years old, but we are certain that there must be more examples out there. As well as being at the forefront of forklift innovation and technology our products are recognised as being robust, durable and hard wearing so we are looking forward to discovering where these forklift and pallet trucks are still in operation today."

The competition is open to operators of Yale forklift trucks or pallet trucks in Europe, the Middle East and North Africa who currently operate Yale materials handling equipment that is at least 20 years old. The competition is being organised by Yale in anticipation of the company's 90th anniversary year which will be celebrated in 2010.

Operators can enter the competition by visiting forkliftaction.com or by emailing a picture of it in use, together with your name, company and age of the truck, via email.