WITNESS APPEAL - ROBBERY, MOUNT PLEASANT, LIVERPOOL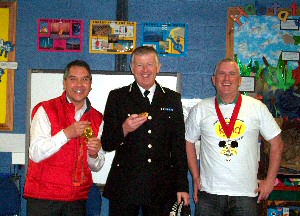 MERSEYSIDE Police Chief Constable Jon Murphy spent last Thursday, 29 April 2010, at the KIND SEED centre in Toxteth.

The KIND SEED (Social, Environment, Education and Development) centre is an is eco-friendly, multipurpose educational and community resource. Through partnerships with schools, educational authorities and other agencies, the centre provides skill development opportunities for children from a range of different backgrounds.

The Chief Constable was given a tour of the centre, which incorporates an on-site garden where they grow various vegetables which the children then cook in the on-site kitchen. All of these activities go towards educating children about the environment and citizenship.

The Chief then met with children from Pleasant Street School, who have been spending time at the centre, for a question and answer session.

Acting Inspector Andy Doyle also accompanied the Chief Constable on his visit. For the past four years Andy has competed in the 42.4 mile "Goofy Challenge" in Florida on behalf of KIND and took his numerous medals to show the children. Andy is also going to be running the New York marathon later this year in aid of the charity.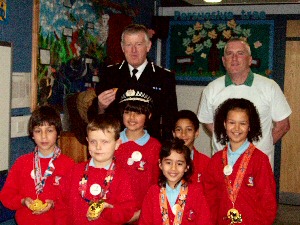 Chef Constable Jon Murphy said:- "It is a pleasure to visit and spend some time at this project and I have thoroughly enjoyed the afternoon. KIND is a fabulous charity that gives so much back to the communities of Merseyside. By teaching environmental awareness and citizenship skills to children at this young age, we are showing them how to respect themselves, each other and our city."

KIND Chief Executive Stephen Yip said:- "It was a great pleasure to welcome the Chief Constable to the Centre, who made a big impression on both the kids and staff with his humour and knowledge. On a personal note it was good to meet a fellow ex-Quarry Bank pupil and we had a long discussion about our old school days! I hope that he might pay us another visit in the near future."
COMMUNITY DISRUPTION DAY - NORRIS GREEN
MERSEYSIDE Police in Liverpool North tackled community issues in Norris Green, with a day of action on Wednesday, 28 April 2010.

Officers worked alongside partner agencies to tackle a variety of issues from untaxed and uninsured cars, to anti-social behaviour and fly-tipping. Officers and PSCOs also carried out door to door visits to offer reassurance, support and crime prevention advice where necessary.

Amongst other activity:-

► Three people were arrested during the day, a 14 year old youth for going equipped for theft and obstruct a PCSO. Two women aged 52 and 41 years old for none payment of fines warrant . All are from the Norris Green area

► Five vehicles were removed for being untaxed, one for having no insurance

► Three fly tipping sites were reported for a clean up

► Eight truants were dealt with

► Six licensed premises were visited

► Three fixed penalty notices were issued for failure to clean up dog foul

► Two fixed penalty notices were issued for dropping litter

Chief Inspector Mark Wiggins said:- "We have listened to the concerns of the local residents and we are working to address them. We hope that this day will show residents that if they give us information, we will act on it. We understand that issues such as anti-social behaviour and littering can have a profound effect on people's day to day lives and we hope this today will go some way to disrupting this type of behaviour in the area. We cannot tackle such issues alone, and we are thankful to our partner agencies for their support."

Anyone with any information about crime in their neighbourhood, should contact their local neighbourhood team or Crimestoppers anonymously on:- 0800 555 111.
ATTEMPTED ARMED ROBBERY - DOVECOT
MERSEYSIDE Police are now appealing for witnesses following an attempted armed robbery at a social club in Dovecot on Monday, 3 May 2010. At about 12.30am four masked men entered the Dovecot Labour Club on Kingsheath Avenue armed with knives. The men threatened the staff and demanded cash. The staff fought off the offenders and they left the club empty handed via the front door along Kingsheath Ave towards Prescot Road. No one was injured during the incident although a number of the staff at the club were left very shaken. There were no members of the public in the club at the time of the incident. The four offenders are only described as wearing dark coloured clothing and gloves with their faces covered. House to house enquiries are ongoing and patrols have been stepped up in the area. Anyone with any information is asked to contact officers at St Anne Street CID on:- 0151 777 4809 or Crimestoppers on:- 0800 555111.