DISABLED DRIVING INSTRUCTOR – BREAKING DOWN THE BARRIERS
A brand new social enterprise has started its engines in Liverpool – with a fully adapted vehicle for teaching people with disabilities how to drive. Diverse Road Safety CIC is a not-for-profit Community Interest Company that has been set up by a group of local driving instructors – one of whom has a disability of her own.

23.5% of people in Merseyside are living with a disability or long-term limiting illness. Three years ago, Tina Preston was a fit and healthy person – it never occurred to her that one day soon she would be in a wheelchair! After a sudden illness in 2007, her health deteriorated and she was diagnosed with Systemic Lupus Erythematosus– a blood disorder that affects the immune system. Within months she developed Rheumatoid Arthritis and then soon after Osteo-Arthritis. Her work as a specialist Driving Instructor and ADI Trainer was severely affected and she had to reduce her workload due to the severe pain, chronic fatigue and discomfort caused by being in the car all the time.

Tina had previously used her significant coaching talents to help people living with dyslexia and dyspraxia overcome their difficulties, improve their confidence and learn to drive safely. Her company helped people navigate the minefield of the Driving Standards Agency test booking service to enable them to get the right type of test conditions to meet their needs. They would provide free of charge theory training and then tailor driver training to suit their learning needs when in the car.

Then, as her own health worsened, she came across numerous problems dealing with the Driving Standards Agency (DSA) and the Driving & Vehicle Licensing Agency (DVLA). Tina soon realised that other physically challenged people would not necessarily know what assistance is available and how to access it. Diverse Road Safety was then born on a napkin over a pub lunch in Huntscross!

With services aimed at the most vulnerable road users, it truly is a driving school with a difference! Along with Amanda Smith and Jo Webster, gaps in the current driver training services available were identified and solutions devised. Tina was helped with some vehicle adaptations by the Governments Access to Work scheme. Further adaptations have also been added to the automatic Vauxhall Zafira making it the only dual-controlled vehicle in the North West with pull-push controls, a left foot accelerator, hand-brake adaptation, a Lodgesons radio controlled steering adaptation and an electronic wheelchair hoist.

As well as improving opportunities for people with physical disabilities, the vehicle is now being used to help young carers in Liverpool to understand how to help the parents/siblings they care for when in a vehicle, loading wheelchairs, seating positions and driving skills. Sponsored by Barnardos Young Carers, the DRIVERSITY scheme is proving to be highly popular and very successful. Carol Hughes from Barnardos says:- "The young people who have attended the course run by Diverse Road Safety absolutely loved it! It was useful in so many different ways and we can't wait for our next course!"

Mature drivers are set to benefit from Diverse Road Safety's unique approach too, with services being specially developed to improve the safety, confidence and independence of people as they get older.
For more information email:- info@diverseroadsafety.org.uk.
'Wheelie' dedicated conservationist makes it to the North-West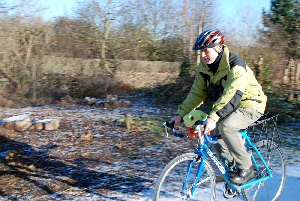 THE "Biking Birder" will be pedal-powering his way to the RSPB Dee Estuary in Neston on his year-long journey around every one of the RSPB's nature reserves in Britain.

Gary Prescott, a special needs teacher, set off on his bike from RSPB Sandwell Valley in Birmingham, on New Year's Day and will reach the Dee Estuary on Monday, 10 May 2010.

Gary said:- "From a simple desire to do more birdwatching, I am now raising money for the RSPB and other charities and also trying to educate people on the very real threat climate change poses by visiting local schools. It's a truly life changing experience! I'm loving meeting so many interesting people and experiencing such amazing wildlife along the way. I particularly can't wait to visit the Dee Estuary again as it's where I grew up birdwatching."

Paul Brady, RSPB Visitor Development Officer said:- "It's amazing what Gary is doing! During his visit I'll show him around showcasing the current bluebell and birdsong spectacles as well as telling him about our exciting plans to make the Dee Estuary reserve even better for wildlife and more accessible for people to visit."

Gary will be visiting more RSPB reserves in the North-West. This month he will be at Marshside near Southport. In June he will get to Leighton Moss, Haweswater, Hodbarrow, St Bees Head and Campfield Marsh before reaching Geltsdale on the 1st July. To find out more information about these RSPB reserves please see the new webpage:- rspb.org.uk/reservesn.

If you wish to experience a free guided tour behind the scenes at the Dee Estuary similar to Gary's you can book onto "Bluebells, Birdsong and Burton Mere" walk on Saturday, 8 May 2010, by calling:- 0151 336 7681.

You can sponsor Gary and keep up with his trip and find out more about him:- bikingbirder.co.uk.