Holidaymakers flock to North West Englandís beaches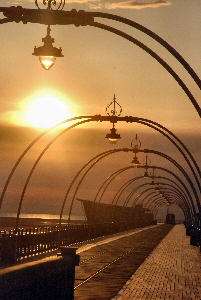 NORTH West beaches are definitely on the up as the number of award-winning beaches in the region has nearly doubled for 2010. From Cumbria through Lancashire and down to Merseyside, holidaymakers are expected to flock to the areaís coast this year as last years staycation looks to continue.

Last year we took over 47 million holiday trips in England, a massive 18% increase from 2008, and what better way to holiday in this country than to take a trip to one of North West Englandís award-winning beaches.

Keep Britain Tidy announced 10 beaches on the North West have received Quality Coast Awards for 2010 in recognition of their high quality environments and facilities. The number of award-winning beaches in the North West has nearly doubled for 2010, reflecting the regionís commitment to improving facilities.

Leading the North West celebrations this year is Copeland in Cumbria who have received 4 awards Ė for Haverigg, Seascale, Silecroft and St Bees beaches - the first in the area for a number of years. Joining Copeland also with 4 Quality Coast Awards is Sefton, for Crosby, Southport, Ainsdale and Formby beaches.
Blackpool and St Annes should also prove to be popular holiday destinations with Quality Coast Awards for Blackpool South Beach and St Annes Pier.

And itís not just the holiday-makers who are taking advantage of our new found love of Englandís coastline. A whole range of local businesses within the tourism industry benefited last year with a 3.5% increase in spend by people holidaying in the North West of England. Englandís award-winning beaches are bringing a smile to everyoneís faces.

Phil Barton, Keep Britain Tidyís chief executive said:- ďAs more and more people decide to swap trips abroad for the convenience of holidays at home, they are discovering a renewed love for our glorious coastline and quality resorts. Our North West beaches are fabulous places to visit and thatís official. Ten Quality Coast Awards prove our beach managers continue to work hard to provide clean and safe beaches for everyone to enjoy.Ē

150 beaches across England have received Blue Flags and Quality Coast Awards for 2010. Of the 150 beaches receiving awards, 71 received the Blue Flag and 111 received the Quality Coast Award. 32 of these beaches were awarded both the Blue Flag and the Quality Coast Award.

The number of Blue Flag and Quality Coast Awards for 2010 has stayed at nearly the same high level over the last 2 years (72 Blue Flags, 113 Quality Coast Awards for 2009), proving that our beaches continue to shine.

Over that last 10 years the number of Blue Flag beaches in England has tripled (there were 24 in 2000), while Quality Coast Award winning beaches in England have increased by 35% since the awards began in 2007 (73).
FIREARM RECOVERED - BEETHAM TOWERS
OFFICERS from Merseyside Police's specialist Matrix team arrested a 37 year old man from Liverpool on suspicion of possession of a firearm and ammunition.

The Officers executed a warrant at the flat in Beetham Towers, Old Hall Street, at about 4.30pm on Tuesday, 11 May 2010 and recovered a sawn off shot gun, a significant quantity of ammunition and cartridges, a quantity of what is believed to be a Class A drug and an amount of cash has been seized.

The arrested man has been taken to a police station on Merseyside where he will be questioned by detectives.
Small firms urgently need post-election certainty
THE Forum of Private Business has commented on the hung Parliament. While remaining politically neutral, the small business support group had hoped one party would win an overall majority in order to secure swift economic recovery.

However, with the election result creating an uncertain outcome, the Forum is calling for MPs to put aside their differences and create a functioning administration as soon as possible.

The Forum believes small to medium-sized enterprises (SMEs) are crucial to Britainís economic recovery, with the potential to create jobs and spearhead innovation. But the not-for-profit organisation is concerned that the uncertainty and confusion caused by a hung Parliament will jeopardise this and hamper business ownersí attempts to plan ahead.

Recent Forum research found that 70% of small business owners were already finding it difficult to plan for 2010, even before the general election result. With a hung Parliament threatening to hold up tax and spending proposals aimed at tackling Britainís record deficit, this uncertainly is likely to increase further.

Forum Chief Executive Phil Orford said:- ďI expect many smaller businesses will be disappointed that the election has resulted in a hung Parliament. However, the outcome canít be changed so it is vital that the newly-elected MPs put aside party politics and work together to come up with a credible system of governance. With the economy still in a very precarious state and a mountain of public debt to be tackled, businesses owners need our elected representatives to move away from inter-party point-scoring and show political responsibility.Ē

Mr Orford added:- ďSmall businesses are the lifeblood of UK Plc. I would urge all the political parties to do everything they can to come to a swift, workable consensus in order to secure the prosperity of Britainís SMEs and the wider economy.Ē
The Forum has already set out what it thinks the priorities for the new Government should be in its election manifesto, which has been circulated among prospective MPs and policymakers. Those priorities are:
Free enterprise
The Forum believes that the greatest drivers of growth in the UK economy will come from small businesses, with new ideas borne in rapidly changing sectors and developed at a speed that traditional models of government spending will not have the agility to support.
Fiscal responsibility
Securing the UK's reputation as a good place to do business will mean bringing Britain's finances under control. That will mean a combination of smart taxation and smarter cuts to public spending.
Stability
Whichever party is elected, the Forum believes that any drastic cuts to government programmes and initiatives should be balanced out with the need to ameliorate the damage of the recession. Put simply, there should be a continuity of support that goes beyond party politics.
New technologies, new markets
As new technologies develop and new markets open around the world, there should be equal opportunities for small businesses to develop new business models in innovative ways.
The Forum is also calling on the new Government to completely scrap the planned rise in National Insurance Contributions. The Conservatives have pledged to cut that rise in half but the Forum is arguing that it should be dropped completely to avoid taxing employment as the economy heads out of recession.
The Forumís Tax and Budget Member Panel recently found that 68% of small businesses feel that the tax burden is already unfair for small employers and 65% said that taxes overall are a serious problem for their business.