233 MILES + 50 RIDERS = LIVERPOOL 1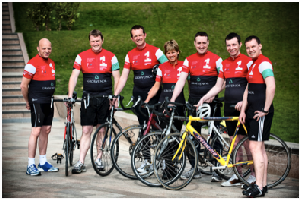 A group of 50 riders will cycle from Grosvenor's London offices to Liverpool ONE in 2 1/2 days to raise money for The Liverpool ONE Foundation. The ride, organised by Chris Taite, the Fund Manager for the Grosvenor Liverpool Fund, sets off on May 27, and its arrival in the city coincides with Liverpool ONE's 2nd anniversary on May 29.

Grosvenor and its investment partners created The Liverpool ONE Foundation 2 years ago to demonstrate their commitment to supporting local initiatives, organisations and charities working at a grass roots level in the community. Administered by the Community Foundation for Merseyside, it has awarded grants of over £300,000 to date, to well in excess of 50 local causes.

The first day will see the riders cycling to Banbury, a distance of 85 miles from Grosvenor's offices in Mayfair. Day 2 consists of a 111-mile journey through the heart of England, arriving in Whitchurch for a well-deserved overnight stop. The final day is a 45-mile sprint to Liverpool ONE, with a brief stop at the Chester Grosvenor, and a police escort through the Mersey Tunnel.

There are 8 members of staff riding on behalf of Liverpool ONE including Estate Director Chris Bliss, IT Services Manager Simon Kilshaw, Retail Delivery & Project Manager Catherine Pankhurst and Cleansing & Waste Manager Paul Brady.

Said Catherine Pankhurst:- "I've never done anything like this before but wanted to do something outside of my comfort zone. I have been training hard both on the road and in the gym and have set a personal goal of raising £1,000, which I'm well on my way to reaching."

Chris Bliss added:- "We've been training as a group, going out about 3 times a week covering 20 to 30 miles each time. It's actually been rather enjoyable – although one ride we managed to get four punctures between 6 of us! However, our team spirit throughout has been immense. We're all really keen to get started and timing our arrival in Liverpool to celebrate the 2nd anniversary of the opening of Liverpool ONE is just perfect. We are all looking forward to marking the occasion in style."

Concludes Chris Taite, Fund Manager for the Grosvenor Liverpool Fund:- "We are hoping to raise a minimum of £15,000 for the Liverpool ONE Foundation through the ride. More than that, however, we want to raise awareness of the ongoing need for such funds within Liverpool, so that more people and organisations contribute on an ongoing basis."

To find out more about the Liverpool ONE Foundation, and to make a donation, visit:- justgiving.com/Liverpool-ONE-Foundation.
PHOTOGRAPHY COMPETITION TO SHOWCASE FINEST RAIL VIEWS
NETWORK Rail is to support a national photography competition showcasing the most stunning and beautiful views of the UK landscape, including Britain's railway network, with its Victorian engineering icons and modern new structures, images of which are captured by millions every year.

Entry for the 4th annual Take a view Landscape Photographer of the Year Awards is now open to amateurs and professionals alike. The competition is the idea of renowned landscape photographer, Charlie Waite and the best images will be showcased at an exhibition at the National Theatre in London. Network Rail will share the main support of the competition with Natural England and will also give an additional prize for the best photography of its network – The Network Rail 'Lines in the Landscape' Special Award.

As well as iconic structures such as Ribblehead Viaduct, LINK, there are equally stunning scenes in less accessible locations such as on the Cumbria coast near Whitehaven. LINK. Entries could also include architecture such as the bridges in Runcorn that cross the Mersey. LINK
Iain Coucher, chief executive explained why Network Rail was supporting the competition:- "For over 150 years, the railway has helped connect people across the length and breadth of Britain, with some spectacular structures such as the Forth Bridge and Ribblehead viaduct. Network Rail has the special duty of protecting and promoting this legacy as well as building a modern rail network for the 21st century, and we are proud to be part of the visual history of Britain. We are very happy to support this competition, and even more so to have a special award for the best photography of our rail network. Travelling by rail is becoming ever more popular, and we hope that, through this competition, even more people will see and appreciate its beauty and importance in Britain today."

The competition has 4 main categories:-

- Classic view
- Living the view
- Your view
- Urban View

Photos entered into one of the main categories can also be entered into the Network Rail 'Lines in the Landscape' Award.

The top prize given to the Landscape Photographer of the Year is £10,000. Winner of the Network Rail 'Lines in the Landscape' Special Award will be offered a special walking tour of the Forth Rail Bridge with an overnight's stay in Edinburgh and rail tickets to the city.

Following the announcement of the winners later this year, the National Theatre will host an eight-week exhibition from 20 November 2010 and a full colour book of Best Entries will be available.

All entries to the award must be uploaded via the competition website, and the closing date is 15 July 2010. Entry fees apply. Full terms and conditions can be found on the site.

Rail industry employees (other than those closely linked to the organisation of the competition) are eligible to enter. However, all photos must be taken from a public right of way to ensure fairness. Full terms and conditions can be found at:- take-a-view.co.uk.