NEIL SUTTON OF MOJO IN LIVERPOOL WINS NORTHERN 'WORLD CLASS' VODKA FINAL
NEIL Sutton of top Liverpool bar, Mojo, was yesterday crowned the winner at the Northern regional final of the 'World Class' bartending competition in Sheffield. Showcasing his exceptional mixology skills at the vodka category final, Neil triumphed over stiff competition from four of the North's finest bartenders with his stunning display of cocktails.

After a highly competitive and tense round, Neil was declared the winner with his innovative cocktail, Sweet Salvia. Not only does Neil win a place in the prestigious UK final and a trip to Venezuela to the home of Pampero rum, he will also take centre stage on a billboard which will be erected in his home town of Liverpool.

Diageo Reserve (including brands such as Tanqueray® No. Ten™, Johnnie Walker® Blue Label® blended Scotch whisky, Ketel One® and Cîroc® vodka) has launched its 'World Class' bartender programme to recognise the incredible skill sets of bartenders across Britain. The vodka final was the regional heat to find the finest bartenders in the North. With 3 categories including rum, gin, and vodka, the competition will pit the best against the best.

The winner for each category in the Northern finals will then go on to take part in the GB final and ultimately, for the GB winner, secure a place in the prestigious global final which will see them compete against the finest bartenders from around the world.

Neil said of his win:- "I decided to enter World Class because I wanted to know if I was capable of being up there with some of the best. It was to test my skills and competencies to see if I was up to it. I needed to confirm to myself that I am in the right job and not kidding myself about what I am aiming to achieve."

The GB final will be judged by some of the country's most esteemed experts in taste, style and bartending. The winner of the GB final will win a place in the prestigious global final, to be judged by a star-studded panel taking place in June 2010.

For more information on World Class log onto:- weareworldclass.com.
Missing From Home - Karl Donoghue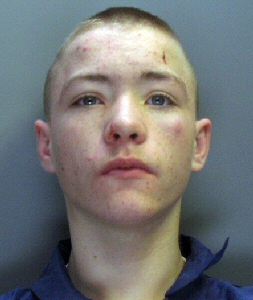 MERSEYSIDE Police are becoming increasingly concerned for the welfare of 16 year old Karl Donoghue, who has been missing from his home in Liverpool since Tuesday, 20 April, 2010.

Karl has been missing from his home in Kensington since 20 April, 2010 and has not been in touch with family or friends since then.

Karl is described as white, 5ft 6 ins tall, of slim build with short cropped light brown hair. He has blue eyes and a pale complexion. He has a 2-inch scar on the back of his head and he has a local accent.

He is known to frequent St Helens, Knowsley, Speke and Ellesmere Port areas.

If members of the public recognise Karl they should not approach him directly, but should make contact with Police on the numbers given below immediately.

If anyone has any information regarding Karl or his whereabouts they should contact Merseyside Police on:- 0151 709 6010 or the Missing Persons Helpline in confidence on:- 0500 700 700.
QUAD OFFICERS TAKE TO LIVERPOOL SOUTH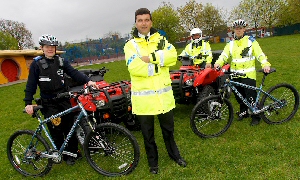 MERSEYSIDE Police in the Liverpool South area are adding to their vehicle fleet, with the addition of two quad bikes and two mountain bikes, to be used to patrol the parks and open spaces of Liverpool South.

The bikes will be used to reduce crime and anti-social behaviour head on and will patrol in Sefton Park, Princes Park, The Mystery and Otterspool Promenade.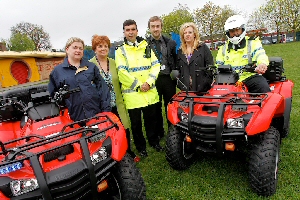 The two Honda 350cc quads and mountain bikes have been funded by Citysafe, the Neighbourhood Management Services, Liverpool Housing Trust and Dane Housing, and will be used to provide high visibility police patrols. The bikes are fully street legal, equipped with blue lights and sirens as well as police radio sets.

Neighbourhood Inspector for Riverside, Stuart Quirk said:- "Tackling anti-social behaviour is one of the Force priorities and I am confident that the appearance of the quad and mountain bikes will be a welcome sight in the parks and open spaces of Liverpool South. I urge the public to get to know the officers who will be riding the bikes, and tell them of any concerns they have about crime and anti-social behaviour. The mobility these bikes offer also allows us to be highly visible in these key open spaces, specifically to deter the small minority of people who spoil the rest of the public's use of parks and open spaces. We will prosecute offenders who use illegal off road bikes and quads, seize them and crush them. Anyone who has information about the ownership or storage of illegal bikes, should contact their local neighbourhood team on:- 0151 709 6010 or Crimestoppers on:- 0800 555 111."
UNISON RALLIES FORCES TO FIGHT THE CUTS
A top-level meeting of UNISON officials from across the UK has met in London to plan the union's fight-back against public sector cuts. As politicians manoeuvre for power, the union is focusing on the imminent threat to public sector services and jobs. Dave Prentis, General Secretary of UNISON, the UK's largest public service union, with 1.4m members, said:- "5 days after the general election the politicians are still manoeuvring to grab power. Meanwhile public services and public sector workers have the prospect of savage cuts looming over them. All those politicians need reminding that there is no popular support for brutal cuts in public spending, that would have followed an outright Conservative victory. The City and big business, poured millions into the Tory coffers, hoping to make a killing from more privatisation following a Conservative win – but they have been denied the decisive result they craved. UNISON is rallying our forces, planning our fight-back to make sure public services are not the victims of this post-election bargaining. We will fight for what is right for Britain's public services. We will fight for the hundreds of thousands of jobs that are in imminent danger if the Tories get their way. We do not want the country to be plunged back into recession, just when we have turned the corner and the recovery is in the balance. If that happens, the country will be plunged into social dislocation and industrial strife."
Do you think Unison is correct? Email us your views to news24@southportreporter.com and let us know what you think about this topic.