A Help Our Heroes Event
Report and photographs by Colin Trollope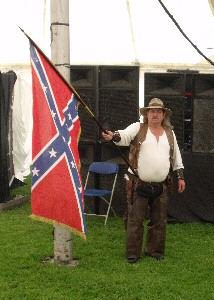 IN Victoria Park, Southport, on Sunday 9 May, 2010, there were cars, tent covered stalls, a large marquee and gun-slinging Cowboys, Indians and US Marshals. The American Car Owners Club and two re-enactment groups were putting on displays to raise funds in Southport for Our Heroes.

Gun fights, between the cowboys, took place in the form of duals, which you can see on some of the photographs. An umpire, one of the chairmen present, decided who had fired first. The winner took on another challenger until there was only one left. Their replicated revolvers and pistols only fired blanks, thank goodness, as the gunmen were very quick on the draw, especially as one gunfighter forgot to load his weapon.

Inside the marquee were a stage, tables, benches and chairs, a bar and wooden flooring for dancing. Chrissy Byrne, Liverpool's Country Queen, sang country songs and played a guitar. She had a backing band on CD. She performed for about an hour, free of charge as she considered that it was for a good cause. While she sang, various members of the groups present, and visitors, took part in country dancing on the wooden floor.

Several dramas were enacted in front of the stage. Some were very humorous; others were re-enactments of events, including the gunfight at the OK Corral. They also performed a moving musical ceremony of flags with all the cowboys, red Indians and an Indian chief singing the relevant anthem. See the pictures.

There were a large number of assorted American cars on display. It was a pity that it was rather chilly, but there was no rain. The stalls provided a delicious hog roast, western style clothing, drinks and other various items of interest to western enactment followers and American car owners.

It was a well run and organised event, which we hope was successful in achieving its aim. Well done the organiser and everyone else involved. We look forward to the next even for Our Heroes.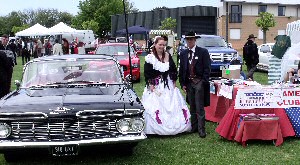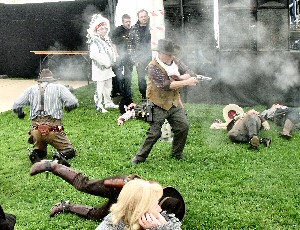 Page 1 of 5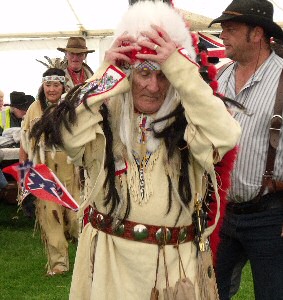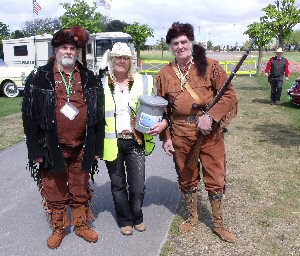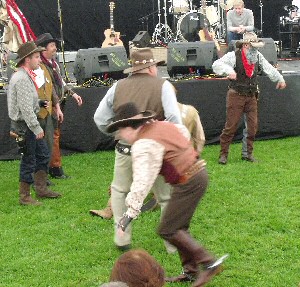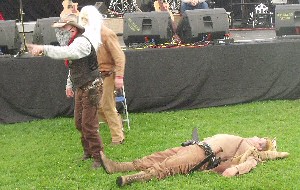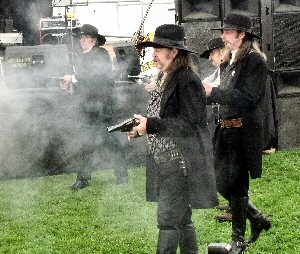 If you like the photos, please order them and do not copy them. Keep this site online... Click here to find out out you can get you copy of these photos...