Southport pupils virtually cycle to the Sustrans finish line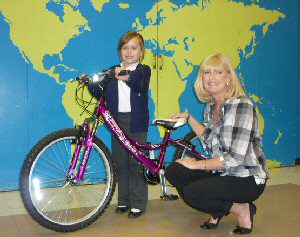 THROUGHOUT March 2010, pupils from seven schools in Southport took part in a very different sort of bike race, organised by sustainable transport charity, Sustrans, to celebrate 15 years of the National Cycle Network.

During the month-long, 5,224 mile race pupils, parents and teachers clocked up mileage points each time they cycled to school. Each of these short local trips was awarded a set amount of miles, contributing to the school's virtual journey around the UK. The seven Southport school's made a total of 11,312 journeys.

Larkfield Primary School won first prize in the regional category after finishing in 17th place, nationally, out of 408 schools who entered from across the country. The school received a bike of their choice, which they recently raffled in a special school assembly and presented to the lucky year four pupil.

Farnborough Road Junior School came a close second in the regional category, completing the course in 18 days.

Mary Kelland, Sustrans Bike It officer, for Southport comments:- "I was amazed at the effort from children, parents and teachers for this year's race, it was a huge success. It was brilliant to see bike sheds and playgrounds full of bikes from children who had got to school under their own steam. Cycling really helps to improve a child's confidence, independence and health, not to mention the environment in which we live. The race has encouraged many children and their parents to use two wheels instead of four on the school run, demonstrating just how easy it is to cycle to school."

Around the UK, 408 schools took part in the race in the hope of winning an unforgettable day with 'M.A.D', Europe's best-known Mountainbike Stunt Team, to watch incredible displays and attend skills workshops with the pro-riders. Also up for grabs were Nutcase helmets and work stands and fully kitted out toolboxes, provided by Madison, the UK's leading distributor of bicycle parts and accessories.

Throughout the 20 day race, a whopping 288,201 journeys were made by bike. St Mary's RC Primary school in South Gloucestershire won the competition overall, completing the 5,224 mile route in just five days.

The seven schools that took part in Southport are:-

1st - Larkfield Primary School - 12,540km (Finished on day 10 with 8,634km) :1439 journeys

2nd - Farnborough Road Junior School - 9,465km (Finished on day 18 with 8,575km) : 1994 journeys

3rd - Birkdale High School - 9,296km (Finished on day 19 with 8,837km) : 3702 journeys

4th - Marshside Primary School - 9,125km (Finished on day 19 with 8,488km) : 762 journeys

5th - Birkdale Primary School - 8,427km (Finished on day 20 with 8,427km) : 866 journeys

6th - Our Lady of Lourdes Catholic Primary School - 6,951km : 1274 journeys

7th - Stanley High Sports College - 3,640km : 1275 journeys

Further information about Sustrans and Bike It, including other news releases, is available online.
Coleman Agrees New Contract
THE Defender Seamus Coleman has agreed a new 4 year contract which will keep him at Goodison Park until 2014.

The Ireland Under 21 right-back enjoyed an impressive 2009/10 campaign, making his senior debut for the Blues before joining Blackpool on loan and helping the Seasiders to the Championship Play-Off final.

Donegal-born Coleman, 21, joined Everton from League of Ireland outfit Sligo Rovers for a nominal fee in January 2008, initially forming part of Andy Holden's reserve-team set-up.

His eye-catching outings for the second string earned him a call-up for the first-team's pre-season tour to America last summer but a serious foot infection scuppered his chances of making an impression.

The youngster battled back to make seven first-team appearances last term, including an impressive home debut in the 2-2 draw with Tottenham Hotspur in which he played a part in both Everton goals.

Coleman was allowed to go in search of further first-team experience in March however, making the move to Bloomfield Road where, in 11 appearances, he has aided Blackpool's march to Wembley.

Everton manager David Moyes confirmed last week that Coleman would return to Goodison Park after Blackpool's final against Cardiff City on Saturday and has now rewarded the youngster with a new deal.

The Blues boss said:- "I think he's someone who has caught the imagination of a lot of the supporters. You've got to remember this is a boy we've taken from Ireland, we've paid £60,000 for him, we've brought him in and he's had very little of what I would call senior football. So we had to get him some games. He had a terrible injury in pre-season which kept him out and, if hadn't been for that, he might have had more games and he might have even been further along. But I think these games for Blackpool, at the level they're playing at, will do him no harm at all."

Coleman becomes the second player to put pen to paper for the Blues this week following Tuesday's announcement that Tim Cahill has also signed on for another four years. The formalities of the contract will be completed on Monday after his loan spell at Blackpool has ended.
easyJet to appear in latest JLA 'webinar'
FOLLOWING the success of the world's first airport 'webinar' staged by Liverpool John Lennon Airport (JLA) in March, the Airport is to hold its next online interview on Friday 21st May at 2:00pm, with Paul Simmons, easyJet's UK Regional General Manager.

Viewers from across the world will be able to listen to Paul talking about easyJet's continued success at JLA, on the day that the airline commences its first flight to the Isle of Man - the latest addition to their growing route network from Liverpool.

Neil Pakey, Deputy CEO of the Peel Airports Group will be hosting the 30 minute session and viewers will also once again be able to participate in the broadcast through an email questions and answers session.

Neil Pakey commented:- "We entered the unknown with our first webinar last time, not knowing if anyone would be tuning in, but at its peak we had hundreds of viewers from a diverse range of organisations and interested parties, with many taking the opportunity to put questions to key people in the industry. easyJet have been at the forefront of the Airport's success in recent years and despite the recent recession are still growing their operations through here. This will be another great opportunity for viewers to get an insight into the secret of their success."

Businesses, airlines, passengers, students and others with an interest in the airport are again invited to register in advance and participate in the broadcast.

To register for the broadcast, readers / viewers will need to go online to:- liverpoolairport.com/webinar.