ARRIVA KICKS OFF INTRODUCTION OF FIVE NEW SAINTS BUSES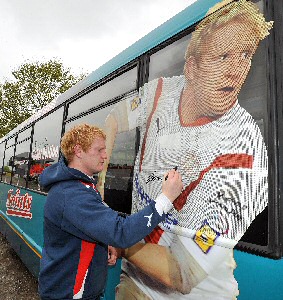 THE St Helens Rugby League Football Club players helped celebrate the launch of five Arriva buses on Friday, 14 May 2010, each featuring a larger than life size image of a different player in the new Saints kit, along with the Saints logo.

At the event, which took place at Knowsley Road, was James Graham to launch his bus, which operates on the 37/38 route from Eccleston to St Helens and St Helens to Rainford. The James Graham bus is instantly recognisable by the larger than life images of the young prop on both sides.

The event was also attended by Vernon Roby, general manager of Arriva's Skelmersdale depot, Mark Brack, St Helens operations manager for Arriva, and Debra Mercer, marketing and communications manager for Arriva North West.

Debra said:- "Arriva is delighted to have been able to launch five new Saints buses, with such well-known players from the team. We know how passionate people in St Helens are about rugby, and it's great to be able to acknowledge this local interest by supporting the team."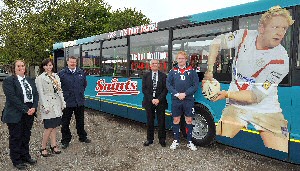 Lining up alongside James Graham are four other buses featuring players from the local team. These include the legendary 'Mr St Helens', Paul Wellens who is widely regarded as one of the best full backs in the world, 100kg New Zealand international Sia Soliola, Tony Puletua, and Kyle Eastmond.

The five buses are comprised of a Marshall bodied 10.7M Dennis Dart, three B10BLE vehicles and a Scania.
Arriva first launched branded Saints buses in 2008 to celebrate local residents' passion for rugby. The partnership is just another example of Arriva's strong links with the local community. As well as regularly providing buses for school and community trips to the Saints, Arriva recently organised transport for five schools in North Liverpool for rugby league sports training.

For more information on Arriva routes and timetables in the North West, please visit:- arrivabus.co.uk.
Students to create sand art spectacular
PUPILS from two secondary schools in Liverpool are to create massive sand drawings on Crosby beach.

Created in collaboration with professional sand drawing artists 'Sand in your Eye', the 20m x 40m sculptures are in celebration of the city's 'On The Waterfront' FREE weekend events in the summer.

On Thursday, 20 May 2010, Calderstones School pupils will be creating a dynamic dance-themed drawing to celebrate the international dance spectacular during the second weekend.

And on Friday 21 May 2010, young people from Holly Lodge Girls School will be designing a drawing themed around the landmark Picasso: Peace and Freedom exhibition at TATE Liverpool, from which many of the waterfront events and activities will be drawing their inspiration.

The creation of both sand drawings – which takes place from 10am until 3pm on both days - will be filmed and made into a three minute time lapse film that will feature on media screens and websites across the region in the build up to and during the Waterfront Weekend celebrations.

The short films will promote the city as a tourist destination, artistic hub and a place to participate and engage with culture.

Liverpool's cabinet member for culture and tourism, Councillor Wendy Simon, said:- "This is a great opportunity for our young people to get directly involved in one of the city's major cultural events for 2010. It is a wonderful chance for them to work with some top quality artists and make sure On the Waterfront has a truly local flavour."

The sand drawings are a pre-cursor to the giant sand sculpture that will be created by Sand in your Eye at the Pier Head during the first On The Waterfront weekend at the world-famous Albert Dock, and will be based on Picasso's a dove of peace.

Jackie Ley, Director of Arts at Holly Lodge Girls' College said:- "This is a great opportunity for our students and we are delighted and privileged that they get to work with a world renowned artist on such an exciting project. Being the only Specialist Visual Arts School in Liverpool this project has allowed the students to learn a new medium of art."

The UK sand sculpture company are internationally renowned and their sculptures and drawings are amazing artistic creations that are all the more breathtaking because they are made of just sand and water.

They recently made a Guinness World Record drawing on Filey Beach in North Yorkshire and past notable endeavours include a giant Charles Darwin in Bradford and a giant Gollum for the Hollywood Sand Sculpture Festival in Belgium.

This is the first time they have worked with school pupils.

Claire McColgan, Director of Culture Liverpool, added:- "The sand drawings really demonstrate what the Waterfront weekends are all about; artists of international standing creating a world-class spectacle that's very much a part of Liverpool. It's just a taste of the incredible free programme we've got lined up for visitors and residents that is likely to be unrivalled in the UK this year."

Liverpool's 'On the Waterfront' weekends of culture will be two of the biggest and most exciting FREE outdoor festivals in Europe this year. Erupting in July with a feast of family fun, the first weekend will be closely followed in August by the biggest free dance festival in the UK this year featuring the cream of European outdoor dance, including world-famous Argentinean dance troupe Voala in their only date outside London this summer.

Culture Liverpool, Liverpool City Council's culture service, with Walk The Plank as Creative Producer, have joined together once more to produce the outstanding programme of FREE live events, further cementing Liverpool's place as one of the top visitor destinations in Europe.