Old Christ Church, Waterloo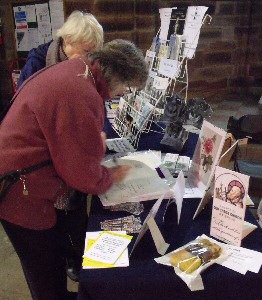 WHAT a magnificent effort has been made to reclaim the beautiful building of the old Christ Church in Waterloo, on Merseyside, complete with its splendid stained glass windows and handsome pink, stone arches. It was built between 1891 and 1899, when Waterloo was expanding, but by the 1980s the congregational had dwindled, so when the building was found to be suffering serious defects, it was deemed too expensive to maintain and the congregation moved into the adapted nearby Church Hall for its worship. Vandalism and a rapid decline followed for the old church, until stalwarts in the community strove to find money from various sources, including heritage lottery funding, to restore the fabric of the building. The pews have been removed and now the building is used as a community resource. It is available for wedding parties and such events. On the second Friday of every month, except August, a Farmers' Market and Food Fayre is held there, between 10.30am and 3.00pm. We have captured some of the action on Friday, 14 May 2010, in our photos. Interesting food, including tasty pies and cakes plus excellent cheeses, jams and preserves were being sold, as was a good range of jewellery, arts and crafts and second-hand books. Two talented ladies, Shirley Evans and her daughter, Karen Salmon, had crafted very unusual relief design cards, which were an excellent bargain. Also, information was available about groups and activities in the area including, Maghull Art Group (see below). Trade was steady and a little cafe provided cakes and drinks for those in need of refreshments. Whilst outside, bacon butties and burgers were on offer, as were a range of fresh vegetables from a local provider. Do support this worthy endeavour.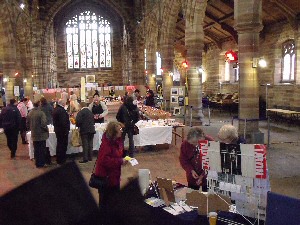 Special Events:- Maghull Art Group is celebrating '40 Years of Art' on for Saturday, 5 June 2010 to Sunday, 6 June 2010, in Deyes High School , Deyes lane, Maghull. Original paintings, with a special section of Maghull scenes, will be on sale as will hand made cards and jewellery. There is a Jazz on Saturday, 26 June 2010, from 2pm to 4pm (admission £2 [1.50]) and 7pm to 11.30pm (admission £7 [£5]) with a full licensed bar provided by the Liverpool Organic Brewery. Toys for Boys, a Model World on Saturday, 14 June, 10am to 5pm Sunday 10am to 4pm. Admission 50p including a raffle ticket, children under 16 free if accompanied by an adult (enquiries - John West on:- 0151 924 6143). Refreshments on offer and free parking. Happy hunting!
WITNESS APPEAL - ASSAULT - HUYTON
MERSEYSIDE Police are appealing for witnesses to a serious assault that occurred on Saturday, 8 May 2010 in Huyton.

Just before 3.20pm two paramedics were treating a male inside an ambulance at the junction of East Prescot Road and Dinas Lane when they were approached by three youths.

The male and female paramedic were both verbally abused and assaulted during the incident. The three youths then left on foot in the direction of Page Moss Shops.

The paramedics were treated in hospital for minor injuries and were left very shaken by this spontaneous attack. The offenders are all described as white, aged between 16 to 17 years of age, of slight build, wearing all black coloured clothing and baseball caps.

Detective Sergeant Haggerty said:- "We wish to speak to anyone who may have any information in relation to this incident. It's deeply disturbing to hear of paramedics being attacked in the line of duty, and we'll be doing all we can to bring the offenders to justice. The treatment of emergency service staff in this way will not be tolerated in our communities and I would reassure local people that we are treating the matter very seriously. We are making extensive enquiries and will do all we can to catch these offenders and put them before the courts. We would urge the community to help us with our enquiries and find those responsible."

North West Ambulance Service, Head of Service, Dave Kitchin said:- "This was an appalling attack on two members of our Service who spend their working day committed to saving lives and the Trust will not tolerate our staff being abused in this way. Both crew members are still unable to work due to their injuries and one may not be able to return to work for some time. As well as the mental and physical well-being of staff, this has an effect on our resources and we would like those involved to ask themselves who is going to come and help if a member of their own family needs emergency medical assistance? It is now a criminal offence to abuse ambulance staff either verbally or physically and we will be co-operating fully with the Police to ensure these youths are brought to justice. We would like to add to the appeal and encourage anyone with any information to come forward."

Anyone who witnessed the assault or has any information about it is asked to ring Merseyside Police on:- 0151 777 6562 or Crimestoppers on:- 0800 555 111.
Man Arrested On Ainsdale Beach

MERSEYSIDE police attended an incident on Ainsdale, Southport on Sunday, 16 May 2010 following a call by security guard from Pontins. We do not have any more information at this point confirmed.
Single?
ARE you single? Are you looking for a partner? No more speed dates....? Well we might have the answer for you very soon. Keep an eye on here for more information about a service that might be what you are looking for. If you want to know more, email us with your email address and the subject "single info?" and we will keep you posted!