Ready, steady, sprint for the RNLI in Merseyside this summer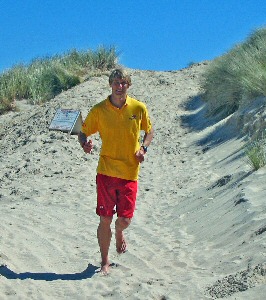 RUNNERS on Merseyside are being asked to put their best foot forward to raise money for the Royal National Lifeboat Institution's (RNLI) new lifeguard service on the north west coast. The charity's Summer Sprint series, taking place at locations throughout the UK, is coming to Crosby beach and features a 10km and 5km beach run through Antony Gormley's 'Another Place' installation.

Funds raised from the Summer Sprint, which is taking place on Saturday, 31 July, will support RNLI lifeguards patrolling 4 beaches in the north west for the first time this year, following an agreement with Sefton Council.

RNLI Events Manager Lisa Rutter explained that while Sefton Council continues to fund lifeguard wages, the RNLI provides all training and equipment costs. She said:- 'Running lifeguard services on more than 150 beaches throughout England and Wales cost the RNLI £8M last year, which was raised entirely through voluntary contributions. Having lifeguards on beaches saves lives, but 95% of the work that RNLI lifeguards do is actually preventative and supported by our national beach safety and schools education programme.' She added:- 'Inviting people to take part in the sponsored Summer Sprint will not only be fun and challenging for the runners but will hopefully encourage them to learn more about the safest way to enjoy the beach.'

The RNLI lifeguards patrolling Crosby, Formby, Ainsdale and Southport beaches will be leading by example and entering a team for the Summer Sprint. The run also signals the start of a week-long series of activities designed to highlight the RNLI's national Lifeguard Week, which runs from 31 July 2010 to 6 August 2010.

Rory Smith, the RNLI's Deputy Divisional Lifeguard Manager for the north west, said:- 'It costs just £20 to provide a personal first aid kit for an RNLI lifeguard and £74 for a rescue tube, which aids flotation for casualties. The Summer Sprint offers runners the opportunity to really make a difference to our lifesaving service.'

Entry for the Crosby Summer Sprint 10km race is £12.50 and £10 for the 5km race. To guarantee a place, contact Lisa Rutter at the RNLI on:- 0161 787 8779 or download an application form by logging onto:- rnli.org.uk/summersprint or by email.
NEXT OF KIN - GORDON MCKIE
LIVERPOOL Coroners Office have appealed for the next of kin of an 85 year old man who died on Sunday, 16 May 2010. Gordon Mckie, of Zenith Walk in Belle Vale, died at the Royal Liverpool University Hospital. There are no suspicious circumstances surrounding his death. The Coroners Office has been unable to trace Mr Mckie's next of kin and is appealing for any relatives to come forward. Any next of kin, or anyone who has information about Mr Mckie's next of kin, is asked to call the office of HM Coroner on:- 0151 233 4703.
Parents of children with diabetes forced to give up work
46% of primary school pupils with Type 1 diabetes, and 29% of their secondary school counterparts, report their parents have had to reduce hours or give up work to help them administer life-saving insulin injections, according to a new report released by leading health charity Diabetes UK.

The State of diabetes care in the UK 2009 report surveyed 661 children and young people with Type 1 diabetes and also revealed 65% of the primary school pupils questioned, and 87% of the secondary school pupils, think school staff do not have enough training in diabetes, which is vital in minimising risks to a pupil's health and in ensuring a full school life.

Misjudged doses of insulin injections can result in hypoglycaemic episodes, known as 'hypos', brought on by low blood glucose levels, and missed injections can result in diabetic ketoacidosis (DKA), caused by high blood glucose levels. Both hypos and DKA can lead to unconsciousness and hospitalisation if left untreated, and DKA in particular can prove fatal in extreme cases. If Type 1 diabetes is not managed effectively, there is also much greater increased risk of long term complications such as heart disease, stroke, blindness, kidney failure and amputation.

Diabetes UK Chief Executive, Douglas Smallwood, said:- "It is completely unacceptable that parents of children with diabetes are forced to forfeit their careers and risk financial hardship because of medical policy failings in schools. It is vital pupils have the correct support to control their condition within the school setting if they are to protect their short- and long-term health. The recent tragic death of Stockport pupil Sam Linton, who had asthma, illustrates the urgent need for the new Government to address the long-standing failings in support of children with long term medical conditions in UK schools. There is currently a postcode lottery with regard to effective partnerships between schools, local authorities and primary care organisations. There are pockets of good practice but this must spread throughout the country to avoid children's health, quality of life and education being irreparably damaged."

Diabetes UK is concerned that without a statutory duty on schools and PCTs, adequate support and full inclusion for pupils with diabetes and other long-term conditions will remain a lottery. The charity is calling on the new Government to ensure children with diabetes are recognised as a vulnerable group and appropriate support is provided, by fully-trained staff. The revised 'Managing Medicines in Schools and Early Year's Settings' document must be published as soon as possible and sent to all schools in hard copy. The pupil health and well-being agenda needs to include support for children with health conditions so they can manage their condition at school effectively whilst Ofsted must routinely inspect whether schools have clear medications policies and procedures in place.

In 2007 Asthma UK, The Anaphylaxis Campaign, the Cystic Fibrosis Trust, Diabetes UK, Epilepsy Action and the Long-Term Conditions Alliance produced a resource for schools - Medical Conditions at School: Policy Pack - which aims to help them create a safe environment for children living with a medical condition A new website was launched for the Medical Conditions at School resources in March 2008, medicalconditionsatschool.org.uk/.

There are 20,000 children under the age of 15 with Type 1 diabetes in the UK and it is estimated that 2,000 children are diagnosed with Type 1 diabetes every year in the UK. A 2008 Diabetes UK survey of primary schools in England found that 52% of schools have children with diabetes yet 70% of these schools said parents had to come in to administer insulin. Of schools that have children with diabetes 42% did not have a policy advising staff how to supervise Blood Glucose Monitoring (BGM), 48% did not have a policy advising staff how to carry out BGM, 41% did not have a policy advising staff how to supervise medication and 59% did not have a policy advising staff how to give medication.