Vote for caring Doreen!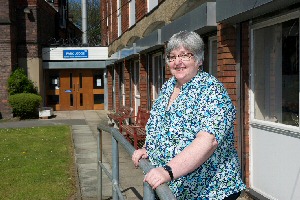 A LIVERPOOL social worker who has dedicated her 42 year career to caring for people has been shortlisted for a top national award.

Doreen Broadfoot from Lydiate works with people with mental health needs such as schizophrenia and bipolar affective disorder. She is in the running for the 'Lifetime Service' prize at the Local Government Council Worker of the Year Awards 2010, organised by the Local Government Association.

The 59 year-old said:- "It came as a total surprise to me and at first I didn't believe it! To be honest I am a bit embarrassed by all the attention but it is lovely to know that I am so appreciated. What I love most about my job is the contact with people, going out to meet them and being able to help and assist them and make sure they lead independent lives. Helping and supporting people has always been my job and there isn't a day when I don't look forward to coming to work. It is really nice to know my work doesn't go unnoticed, but the whole team are absolutely brilliant and they are all equally as hard working and dedicated."

She was nominated by her colleagues who describe her as "conscientious, hard working and reliable" and say she "never fails to impress with her sense of duty and dedication". They say she is an excellent role model, providing "stability, consistency and strength", often working late into the evening to finish assessments.

Doreen, who retires next month, has worked for the city council since 1968. She began her career working with children and spent 25 years managing a nursery. She then moved into mental health and was eventually seconded to a team within Mersey Care NHS Trust, where she now works. She is one of just 23 unsung heroes from councils across the country battling it out for 1 of 6 awards - but in order to win she needs people to vote for her!

The public can show their support for Doreen by going to:- localgovernmentchannel.com/awards and voting, or do it via mobile phone by texting 80039 and inserting the phrase LGATV 6 DoreenB into the message, making sure there is a space either side of the number 6.

More details of Doreen Broadfoot, including a film of her work, are available at:- localgovernmentchannel.com or by following the link on:- liverpool.gov.uk.

The winners will be announced at the glittering awards ceremony on July 8 at the LGA Annual Conference in Bournemouth.

Councillor Joe Anderson, Leader elect of Liverpool City Council, said:- "Doreen exemplifies the brilliant work being done every day by our staff to support the most vulnerable people in our city. Her nomination is richly deserved and I would urge local people to go online and get texting to support her."

Margaret Eaton, Chairman of the Local Government Association, said:- "There are hundreds of thousands of council employees across this country who work to improve their local areas every single day. Each council can give their own examples of staff members who routinely go above and beyond the call of duty in their service to the community. The Council Worker of the Year Awards provide a much needed opportunity to recognise some of the outstanding contributions made by local authority staff."
BHF Launches Heart Awareness Campaign in Liverpool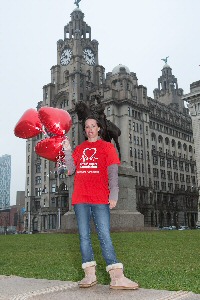 THE British Heart Foundation (BHF) has revealed that in some areas of Merseyside the rate of coronary heart disease is higher than the English average and a startling 280 people die from heart attacks every year. To tackle these alarming figures, the BHF has launched a year-long campaign in Liverpool, the Liverpool Heart and Soul Appeal, to raise awareness of the devastating effects of heart disease and improve the lives of those touched by heart disease.

The nation's heart charity already invests £1.4million at Liverpool and John Moores University on 12 research grants. It funds six BHF Heart Nurses at Alder Hey Children's NHS Foundation Trust and Bousfield Health Centre, Liverpool Primary Care Trust; one Community Resuscitation Officer at North West Ambulance Service; 105 Heartstart Schemes teaching children and adults lifesaving skills and 59 life-saving defibrillators.

The Liverpool Heart and Soul Appeal is supported by Olympic Gold Medallist Beth Tweddle, MBE, who lives and trains in Liverpool. She said:- "I am delighted to be supporting this appeal in Liverpool. The British Heart Foundation carries out fantastic work in the city and invests in many life-saving projects. People should support their work and concentrate on eating healthy meals and being active. Physical exercise is one of the best things we can do to look after our hearts and just doing 30 minutes of moderate intensity exercise 5 times a week can halve the risk of a heart attack."

Ken Fretwell, Liverpool Heart and Soul Appeal Manager, added:- "Beating heart disease and changing these frightening statistics is what the BHF in Liverpool is all about. We want to reduce heart attacks and improve the lives of all those touched by heart disease. Together we can do this. We can keep families as one for longer, help future hearts and strengthen the heart and soul of Liverpool."

One person who has benefited from the work of the BHF is 14 year old Maggie McCulluch, from Formby. Maggie was born with Tetralogy of Fallot, a complex abnormality of the heart and her family has backed the appeal. She said:- "I go to Alder Hey Hospital for treatment and I am getting a lot better but it has been very hard for me growing up with my condition. Two years ago I took part in the Sefton triathlon and raised money for the BHF. Although I have been poorly, I have tried to not let it get in the way and I always ask my doctor if it is okay for me to do things. "

Ken Fretwell added:- "We really need your support to make this appeal work. Please tell everyone about the work of the BHF and what we are doing in the area. Or you can support us by volunteering, holding a fundraising event or making a donation. It is only with your help that we can beat heart disease together in Liverpool."

The BHF Volunteer Conference will take place on Saturday, 22 May 010, at Liverpool University for people wanting to find out more about the charity's work in the area. BHF funded researchers from the Liverpool University, the BHF Chair of Cardiac Physiology at Manchester University and a BHF Heart Failure Nurse will all be on hand to offer information. The session runs from 10am to 2pm and light refreshments will be provided.
For more information or to attend the BHF Volunteer Conference, contact Ken Fretwell on:- 0151 678 2646 or call:- 07714 254503 or email email or visit:- bhf.org.uk/liverpoolappeal.