Cycling Legend Phil Liggett Joins British Heart Foundation Bike Ride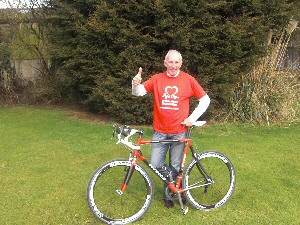 LEGENDARY cycling commentator Phil Liggett MBE is urging riders to join him to take on the British Heart Foundation's (BHF) brand new Coast to Coast Bike Challenge. Cyclists will ride from Whitehaven to Newcastle in this 138 mile 2-day team event.

Phil (66), who was born on the Wirral, is universally referred to as 'the voice of cycling'. As well as commentating on the Summer and Winter Olympics, the Commonwealth Games and the Tour de France, Phil has received numerous accolades and written for a range of cycling publications.

Following the first 70 miles from Whitehaven Pier to Hartside, Phil, who is also a professional cyclist, will be joining riders on the second day of the event for a 68 mile stretch from Hartside to South Shields. He will also share his experiences with participants when he gives an after-dinner speech and hosts a table for the highest fundraisers.

Phil said:- ''The BHF Coast to Coast Challenge is going to be a fantastic event and I can't wait to be a part of it. It's a pleasure to be teaming up with the nation's heart charity for this inaugural event and I would encourage keen cyclists to sign up for a great cause. Pedalling is the most pleasant way to look after your heart and take care of your body so why wouldn't you want to sign up?"

The Coast to Coast Challenge takes place on Saturday, 31 July and Sunday, 1 August 2010. It is strictly a team event and each team must have a minimum of 3 and maximum of 5 riders, plus 1 support driver.

Daniel Routt, BHF event organiser, added:- "We are over the moon to have the support of Phil for this event. He is an expert in his field and it is fantastic that he will be supporting our riders on this challenge and helping the BHF to raise vital funds. Entries are limited for this event, with just 200 places available so I would urge people to sign up and not miss out on a fantastic opportunity."

Registration is £40 per person, which includes a BHF t-shirt, route map and a three course meal with Phil. To register or for more information, visit:- bhf.org.uk/coast, contact 0800 085 2280 or via email.
North West hospitals not meeting head injury guidelines
75% of all hospitals in the North West are failing to provide patients with even half of the written information recommended by NICE following a head injury.

Research issued by Headway – the brain injury association and collected and analysed by researchers at the University of Warwick, found that 22 out of 30 A&E departments in the region are providing patients with less than half of the written information laid out in NICE's guidelines, risking further health complications to victims of minor head injuries. To compound the problem, almost half of all A&Es are providing no written advice whatsoever on post-concussion syndrome to patients, while 70% are failing to advise patients with minor head injuries not to drive immediately after injury.

Each year, an estimated 1 million people attend hospital A&E in the UK following head injury, with many more injuries going unreported and not assessed by medical professionals. With such a significant number of people potentially affected, it is vitally important that every A&E department across the UK provides detailed information to all head injury patients, as Brian Clingan, spokesperson for Headway – the brain injury association in the North West, explains:- "When people suffer any form of head injury, it is vitally important they are given high-quality, written information. Although some hospitals in the North West are doing an excellent job and are meeting the NICE guidelines, many are not and it is important to have a more consistent service across the region. When a minor head injury has occurred, it may take some time for the symptoms to show. Even if the knock appeared innocuous at the time, it is essential to take each case seriously. The fact is, even a minor bang to the head can have major consequences and it is vital that patients leave hospital with high-quality, detailed information on the symptoms to look out for. Without being warned, a patient wouldn't know they shouldn't be left alone for 48 hours after leaving hospital, or the potentially serious implications of suffering weakness in their arms or legs, for example. So it is essential that we continue to work with the hospitals in the North West to ensure the departments know exactly what information needs to be provided to patients – and when – to improve the situation."

Dr Carol Hawley, Principal Research Fellow at the University of Warwick's Medical School, collected the data. She said:- "We looked at the quality of the written information being handed out to patients who had suffered a head injury. We found the quality of the leaflets at many hospitals fell short of the NICE guidelines. Although the correct information may be given to patients verbally during medical consultation, it is often difficult for patients to take on board what is being said and it is important that adequate and consistent written information is also supplied by all hospitals across the UK."

The research comes as Headway launches its annual Action for Brain Injury Awareness Week on 17 May to 21 May 2010. For further information, visit:- abiweek.org.uk.