Train your brain in FACT's Exploratory Laboratory
AS part of its new exhibition Persistence of Vision (18 June to 30 August 2010), FACT (Foundation for Art and Creative Technology) is inviting audiences to test their memory, visual perception and mental agility in its Exploratory Laboratory.

Visitors to will enter the Family-Friendly space through a hall of mirrors. Inside they will find a series of fun experiments that test various aspects of memory and perception. The interactive touch-screen games, which were specially designed by the FACT team for the exhibition in collaboration with Liverpool University's Visual Perception Lab, give visitors an overall score so they can see how their memory and mental agility measures up against family, friends and other gallery visitors. The games are also available to play online via the FACT website.

Visitors will also have the chance to step back in time and see a rare display of Victorian optical toys. The collection, which belongs to acclaimed experimental film-maker Werner Nekes, includes zoetropes, thaumatropes and a camera obscura. These devices fascinated Victorians with their ability to capture images and create the illusion of movement. They were also crucial to the development of more recent image technologies such as photography and film.

After exploring the Laboratory, visitors can then go on to the main gallery spaces to see Persistence of Vision. FACT's new exhibition explores the relationship between vision, memory and media through the multimedia work of nine contemporary artists who repurpose image technologies, such as cameras, projectors, magnifying glasses and mirrors, to review and re-imagine how our memories are stored, created and revived.
Business Tourism Continues to Thrive in Southport
SOUTHPORT Conferences, the conference bureau of Sefton Council has enjoyed a record April, reporting nearly £5m worth of confirmed conference business for the area during the month.

The wins will bring various annual conferences and over 2000 delegates to the resort right up to 2017, spanning clients that include; the Institute of Actuaries, Foresters Friendly Association, The Oddfellows Friendly Society (Manchester Unity Friendly Society) and the Fire Brigades Union.

The events will all take place at the resort's flagship conference venue, the Southport Theatre & Convention Centre and follows the success enjoyed by the area for the first quarter of 2010, where the resort estimated £13 million of local economic benefit was generated for the region.

Commenting on Southport's success, Tony Corfield, Assistant Director of Leisure & Tourism Sefton Council explained:- "All the time, investment in Southport is increasing and it is apparent that we are reaping the results of this within the business tourism sector. Associations and corporates of all shapes and sizes, across a wide spectrum of different markets are seeing the area as a credible destination for conducting and winning business and are committing to return here year after year to stage their conferences and events." For further information visit:- southportconferences.com.
TRESPASS AND ATTEMPTED CRIMINAL DAMAGE

ON Monday, 17 May 2010, Merseyside Police have issued an appeal for information following an incident at RAF Woodvale. No-one was hurt during the incident but it is reported that four intruders gained access to the RAF base at around 4am and caused minor damage to the Force helicopter. The intruders are thought to have then stolen yellow Landrover which was later found abandoned in Pinfold Lane in the Ainsdale area. The vehicle that is reported to have been involved on the base was examined by Crime Scene Investigators for forensic evidence. Merseyside Police say that they believed the intruders left the scene in Pinfold Lane in another car and are now being hunted. Police have also carried an extensive search of the area around Pinfold Lane to find out more information about the intruders and how they gained access.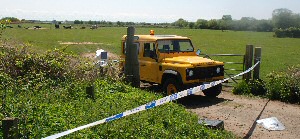 Merseyside Police said that:- "This was a brazen, but unsuccessful attempt to seriously damage the Merseyside Police Force helicopter. Force-wide search is on to catch those responsible and we are very confident we will find them quickly. This is the second attempt to damage our helicopter and it shows just how big an impact we are having on targeting serious, organised criminals in Merseyside via it. This attempt has failed largely due to the heightened security measures that we have put in place following the incident in October 2009 and the damage to the helicopter is minimal. It will be back to being operational once all the necessary checks have been made. In the meantime, I would like to assure people that our air support capability has not been affected. Thanks to the way we work with other forces, so a police helicopter will remain available to attend future incidents across Merseyside."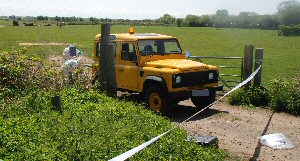 Detectives are appealing for anyone with information to call Merseyside Police on:- 0151 709 6010 or Crimestoppers on:- 0800 555 111.