CONCERN GROWS FOR MISSING WOMAN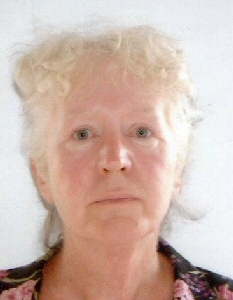 ON Saturday, 1 May 2010, Swindon Police circulated details of a missing woman from their area. Since that circulation, nothing has been heard from the woman concerned, and as far as we are aware, no-one has had contact with her. As time passes, concerns for this lady's well being and safety are increasing, and help from the public is requested, in an attempt to trace her.

Judith NEWMAN, aged 57 years, was last positively seen in Swindon during the morning of Wednesday, 28 April 2010. She had an appointment with her care worker set for Friday, morning, the 30 April 2010, but failed to keep it, and as far as we have been able to establish, has not been seen since last Wednesday.

Judith's home is in Victoria Road, Swindon, she has a history of mental disorders and we believe that she has not been taking her medication. There are no family members in this County, but she has a sister in Sussex, with whom she corresponds by letter, but they never visit each other. This is the only family member that the police are aware of.

Judith NEWMAN is described as white, 5'7" tall, with short blonde/greying hair, which she normally wears tied back in a bun. The Police have no definite information as to what she may be wearing, but Judith likes to wear black clothing with long ankle length skirts. She is described as well spoken with no noticeable accent and smokes cigarettes.

She has a driving licence, but does not own a car, is in possession of money, owns a passport, and enjoys walking.

Having previously lived in Bournemouth, she may have unknown contacts in the Dorset area, and on a recent occasion when she had been reported as missing, she was found in Swanage.

Anyone who may be able to assist with the whereabouts or possible whereabouts of Judith Newman is asked to contact Constable 2504 Julie BOX at Swindon Gablecross police station on:- 0845 408 7000, or alternatively, anonymous information may be left by ringing Crimestoppers on:- 0800 555111.
NEW SUPPORT TO IMPROVE GREEN TRAVEL OPTIONS TO MERSEYSIDE ATTRACTIONS
TOURIST sites across Merseyside are to receive free business support from the Merseyside Transport Partnership (MTP) to help visitors consider more environmentally-friendly travel options. On behalf of the MTP, Merseytravel has appointed a dedicated Visitor Economy Officer, Andrew Elliot, will be working with a number of the most popular attractions in Merseyside to overcome issues such as car park overcapacity. He will help attractions communicate how best to reach their sites via public transport, walking or cycling, enhancing sites' existing marketing activity and potentially increasing visitor numbers. Andrew's remit extends the existing work that MTP, through TravelWise, is doing to support attractions in putting travel plans in place. He aims to work with at least 50 tourism and leisure sites over the next twelve months, including Tate Liverpool, the Floral Pavilion and Liverpool Cathedral.

Andrew was formerly with The Mersey Partnership tourist board where he assisted a number of Merseyside attractions to apply for quality ratings. He said:- "Encouraging visitors to consider greener travel options will result in tangible business benefits to tourist attractions, helping to tackle car park overcapacity and improving their existing marketing activity to make sites more accessible to more people. By working closely with tourism and leisure sites to develop dedicated visitor travel plans, we can help the environment and make it easier for everybody – regardless of whether they own a car or not - to see the best of what Merseyside has to offer. All Merseyside tourist and leisure sites – regardless of their size and location – are more than welcome to get in touch with me for free advice and ongoing support."

Andrew's role is part-funded by the European Regional Development Fund (ERDF), which is also supporting improvements to coastal and rural routes in Wirral and Sefton. In Wirral, these include work on the Bidston Hill Accessible Trail and Wirral Circular Trail and in Sefton include work on the Ainsdale Path Link and at Marshside.

Neil Scales, Chair of the Merseyside Transport Partnership, said:- "We have a number of excellent tourism and leisure sites in Merseyside, which play an important role in attracting more visitors to the region and supporting economic growth. Whilst bringing a number of benefits to the region, large numbers of tourists can, however, generate significant amounts of traffic and lead to localised congestion. Capitalising on the growth in tourism, resulting from Liverpool's resounding success as 2008's European Capital of Culture, is one of the main priority areas for Merseyside's current Local Transport Plan. The creation of a specific visitor economy role is indicative of the importance of this work. I would encourage all attractions to contact Andrew for support that will both benefit the region and help secure a sustainable future for their business."

Visitor attractions that are interested in receiving free support from the Merseyside Transport Partnership are encouraged to call Andrew Elliot on:- 0151 330 1549, email or visit:- LetsTravelWise.org.