Lockheed Sculpture Gets Erected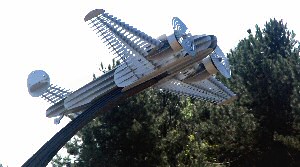 GETTING erected over the first few days of June 2010, on the Pontins roundabout, on Coastal Road in Ainsdale is the fantastic new metal sculpture of the iconic Lockheed Electra. The aircraft landed at Ainsdale beach on the return leg of the first commercial transatlantic flight that also took off from the beach on the 13 May 1937. The 25 foot high sculpture, manufactured by Chris Brammall Ltd. is designed to mark that forgotten, yet significant mark in aviation history.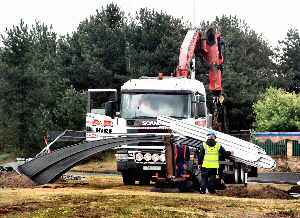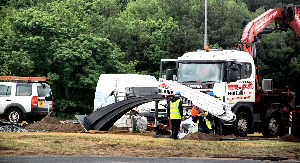 Make Brothels legal, says Southport MEP
A North West Euro-MP is calling for brothels to be made legal to provide greater security for prostitutes who work from them. Liberal Democrat Chris Davies claims that the killings of Suzanne Blamires, Susan Rushworth, and Shelley Armitage in Bradford highlight the urgent need for a new approach. He said:- "It is appalling that two or more prostitutes cannot work together under the same roof for their mutual protection without fear of criminal prosecution. The law does nothing to help keep them safe." His comments follow those of Prime Minister David Cameron who said last week that the issue of decriminalising prostitution-related offences should be "looked at again." Prostitution is legal in Britain, but soliciting and the keeping of a brothel where two or more people may work as prostitutes is not. The 2003 Sexual Offences Act increased the maximum penalty to seven years imprisonment. Criminologists claim that as many as 90 women working as prostitutes may have been murdered over the last ten years. Davies says that local councils should be required to treat the licensing of brothels as a planning issue, following national guidelines to ensure minimum disturbance to any residents who may live in the vicinity. "It's not a matter of morality, but of practicality. An open approach based on licensing and regulation will be more effective in curbing crime and exploitation." The MEP admits that the licensing of brothels would not stamp out all street prostitution, which he claims is almost entirely associated with drugs use. But he argues that it will reduce demand from clients and the consequent scale of the problem. Brothels are legal in Germany, the Netherlands and Greece and Switzerland. Last year the Royal College of Nursing called for the legalisation of brothels to reduce rates of sexually transmitted diseases and protect women from violence. A study of 247 sex workers in Australia found that 52% of street prostitutes had experienced violence as against 12% who used premises. Do you agree? Email us to:- news24@southportreporter.com.
FORCE'S OLDEST POLICE DOG RETIRES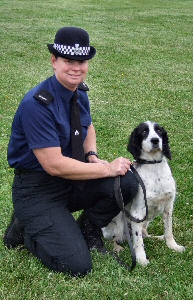 MERSEYSIDE Police Force's oldest police dog, Police Dog (PD) Todd, retires this month after more than 12 years service.

PD Todd will parade on duty for the last time this month after first training to become a police dog in 1998. Todd, a springer spaniel was donated to the Force by the RSPCA in Halewood after being abandoned and found in a poor state of health at 12 months old.

His potential was recognised at an early age and he was quickly placed with Constable Tracey Fry who has been his handler ever since. Working with Constable Fry, PD Todd qualified as a detection dog capable of searching for and indicating upon firearms, cash and controlled drugs.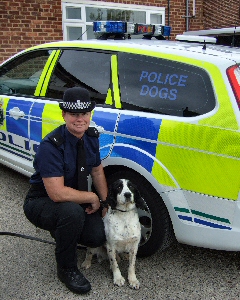 It is estimated that during his time with the Force, PD Todd has conducted an estimated 2,480 searches and has proved key to putting many offenders behind bars.

Amongst his finds have been, £42,000 cash from a money laundering case concealed in hidden panel in a wardrobe, a concealed loaded shotgun beneath a tree which subsequently led to the arrest of a suspect involved in a shooting and machinery that transpired to be a large scale pill making machine. These jobs are to name but a few and PD Todd has made countless recoveries from searches of vehicles and properties over the years. Only this February he searched a number of gardens following a shooting incident, where he found a handgun concealed amongst dense bushes and trees.

Dog Section Inspector Matt Boyle said:- "Specialist police search dogs generally retire what they reach the age of 10, but PD Todd has been such a valuable asset and has always shown such enthusiasm for his job that he has continued to work for the Force for 12 years of his life. If we equated his service to that of human service, we could say that he has served Merseyside Police for an equivalent of 84 years! PD Todd provided a highly specialist service and his skills and experience will be missed by all of the dog section. He is still a fit and active dog and will now live out his years at home with handler, Tracey. Merseyside Police's dogs are highly trained and valued members of the Force and their work is vital in our fight against crime.For more information on Merseyside Police's Dog Unit visit:- merseyside.police.uk."
Southport Weekender - Error Update
SORRY to all the readers who have wanted to see or Part 3 of our photographic coverage. This error is down to an unusual amounts of data being moved on our system. We are fixing the problem and it should be finished very soon. Thank you to all of you who contacted us about the error. To see it, please keep going on to:- southportreporter.com/449/449-9.shtml.