NORTH WEST'S HISTORIC OULTON PARK CIRCUIT NEXT STOP FOR UK'S PREMIER RACE SERIES
BRITAIN'S premier motor racing series – the Dunlop MSA British Touring Car Championship – arrives in the North West at the popular Oulton Park circuit in Cheshire on Sunday, 6 June 2010 for the latest round of its exhilarating 2010 season.

It's a fixture that annually attracts a trackside crowd of over 30,000, making it one of the biggest sporting and social events of the year for the North West region – and for many reasons. Oulton enjoys a huge catchment area including the nearby cities of Chester, Liverpool and Manchester. Furthermore, the surrounding motorway network (M6, M62, M53, M56) also provides swift access from Cumbria, Derbyshire, Lancashire, North Wales, Shropshire, Staffordshire, West Midlands and Yorkshire.

In addition, the undulating Oulton circuit is steeped in history and is regarded as arguably the most daunting challenge for drivers on the BTCC calendar. Its picturesque parkland setting also provides terrific views of the track and with the BTCC in bumper-to-bumper action three times on race day the crowds are guaranteed plenty of drama, excitement and unpredictability.

What's more, the public can also take advantage of the open paddock policy and specially organised Pit Lane Walkabout session to meet the BTCC's star drivers for autographs, photos and plenty of team giveaways. Admission for children aged 12 and under is FREE while adult tickets are priced from just £24.00 when booked on the Olton Park website or call:- 0870 950 9000.

"There's always an electric atmosphere at Oulton. It's a proper 'old school' race circuit where the crowds are still pretty close to the cars and can smell the rubber, oil and brakes from the cars. The drivers love it even though at times things can start to get a bit rough out there. It's very fast but also quite narrow in places meaning there's always a bit of push and shove between the cars. It's definitely one for the crowds to savour." said says current championship leader Matt Neal.

Honda Racing Team driver Neal is actually tied for the series lead with arch rival, Silverline Chevrolet's Jason Plato who adds:- "Oulton is one of those 'ultimate' circuits that the drivers and fans both love. It's a great feeling when you head out of the pit lane and see the spectator banks packed with people and colour. All that history also really gives the place soul and winning there is always very special."

This year's BTCC is turning out to be one of the closest on record – the season's opening nine races have been won by seven different drivers* in five different makes of car*. Just 17 points – equivalent in effect to one race win – cover the top six arriving at Oulton which could play a pivotal role in the outcome of this year's title race.

Fourth overall is one of two local stars to Oulton, Widnes's Paul O'Neill. The 30 year old has so far taken third and second place finishes in 2010 in his Sunshine.co.uk with Tech-Speed Honda Integra and Oulton would be the perfect place to open his victory account – it was at Oulton in 2002 that he achieved an emotional first race win in the BTCC. O'Neill will also arrive at Oulton jointly leading the Independents' table for drivers competing with privately-run teams.

Hoping for a big result as well on home ground will be Tom Boardman who races a SEAT Leon for his family-run Special Tuning UK team based in Preston. Boardman, aged 26, led briefly at Brands Hatch in early May and has impressed many with in his first full season in the BTCC with a number of top six finishes.

Oulton Park's big BTCC race day on Sunday, 6 June 2010, includes nine races in total. While the BTCC's three showdowns headline the bill, there will be a further six races from the high-profile supporting Ginetta Junior, Ginetta G50, Porsche Carrera, Renault Clio Cup and Formula Renault categories that offer the very best in single-seater, saloon and sportscar action.

Acitivity begins with the Pit Lane autograph session (10.35am-11.10am) followed by a BTCC Drivers Parade around the circuit in front of the crowds. The BTCC then kicks off the race action with the first of its three races on the day at 12.15pm. Its second and third races are scheduled for 2.30pm and 5.10pm respectively.

ITV4's live coverage of the event is from 12.00pm to 6.30pm and will also be live-streamed on the:- itv.com website.

For all the latest news in the run-up to Oulton's BTCC race day - plus access to hi-res copyright-free images - visit the championship's official website btcc.net.

The BTCC can also be followed on Twitter and on YouTube.
WITNESS APPEAL - ATTEMPTED ABDUCTION, WAVERTREE, LIVERPOOL
MERSEYSIDE Police in south Liverpool are appealing for information after a man tried to abduct a young girl as she walked along a street in Wavertree with her mum. The incident happened at around midday on Friday as the 3 year old girl was crossing Picton Road, opposite Southdale Road, with her mum, towards the Wellington pub. As the mum let go of her daughter's hand to get a pushchair containing her baby onto the pavement, a man walked passed them both and took the child's hand before continuing along Picton Road. Within seconds, the girl's mum realised what had happened and shouted at the man before grabbing her daughter and going to a nearby nursery school to raise the alarm. The man is believed to have continued along Picton Road towards Picton Clock. The victim was not injured in any way but her mother, who is 23, was left extremely shaken. The offender is described as white, aged in his late 50s or early 60s, around 5ft 5ins - 5ft 8ins tall, of medium build, with distinctive snow white hair which partially covered his ears. He was clean shaven and was wearing a short-sleeved dark checked polo shirt with a white collar and beige-coloured tracksuits bottoms. He swayed as he walked and may have been drunk. Police officers carried out a full search of the area, including all the local pubs, but the offender could not be found. Detective Inspector Paul Roche from Admiral Street CID, said:- "This is a very disturbing incident that has caused a great of distressed to the mother of this little girl. Thankfully, incidents like this are very rare however we are concerned about this man's behaviour and we need to trace him as soon as possible. Picton Road would have been very busy at that time of day with alot of potential witnesses. Also, the description given to use is very detailed so I am confident someone out there has seen him or knows who he is. I would appeal to anyone who lives in the area and thinks they know who this man is, or was in Picton Road at around midday last Friday and saw something, to get in touch." Call Liverpool South CID on:- 0151 777 5394 or Crimestoppers on:- 0800 555 111.
LIVERPOOL'S JAMES COLE DOMINATES NATIONAL CLASS WITH TWO WINS AT HOCKENHEIM
ON 30 May 2010, James Cole, Cooper Tires British Formula 3 International Series National class leader, celebrated more success in the championship at Hockenheim this weekend. Two class wins were the highlights for Cole, with the added achievement of posting an overall top ten finish in the first race, one of the goals which Cole had set himself at the start of the season.

"I've had the best weekend of the season so far. I think I've found my stride with my T-Sport National class car and I'm also proving my ability to take the challenge to some of the International class contenders as well. Beating the opposition in the National Class is always the first goal, but after that the aim is to push for the best overall finish position. Despite our car being older and less sophisticated aerodynamically, I'm pleased to have been pacing in the top ten this weekend." said Southport's Cole.

It was Cole's first visit to the German Formula One circuit, with the chance to learn one of the classic European race venues which the young driver will undoubtedly visit many times in his career over the coming years. The practice session at the start of the weekend was Cole's only opportunity to lap the track without the pressure of qualifying or racing and he used the time effectively, building his experience in preparation for the rest of the weekend.

His hard work paid off with fastest lap time in the qualifying session to put him on class pole for the first of the three British F3 races, with the second race grid positions taken from race one results. For the third race team mate and National class rival Idafar Menasheh pipped Cole to pole honours with the second best qualifying lap time of the session.

Cole led the National Class battle for all but two corners of the first race, with the Merseysider only being challenged by Menasheh on lap 13, with his rival taking him briefly, before Cole quickly retook the advantage and then romped home, not only taking his class win, but taking his first overall top ten finish of the season with ninth place.

In the second race of the weekend Cole started in ninth place, well ahead of his team mate and title rival. He capitalised on this strong starting position to keep himself ahead in the National class title race as well as having the chance to pit his racing skills against the International class competitors. Cole was able to hold his own with many of these racers and took his second victory of the weekend, his seventh win of the season.

In the third race Cole was on course for a third victory, leading Menasheh for much of the race, until the Merseyside driver dropped back a few places. Taking two of the three wins on offer this weekend and winning seven races to Menasheh's five, Cole's championship points lead has been eroded with only eight points separating the two drivers.

Cole is unperturbed saying:- "I just need to keep doing what I'm doing and dominating each race weekend. The pressure is on each time I'm out in the car, but I can cope with this and just relish each race weekend and the chance to go out there and show I have the ability to fight hard, race hard and, ultimately, win."

Cole's British F3 International Series takes a six week break, returning to the UK for the next round of the Series. Rockingham Motor Speedway will host the next three races on the weekend of 17 July to 18 July 2010.
IT'S A SNIFF - OFFICERS SMELL OUT CANNABIS FARM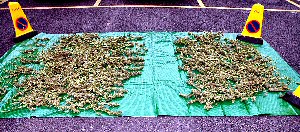 MERSEYSIDE Police Officers sniffed out more than £300,000 of cannabis at an address on Blythswood Street, Aigburth, on Wednesday, 26 May 2010. Officers from the Operation Hawk team in Liverpool South executed a drugs warrant at the address after colleagues with a keen sense of smell had alerted them. Cannabis with an estimated value of £300,000 was found in a number of rooms at the house - there were 694 plants, along with cannabis that was being dried out for sale. A wrap of cocaine was also recovered. A 39 year old man from Aigburth was arrested on suspicion of production of cannabis, possession with intent to supply cannabis, and possession of cocaine.