Forestry Commission urges people to saddle up for National Bike Week
THE Forestry Commission in the North West is encouraging people to saddle up at Cheshire's largest forest as part of National Bike Week.
Running from June 19-27, National Bike Week aims to promote cycling as an everyday healthy and practical lifestyle choice, as well as a great way to slash the nation's carbon footprint by 2012.

There are a host of waymarked cycle routes around Delamere including the 4 mile long Hunger Hill trail and the longer 7 mile Whitemoor loop.
There are routes for families and beginners, and the more adventurous can try cycling to the top of Old Pale hill for stunning views of the Cheshire countryside.

Vernon Stockton, from the Forestry Commission at Delamere, says:- "Delamere has miles of waymarked cycle trails suitable for all fitness levels, and forests make the ideal location for a bike ride. We look forward to welcoming visitors to Delamere's clean green spaces during National Bike Week."

Cycling has seen huge growth over the last 15 years on Forestry Commission land in England. The sustained enhancements to bike trails and cycling facilities have made the activity more accessible for a wide range of people, including families and those who are retired.

For more information about mountain biking and other activities at Delamere Forest, log on to:- forestry.gov.uk/delamerehome.

For more information about National Bike Week log on to the website.
ASSOCIATION OF CHIEF POLICE OFFICERS (ACPO) ADVICE TO HAVE FUN BUT STAY SAFE DURING THE WORLD CUP

RESPONDING to the ACPO advice to football fans to have fun and stay safe during the World Cup festivities, Chris Sorek, Chief Executive of alcohol awareness charity Drinkaware says:- "Getting behind sports events like the World Cup is a great way to show support for your country, but regularly exceeding your daily unit guidelines* and compromising your personal safety or making yourself vulnerable to anti-social behaviour aren't the best way to show your patriotism. We need to tackle the misconception that you must get drunk to have fun and are offering people practical tips to help them have a good time. It's excellent advice to make plans to get home safely, keep tabs on your drinking and watch out for your mates. Eating before you start to drink, pacing yourself and opting out of rounds are also great ways to help you last until the final whistle. There're also plenty of ways to enjoy the World Cup that don't involve alcohol, including Drinkaware's Hoof It! campaign where we encourage fans to drink less and play more by giving them the chance to win footballs at:- drinkaware.co.uk/hoofit. Every year alcohol misuse costs society £25.1 billion so it's essential, now more than ever, that consumers know how drinking can not only affect their health and personal safety but also society as a whole. Although we won't change Britain's drinking culture overnight, by helping people make informed decisions about their drinking, we can start to change their relationship with alcohol."
Podium finish for St Helen's cyclist Jonny McEvoy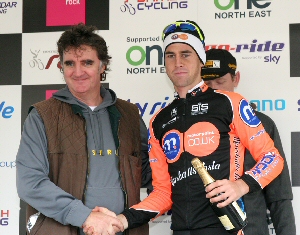 THE St Helens-based cyclist Jonny McEvoy capped a strong start to the 2010 season with a top three finish in the Leazes Elite Men's Circuit Race on Friday night in Newcastle.

Jonny was part of a three-man fight for the finish line with eventual winner Jack Bauer (Endura) and second placed Matt Cronshaw (Rapha Condor Sharp). The Elite Men's event was the finale to the Northern Rock Cyclone Festival of Cycling in the North East of England.

The 20 year old, who graduated from the British Cycling Talent squad based in Italy, has been a revelation this year with the Motorpoint pro-cycling team, putting in highly accomplished performances in the Tour of Majorca, Tour of Brittany and more recently the FBD Insurance RAS Tour in Ireland. He is also a regular member of the team's Halfords Tour Series squad, which currently holds the yellow jersey going into the last two weeks of the televised city centre race series.
DINOSAUR 'CHARLIE TWINKLE' AT CROSSENS NURSERY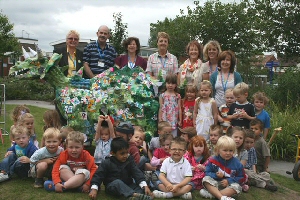 CROSSENS Nursery children have recently been making this colourful dinosaur at their Preston New Road setting, calling their friend 'Charlie Twinkle'.

As headteacher Sue Gilbertson explained:- "The children have been enjoying writing, drawing, painting and ICT programs on a dinosaur curriculum theme for six weeks, and have been dressing up in dinosaur costumes."

Crossens Nursery's Artist in Residence, Andy Shaw and artist Sharon Kelly, worked with the children, using recycled materials to create the dinosaur. Plastic cups, twine, cardboard, fabric, plant pots and ping pong balls were all combined to make the amazing Charlie Twinkle.