Film workshops for young people with Vision4Dreams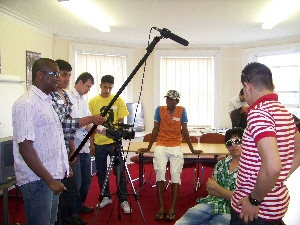 ACACIO Moreno, Founder of Vision4Dreams Productions, a Warrington-based film and media company will be hosting a series of 7 film-making workshops for a number of young people in Liverpool. Working in partnership with Aimhigher and Refugee Action, Moreno is hoping that the sessions will provide the young people with the skills and confidence they need to feel comfortable seeking further education and employment within the industry.

The 8 young people involved in the programme have come to Liverpool as refugees from disadvantaged places all over Africa and South Asia and have found the transition to their new lives a difficult one. Breaking down barriers such as language and culture can be a challenge but Moreno aims to help the young people through this difficult time and empower them through the medium of filmmaking.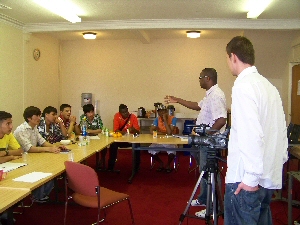 Acacio Moreno, Founder of Vision4Dreams Productions said:- "Over the course of the 7 sessions the young people will learn the entire process of film-making, from creative planning sessions and script writing to camera work and final cut editing. The experience and film portfolio that the young people will take with them after the sessions will provide them with a step up when applying for college courses and even employment in the future."

Alex Lancaster, Equality & Inclusion Manager, Aimhigher Greater Merseyside said:- "This is a really important and exciting project for Aimhigher as we will be working with a group of young people at Refugee Action who face numerous barriers to progression to higher education and lack sufficient knowledge of the education and employment system in the UK. The young people will be able to look at their own skills and strengths during the film project and will share their journey on film as they discover more about education and their potential career choices. The project will inspire these young people and give them the skills and confidence to explore their options in education and employment as well as enabling them to make more informed choices about their future."

The culmination of the group's hard work will be a film screening at FACT in Liverpool in August.

Sarah Bevan-Fischer, Head of North West Enterprise for Enterprise UK, the nation's enterprise charity said:- "Not only does Acacio work towards creating a better future for young people in our communities. He also works hard to promote enterprise and inspire people all over the Northwest.
Acacio is an incredible mentor for these young people and we are proud to have his support as a Northwest Enterprise Ambassador."
Trust support Police anti-violence campaign
FOOTBALL Premiership referee Chris Foy is backing Southport Hospital Accident & Emergency department's "Give domestic abuse the 'Red Card'" program. Research has shown that incidents of domestic abuse increase during sporting events and Merseyside Police expect that the current world cup will unfortunately follow this trend. The accident & emergency department can be at the forefront of such situations as it has to deal with the aftermath and we have turned to Merseyside Police for their support by paying for a police presence in the A&E department on the days of the England matches.
VISITORS FLOCK TO OLD DOCK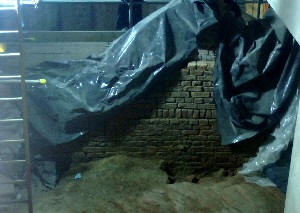 MORE than 1,000 visitors have toured Liverpool's revolutionary Old Dock just one month after opening as the city's latest historic attraction. They have been able to soak in the atmosphere of the world's first commercial enclosed wet dock which was the birthplace of modern Liverpool. Ships from many parts of the world tied up at the quayside following the dock's opening in 1715.

Free ticketed tours for schools and members of the public started from Merseyside Maritime Museum on 4 May 2010. Visiting schools receive a free Old Dock resource pack of lesson plans and activity ideas. 3 public tours are held every Tuesday at 1100, 1300 and 1430 hours with school tours on Wednesdays. The Tuesday tours are now fully booked until September. During the summer holidays there are public tours at 1100 and 1300 hours on Wednesdays 4, 11, 18 and 25 August 2010. These are rapidly filling up.

Visitor host Yazz Vanducci says:- "The tours have been a big hit with visitors fascinated by the dock and its history. There's a great wow factor when they see this unique survival of old Liverpool."

Chris Bliss, Liverpool ONE's estate director, says:- "Grosvenor incorporated the Old Dock into the design of Liverpool ONE and developed the visitor facility being run by National Museums Liverpool. We are delighted with the public response to the tours."

The internationally-important Old Dock has been carefully preserved under the new Liverpool ONE. For the first time in centuries the bed of the Pool – the creek that gave Liverpool its name - can be seen. The Old Dock was discovered during excavations in 2001 after being buried since 1826. Developers made it publicly accessible as an important reminder of Liverpool's historic status.

Guided tours organised by National Museums Liverpool start at the Merseyside Maritime Museum and visitors walk to the nearby Old Dock. Schools and members of the public can book places, which are limited, by calling 0151 478 4296. Visitors are taken back in time as they see a large portion of the Old Dock rising more than 20 feet from the bed of the Pool which is clearly visible. The impressive walls are made from hand-made bricks. A modern bridge and walkways give grandstand views. There is a bricked-up ancient tunnel in the dock wall. This is believed to be hundreds of years older than the Old Dock and may have linked Liverpool Castle with the Pool.

When built, the Old Dock was a huge risk but it paid off handsomely, paving the way to many decades of dock expansion on both sides of the river. It was one of Liverpool's greatest contributions to progress in world trade and commerce. The impact of this radical structure was immense and London, Bristol and Chester lost significant amounts of trade throughout the 18th century as a result.

The Old Dock was constructed at the mouth of the Pool which had been at the heart of the town's successes but, with increasing numbers of ships using the port, it was struggling to cope. In 1708 the merchants who controlled Liverpool Corporation employed Thomas Steers, one of Britain's leading canal engineers, to find a solution. He converted the mouth of the Pool into a dock with quaysides and a river gate. It was now possible for ships to load and unload whatever the state of the tide – a revolutionary facility.

The dock was technically very difficult to build and cost £12,000, double its original estimate. The Corporation was nearly bankrupted but its success encouraged further rapid increases in overseas trade through Liverpool.

Among the first to praise the dock was Daniel Defoe, author of many best sellers including Robinson Crusoe, who wrote in 1715:- "This is of so great a benefit and its like is not to be seen anywhere in England".

Merseyside Maritime Museum Albert Dock, Liverpool L3 4AQ Admission FREE

Open 10am to 5pm every day Information:- 0151 478 4499

Website:- liverpoolmuseums.org.uk.

Related Archived Report:- Liverpool 1