LIVERPOOL ONE WINS TOURISM EXPERIENCE OF THE YEAR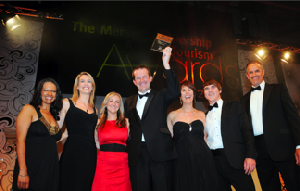 LIVERPOOL ONE scooped another prestigious award win, this time at The Mersey Partnership (TMP) Annual Tourism Awards. Organised by TMP, the awards reward excellence across the tourism sector and have become an annual showcase for the best of the region's destinations and attractions.

Shortlisted against some of the region's best tourist attractions, Liverpool ONE beat off stiff competition from Knowsley Safari Park, Dream in St Helen's and the World Museum Liverpool to take the prize for Best Tourism Experience.

Attracting more then 2m visitors a month, Liverpool ONE was recognised for being so much more than a day out for shoppers, with judges praising the full visitor experience.

Said Liverpool ONE's Estate Director, Chris Bliss:- "We take great pride at Liverpool ONE in offering our visitors something different, whether its seasonal attractions like the grotto and Liverpool ONE wheel or one off street performances and cooking demonstrations, everything is designed to enhance the visitor experience. We're thrilled to have been successful in this category as it shows that we are more than just a retail destination."

The award brings the total number of accolades to date to 38 for Liverpool ONE in the two years it has been open.

The event took place at the BT Convention Centre and a total of 15 awards were presented to businesses and attractions from across the region.

David Andrews, Director of Visitor Economy for TMP, said:- "TMP's Tourism Awards are an excellent way to recognise and reward the hard work undertaken by both small and large Visitor Economy businesses during the past 12 months. Individually they are all achieving notable success. Collectively, as part of our destination offer they are contributing to a great success story. These Awards recognise that success and once again raise the profile of our destination and all it has to offer visitors."

Liverpool City Region's Visitor Economy is now worth £1.6billion a year, supporting 23,000 jobs. It continues to grow in strength and standard with new hotels, events, venues and attractions continuing to widen the exciting City Region offer.
Revamp for Blundellsands & Crosby Station Car Park
A £340,000 facelift for Blundellsands & Crosby Station car park has more than doubled the number of spaces to 102 including 6 blue badge bays plus parking for 74 cycles.

Funded by Merseytravel and delivered by Merseyrail, the work includes improvements to the existing entrance and a taxi drop off point; there is also new lighting and CCTV and improvements to pedestrian access. There are also secure cycle parking equipment lockers on the Liverpool bound platform, which, along with the cycle storage facilities, have been funded from money awarded by Cycling England.

Last year Merseyrail and Merseytravel secured a £1 million bid to become a National Cycling Demonstration Train Operator with Blundellsands & Crosby station being one of 18 to benefit from the facilities.

Neil Scales, Chief Executive and Director General of Merseytravel, said:- "These works will bring about some major improvements to the area and the increase in parking spaces and cycles storage will be welcomed by our passengers. We have an ambitious programme of improvements to public transport facilities across Merseyside and these improvements will allow the station to operate more effectively."

Councillor Mark Dowd, Chair of Merseytravel, added:- "We hope that the increase in both car and cycle parking spaces will encourage people to break their journey at the station and use the train whenever possible. Merseyrail is a cycle friendly train operator allowing the free carriage of bicycles on trains at any time of day, however the new secure cycle storage offers yet another option to our passengers."
ROUTE ANNOUNCED FOR LIVERPOOL'S FIRST PRIDE MARCH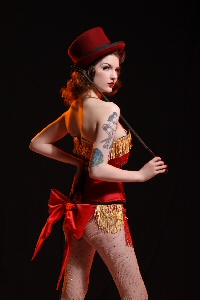 ORGANISERS of Liverpool's first ever official Lesbian Gay Bisexual & Transgender Pride festival have released details of the 'Pride March', which will kick-start the festivities in style on Saturday, 7 August 2010.

Those who would like to take part are urged to bring your banners, flags, posters, glittering costumes (or lack thereof) and most importantly your friends, family and yourself along to St Georges Plateau for 11.30am and soak up the pre-march atmosphere with other Pride goers.

The march will set off at 12.30pm on a route through Liverpool city centre, which will take in Roe St, Hood St, Whitechapel, Lord St and Castle St before coming to an end at 1.30pm on the main festival site; Dale St at Exchange Street East.

The end of the march will be marked with a speech from the main stage, before we strike up the live acts on the three stages and the Rainbow Circus themed celebrations begin throughout the Dale St area.

Before 2010, Liverpool was the largest city in the country that hasn't had its own official pride festival. The city, and the region have had a number of high profile homophobic and transphobic attacks in recent years. At the launch of the LGB&T Network the public voted for a pride festival to engage, empower and involve the LGB&T communities within the city and this was fully endorsed by Liverpool City Council in January 2009. Liverpool Pride 2010 will celebrate the diverse community of one of Europe's leading cultural cities.

Council leader Joe Anderson said:- "Liverpool is famed for its diversity and a Pride festival is a welcome addition to our wide range of cultural events. It is vital that we take every opportunity to celebrate and showcase every community and that is why I am delighted that the city council is supporting this festival. It will attract people from far and wide to Liverpool, promoting tolerance and providing an economic boost to the city."

The Pride team will be organising special banner making workshops over the next couple of weeks if you're interested in making your own gorgeous banner to march with, for more information see their website. Also note that before attending the march; individuals, groups and organisations wishing to take part are asked to register at:- liverpoolpride.co.uk/get-involved so that festival organisers can gain an estimate of how many people will be coming along.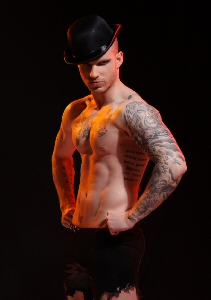 ROLL UP, ROLL UP BOYS AND GIRLS

THE EXCITING PRIDE LINE UP WILL BE ANNOUNCED LATER