Schools across Merseyside strive to become more sustainable for Green Britain Day
32 schools in the county are among more than a 1000 across the country that have signed up via the Pod, the online hub of EDF Energy's Programme for Greener Schools, to strive to become more sustainable in areas such as saving electricity and water, recycling rubbish, conserving biodiversity and using more environmentally-friendly transport, in time for Green Britain Day on Thursday June 17.

Green Britain Day is a day of celebration for Team Green Britain, a growing movement of people, communities and schools brought together by EDF Energy through a shared commitment to lowering Britain's carbon footprint. EDF Energy, Britain's largest producer of low-carbon electricity, is working with London 2012, the Eden Project, Team Green Britain Bike Week, Global Action Plan, and Eco-Schools to organise a summer of activities which will inspire people to live a lower carbon lifestyle.

Aintree Davenhill Primary School, Barlows Primary School, Broad Green JMI School, Cowley Language College, Ellesmere Port Catholic High School, Farnborough Road Junior School, Forefield Infant School, Greenleas School, Halewood CE Primary School, Longton Lane Community Primary, Marshside Primary School, Merchant Taylors School for Girls, Norwood Primary School, Notre Dame Catholic College, Orrets Meadow School, Overchurch Infant School, Park High School Sports College, Prenton Primary School, Rice Lane Infant & Nursery School, Ridgeway High School, Rivington Primary School, Robins Lane Community Primary, St Andrews Maghull CE Primary, St Cecilias RC Infant School, St Gregorys Catholic Primary School, St Gregorys RC JM&I School, St Julie RC Primary School, St Leos RC Primary School, St Marys Catholic School, St Nicholas Catholic Primary School, St Thomas CE Primary School and Ursuline RC Primary School in Merseyside have signed up to the challenge of becoming more sustainable by Green Britain Day.

Eva Eisenschimmel, Chief Officer, People, Organisation and Brand Performance, EDF Energy, said:- "It is fantastic that schools in Merseyside are joining others across the country to show just what can be achieved with energy and enthusiasm. By working towards the targets, schools in the Pod are helping to do their bit for the environment and to inspire friends, family and the local community to make changes too. We can only tackle climate change effectively by working together as a team. As the UK's largest producer of low carbon electricity and London 2012's first sustainability partner, EDF Energy has created Team Green Britain to inspire our employees, our customers and all those interested, to take action."

Schools complete activities with the Pod, which tracks progress at a national, regional and individual school level. Achievements are tracked via an online totaliser at:- jointhepod.org.

The Pod website aims to educate 2.5 million children by 2012 in the important issues impacting the environment. It provides teachers with the information and resources they need to teach green issues, and a simple framework for them to help students run green activities and share their work with others. More than 9,000 primary and secondary schools are involved in the programme.

11 schools across the country are also hosting a visit from an EDF Energy Olympic or Paralympic Ambassador in the build up to Green Britain Day, to show what they are doing to become more sustainable and to convince others to make similar changes at home and in their workplace.

EDF Energy is also linking with a 100 schools on Green Britain Day through a tree-planting initiative, with employees joining pupils and teachers to plant trees at schools.
Foster carers awarded MBE for years of care
2 North West foster carers from the Alphaplus agency in Oldham, part of the NFA Partnerships, have been awarded MBEs for their services to children.

Lorraine and Ralph Brett have been approved foster carers with the agency since 2000.
Previously, Lorraine and Ralph were foster carers for Tameside Metropolitan Borough Council from 1986 to 1997. In all they have 21 years of experience. Lorraine and Ralph have specialised in caring for sibling groups of children with complex needs. They have impressed with their knowledge, tolerance, humour and care. They work in a therapeutic framework, helping children overcome the trauma of their past lives. Lorraine has completed NVQ level 2 and BTEC in caring for traumatized children.

They have successfully rehabilitated children back to their birth families or on to adoptive placements. In addition to looking after children they have mentored other carers and helped train newly approved fosters carers. Lorraine and Ralph are also great ambassadors for fostering. They have even encouraged Lorraine's sister and others to become foster carers. They have given children life changing experiences and offered them the best opportunity to reach their full potential.

Lorraine and Ralph say that fostering has been the best experience of their lives. Said Lorraine:- "We have lots of positive memories of the children we have fostered over the years. Hopefully we have many more to come. We would encourage others to apply to foster to give children and young people positive experiences. Working with Alphaplus has also been a fantastic experience. They can provide all the help and back up anyone new to fostering would need."

Anyone interested in becoming fosterers can apply to Alphaplus Fostering, who will offer support and commitment.
SCIENTISTS URGE MEN NOT TO IGNORE POTENTIALLY CANCEROUS LUMPS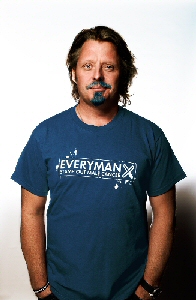 BRITISH men are risking their lives by ignoring potentially cancerous testicular lumps, according to a leading men's cancer charity.

The survey by Everyman revealed that 41% of men who found a lump chose not to get it checked out by a doctor, with 30% saying they hoped it would just go away on its own. Figures also showed that 46% of men do not check for changes in their testicles often enough, with an alarming 20% admitting to never checking for lumps.

Testicular cancer is the most common cancer in men aged 15 to 44, but is 99% curable when caught early. However, if symptoms are ignored and the cancer spreads, harsher treatment methods such as chemotherapy are required which often carry debilitating and long-term side-effects.

Everyman scientist Dr Robert Huddart recently conducted a study which found that nerve pain, hearing loss and discoloured fingers and toes are among the potential side-effects suffered by testicular cancer patients treated with chemotherapy. Dr Huddart said:- "Our study reinforces the importance of men regularly checking themselves for any signs of cancer. Men whose disease is diagnosed early require less treatment, and therefore reduce their risk of suffering damaging side-effects later in life."

Further statistics reveal that men are simply too embarrassed to discuss potential problems. Nearly 66% said they were too embarrassed to discuss their health with anyone, including their doctor.

The findings are published during Everyman Male Cancer Awareness Month which aims to heighten awareness around men's health and also raise funds for research into testicular and prostate cancers.

The charity is calling on people to Turn Blue for male cancer this Friday 18 June in a bid to help raise the £2 million needed each year to fund the Everyman research centre at The Institute of Cancer Research (ICR). City councils including London, Sheffield, Portsmouth and Cardiff are turning local landmarks blue in support of the campaign.

Everyman ambassadors including Piers Morgan, Dermot O'Leary and testicular cancer survivors Charley Boorman and Jimmy White are also urging men to raise money to fight testicular and prostate cancers, which together affect 37,000 men in the UK each year.

Individuals and companies are being asked to download a fundraising pack from:- everyman-campaign.org for ideas on how to Turn Blue during June.
WITNESS APPEAL - BLUE ANCHOR PUB INCIDENTS
MERSEYSIDE Police have issued an appeal for witnesses following an attempted arson at the Blue Anchor pub in Aintree in the early hours of Friday, 11 June 2010. This incident is the third targeted attack at the pub in School Lane since April.
The first fire happened at 4am on 9 April 2010. The landlady was upstairs at the time but managed to escape and was treated in Fazakerly Hospital for smoke inhalation. The incident caused substantial damage to the property and it has been closed since then for renovation.
The pub was the subject of a further arson attack, which caused smoke damage to the building, between the hours of 12.30am and 8am on Sunday, 6 June 2010. At 2am on 11 June 2010 it was reported to Merseyside Police that an unknown person had thrown a bottle containing an accelerant at the premises. Merseyside Fire and Rescue Service attended the scene. No-one was injured and no fresh damage was caused.

DI David Keegan said:- "We are working with Merseyside Fire and Rescue Service (MFRS) to investigate a number of incidents at this property all of which caused or were intended to cause damage. These are cowardly crimes and I sympathise with the owners who are trying to run this business. We will be providing support to the licensee and vigorously investigating these offences. Someone will know why the premises is bring targeted and I would appeal to anyone with information about any of these attacks to call us so we can take action against those responsible. Any information whatsoever will be acted upon."

Anyone with information is asked to call detectives at Copy Lane CID on:- 0151 777 3165, or, Crimestoppers, anonymously, on:- 0800 555 111.