Recycled phones and inkjet cartridges raise money for Red Cross
HAVE you just upgraded your mobile and not sure what to do with your old phone?

Have you just changed the ink cartridge in your printer and wondering what to do with an empty cartridge?

Old mobile phones and empty printer cartridges can be put to good use by raising money for the British Red Cross, to support the charity's work in the UK and overseas. The Red Cross will receive £1 for each recycled inkjet cartridge and up to £30 for each mobile phone.

Interested readers should visit:- redcross.org.uk/recycle or ring:- 0844 412 2811 to request a Freepost envelope or a collection box for their office.

All the money raised through this recycling scheme will support the work of the Red Cross locally, such as teaching vital first aid skills to people in Merseyside and globally, supporting international emergencies, such as HIV work in Africa.

Taking part in this scheme will also help the environment. There are currently more mobile phones than people in the UK and over 40 million inkjet cartridges and laser toners are made annually, putting a huge strain on the planet's resources. Mobile phones contain toxic substances which can damage the environment when disposed of in landfill sites or incinerators. All mobile phones recycled for the Red Cross will be re-used, used for spare parts or disposed of properly.

Inkjet cartridges can take over 1,000 years to decompose – recycling yours to benefit the British Red Cross means that they can be refilled and reused, ensuring that less are produced.
ARRIVA DRIVERS SWAP MOTORS FOR MANPOWER IN CHARITY CYCLE
AROUND one hundred Arriva North West bus drivers will be using pedal power this weekend in an attempt to raise £3000 for charity. On Sunday, 27 June 2010, the last day of National Bike Week, the group will be cycling 20 miles from Church Square in St Helens to Southport Pier in aid of the British Heart Foundation. The drivers are based at bus depots in St Helens, Southport, Bootle, and Stoneycroft. Phil Hawkins, a driver on the 352 route in St Helens, said:- "We are all different shapes and sizes, but the ride shouldn't take us more than two hours to complete. We deliberately chose a fairly short distance so that as many people as possible would take part. I'm delighted that as many as a hundred of our drivers here in the North West are taking on the challenge - I'm sure our group will turn a few heads on Sunday! All it will take is for each cyclist to raise £30 for us to reach our target, but we're hoping to top our expected total of £3000 to give to this very worthwhile charity." The sponsored challenge comes two months after seven drivers based at Arriva's St Helens depot raised £1800 for the North West Air Ambulance by cycling 140 miles across England. For more information about Arriva North West services, please visit:- arrivabus.co.uk.
APPEAL FOR WITNESSES - SERIOUS ASSAULT MINVER ROAD, WEST DERBY
MERSEYSIDE Police Detectives are now appealing for witnesses following an incident on Minver Road, West Derby, on Sunday, 20 June 2010.

Officers were called to Minver Road at about 7.50pm following reports of a disturbance in the street involving a number of men and two cars.

When they arrived at the scene they found two men who had suffered serious injuries. One of the men, aged 24 years, had suffered injuries to both legs and it is believed his injuries are consistent with being in collision with a car.

A second man, aged 25 years, suffered serious stab wounds to his arms and stomach and his condition is described as serious.

Both men were taken to hospital where they are being treated for their injuries.

Detectives are trying to piece together events leading up to the disturbance and are particularly interested in anyone who may have seen two cars, a dark blue Volvo and a black Volkswagen Golf, which appeared to be chasing each other particularly in the Melwood Drive area just before the incident occurred. A dark blue Volvo and a Volkswagen Golf believed to have been used by those involved in the incident were recovered at the scene.

Crime Scene Investigators and a specialist Road Traffic collision investigator have attended at the scene to carry out forensic examinations and house-to-house inquiries are ongoing. Detectives will also be examining CCTV footage to try and establish the circumstances surrounding the incident.

High visibility patrols have been stepped up in the area to reassure the local community. Anyone who may have information which could help the police with their inquiries should contact Lower Lane CID on:- 0151 777 4564, or Crimestoppers on:- 0800 555 111.
Are you going? North West Air Ambulance Antique Valuation Day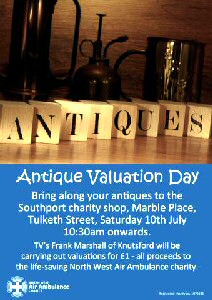 THE North West Air Ambulance Charity will be holding an Antique Valuation day on Saturday, 10 July 2010, at our Southport charity shop, Marble Place, Tulketh Place. Frank Marshall Valuers of Knutsford, who have previously appeared on TV will be carrying out valuations for the bargain price of £1. We are inviting members of the public to bring along their antiques to the shop from 10:30am onwards for their valuations and all proceeds will go to the life-saving air ambulance charity. It costs the North West Air Ambulance £4 million each year to keep our two emergency helicopters in the air and you can find out more by visiting:- nwaa.net.