Mersey Girls FC enjoy another remarkable trophy laden season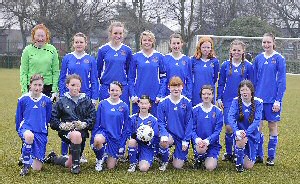 MERSEY Girls FC enjoyed a remarkable treble which even by their own high standards is an unprecedented level of success.

Pride of place must go to being undefeated U15 West Lancs Girls League Champions competing against teams of the highest quality including Preston North End and Bolton Wanderers. During the season, the team also collected the West Lancs Girls League Challenge Cup and League Cup.

The FA Charter Standard Club has been recognised as the strongest U15's Girls team in the North West and in the last year has reached the Knowsley International Football Tournament playing Shanghai Girls from China in the Final and the North of England Tesco Cup Final. Another 6 trophies have been added by Mersey Girls FC playing in tournaments across the country that have brought the season's trophy total to 9.

Club Secretary, Paul Fitzgerald said:- "The Club is going from strength to strength, the girls have gone unbeaten this season in the toughest league in the North West winning the treble along the way! They have played marvellous football of the highest quality, we are a club that has one objective – to dedicate all the resources at our disposal to work with and support the girls in their football development, thanks to the coaches and all the parents involved with the club."

The future is indeed bright for Mersey Girls FC with a new season awaiting and a tour to the USA currently being planned.
Good luck girls....
MERSEY GIRLS FC PLAYER TRIALS ON WEDNESDAY 30 JUNE 2010
MERSEY GIRLS FC, West Lancashire League treble winners, Tesco Cup Finalists and FA Charter Standard Club are holding a trial on Wednesday, 30 June 2010, for players across all positions who want to join the all-conquering new under-16s team for the up and coming season 2010 to 2011.
Call Paul on:- 07963 505 140 for further details or send an email.
Charities could benefit from new tax ruling for search engines
CHARITIES across the country could now benefit from a ruling from HM Revenue & Customs, (HMRC) that pay-per-click, (PPC) campaigns are now VAT zero rated. Experts at North West Chartered Accountants and Business Advisors Mitchell Charlesworth have now revealed that charities could save thousands of pounds following this announcement and are urging them to review their current arrangements. PPC is used by a range of organisations on search engines to advertise to internet users to click on their link in priority to any other links. The advertiser pays the search engine provider an agreed amount each time their website is accessed through this type of link. Colin Corder, VAT manager at Mitchell Charlesworth, which has offices in Liverpool, Manchester, Chester, Warrington and Widnes, said:- "With the increased competition in the voluntary sector, a ruling such as this could boost the coffers of any charity. The internet is such a powerful tool in promoting charitable organisations and helping them generate funds and I would imagine many types of organisations attach significant budgets to pay-per-click campaigns. The VAT saving would be a welcome boost." HMRC has also stated that the supply of copyright and design services associated with such sponsored links also falls within the zero-rating. Charitable organisations that have accounted for and paid VAT on supplies of charity advertisements now considered to be zero-rated may submit claims for overpaid tax. These will be subject to a transitional four year limitation period. Colin concluded:- "We are in the process of advising our charity clients to submit claims for overpaid tax and I would strongly advise other organisations that invest in pay per click campaigns to submit claims to HMRC."
PRIZES FOR POSES!
CERTAIN teams may be lacking in the winning stakes this World Cup, but you can be a winner thanks to a fun competition being run by Liverpool ONE. Shoppers are invited to stop by South John Street and imagine themselves as international football superstars. Thanks to a series of photoboards, all you need to do is put your head through your kit of choice and get snapping! Pictures should be fun and show originality and individuality - bring your World Cup energy to life and strike a pose! Pictures should be sent to worldcup@liverpool-one.com and the best photos will be uploaded onto the Liverpool ONE website throughout the tournament. The overall winner will receive a pair of Adidas F50 adizero's (the lightest and fastest football boot ever made!) worth £125, plus a Fred Perry Tournament Shirt (worth £60) and a fabulous Lipsy England Tracksuit worth £75. Second place will receive the brand new 2010/2011 Everton FC Away Kit (worth £75) and third place will receive a Liverpool FC official World Cup T-Shirt worth £25. And look out for other great World Cup celebrations taking place around Liverpool ONE in the coming weeks, including footballing tricks and skills by the Freestylers 24 June 2010 and Brazilian Samba dancers 25 June 2010.