Adult social care to be transformed
LIVERPOOL City Council is to consult on the biggest transformation of adult social care for more than 60 years. On Friday 25 June, the Cabinet is being recommended to approve two key reports which propose major changes in the way services are delivered, and will mean many more people being supported.

A new system called "Liverpool Cares" will be introduced, based upon the hugely successful Personalisation programme which has increased choice, promoted independence and improved the quality of life for vulnerable people. It will focus the council on meeting people's individual needs and support them to live independently, rather than them having to choose from a rigid list of care services.

The move follows the introduction of "Putting People First", a government initiative which has already led to a huge number of people opting to use direct payments to choose for themselves the type of care they want to receive. By 2011, more than 4,000 people will be doing this in Liverpool, resulting in a huge drop in demand for in-house services such as day centres - some of which are now half empty.

To bring social care up-to-date and tackle excess capacity and duplication, a root and branch review of the council's in-house social care service is also being launched. It will cover everything from home care to day centres, supported accommodation and residential care.

Under the new-look service, 12 day centres and three residential care homes are set to be amalgamated to become six new 'Health and Wellbeing Care Centres' in neighbourhoods across the city.

The 6 centres will be split into 2 different types:
· 3 round-the-clock centres in the north, centre and south of the city providing a total of 85 intermediate care and crisis beds offering rehabilitation free of charge for up to 4 weeks, followed by home based support

· 3 community 'hubs' in the north, central and south, open 12 hours per day, 7 days a week. They will provide intensive health and social care support for people with complex needs and placements for people coming out of acute care. One to one support will be provided with help and guidance around employment, leisure activities, housing, training opportunities and much more. They will also be a place for people to meet and hold events

Consultation is already underway on transforming Lime Court Day Centre in Kensington into the first of the 3 hubs.

The intermediate care beds will be aimed at make sure people do not end up deteriorating so that they end up institutionalised in residential or nursing accommodation permanently, or end up being admitted to hospitals. Instead, they will be given intense support through rehabilitation so they can return to living independently again – known in the social care profession as "re-ablement".

The role of the workforce will change, with staff in the in-house service increasingly becoming advocates to support and promote independence for the user, rather than doing the work for them. A team of "person-centred planners" will be created, to work in the community, assessing the needs of people and working closely with them on a one-to-one basis to secure the care they want. Overall, there will be a significant increase in the number of people being supported – up from 1756 to 2606.

It will be paid for by ploughing the money saved from decommissioning the redundant buildings and staff savings into direct payments for people and personalisation of the services they receive. New people coming into the system with moderate care needs will be assessed and supported to find services provided by other organisations. An annual review will be introduced for all people who currently receive moderate care, during which their needs will be re-assessed. They will then be fully supported and assisted into alternative services.

Councillor Roz Gladden, Cabinet member for adult health and social care said:- "This is a really big change that will completely transform the way in which people access and receive care in Liverpool. I completely understand that people will be nervous and anxious about it, but the council will be working closely with them during the consultation process to explain exactly what it all means. The changes we are making are moving forward changes which are actually already underway. People are already voting with their feet and the demand for our traditional services has been shrinking for several years. We simply must respond to that and change the way we operate and deliver the type of services our residents want and need. We can no longer go on providing services in the 21st century which were first designed back in the 1940s. Doing nothing is simply not an option."

A full consultation on the in-house service review will be launched in the next few weeks involving people who receive care, their carers, staff, partner organisations and the unions.
WITNESS APPEAL - RTC AT JUNCITON OF MYRTLE STREET AND CATHERINE STREET
MERSEYSIDE Police have issued an appeal for witnesses to a serious RTC, which happened at the junction of Myrtle Street and Catherine Street in the city centre on Saturday, 19 June 2010. The incident happened at 2.55pm and involved a black VW Polo and a Suzuki motorbike. The rider suffered head injuries and was taken to the Walton Centre for treatment where is condition remains critical. The driver of the car remained at the scene and is assisting police with their investigation. Anyone with any information is asked to call the Roads Policing Investigation Unit at Smithdown Lane police station on:- 0151 777 5771, or Crimestoppers, anonymously, on:- 0800 555 111.
People in Southport urged to brew up support to help vulnerable children
PEOPLE in Southport are being encouraged to make their cuppa count for the NSPCC by backing the charity's latest fundraising initiative "Stop for Tea." The Stop for Tea campaign aims to get people to organise their own Stop for Tea event and raise money to support the NSPCC's drive to end cruelty to children.

There are many ways that people can get involved. For example by organising a traditional afternoon tea in the office, organising a children's tea party or even by "teeing off" on your local golf course to raise money.

All cuppa lovers can get involved, whether it is at home with family and friends or in the workplace with colleagues, clients and customers. All you need to do is pour the tea, have fun and raise lots of money to help give children and young people a safer future.

Janette Drew, NSPCC community fundraising manager for Southport said:- "The Stop for Tea campaign is a fantastic way to get involved and help the NSPCC raise vital funds to run projects for children, young people and families who need support. If we all play a part in raising the awareness, then together we can help put a stop to the horrors children and young people face. More than 165 million cups of tea are enjoyed in the UK every single day and the NSPCC need your help to ensure that as many of them as possible are poured to help children."

None of the services and projects would be possible without the continued generosity of donors, fundraisers and supporters. If you are interested in finding out more or to get a Stop for Tea fundraising pack call:- 0161 628 1209, email or visit:- nspcc.org.uk/stopfortea
Usdaw welcomes increase in Minimum Wage
THE shopworkers union Usdaw has welcomed the Coalition Government's decision to accept the recommendations of the Low Pay Commission and increase all 3 rates of the National Minimum Wage.

The new rates, which will now come into force on 1 October 2010 are as follows:-
· £5.93 per hour for workers aged 21 and over - a 2.2% increase on the current £5.80 rate.

· £4.92 per hour for 18 to 20 year olds - a 1.9% increase on the current £4.83 rate.

· £3.64 per hour for 16 to 17 year olds - a 2% increase on the current £3.57 rate.

In addition, the Government accepted the Low Pay Commission's recommendation that the adult rate of the National Minimum Wage should start at 21 years of age rather than 22.

The Government also announced that it had accepted the Low Pay Commission's recommendation to introduce an apprentice minimum wage of £2.50 per hour. The new rate will apply to those apprentices who are under 19 or those that are aged 19 and over but in the first year of their apprenticeship.

John Hannett, Usdaw General Secretary said:- "This is very welcome news for the millions of low paid workers who rely on the National Minimum Wage to help them maintain a decent standard of living. The Government should now make sure low paid workers see the benefit of the increase by avoiding changes to the tax and benefits system in today's budget that would worsen their living standards."
MEP's timber success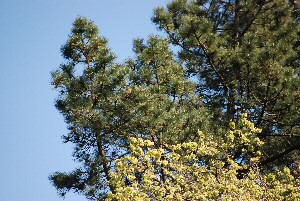 A North West Euro-MP's 6 year campaign to try and halt the destruction of tropical rainforests has secured a major victory.

The import into Europe of timber from illegal sources will be banned from 2012 thanks to a deal struck in Brussels. Southport, Formby and Liverpool timber wholesalers have all been warned that they will have to secure proof that the wood they buy has come from legally managed sources or face the risk of prosecution.

Illegal tree-felling is one of the biggest sources of deforestation on the planet. Huge sums of money are made by corrupt businesses that pay no respect to national laws. Builders often use the illegal wood without being aware of its origin, although some major DIY retailers now ensure that their wood comes only from sustainable sources.

Liberal Democrat MEP Chris Davies first tried to persuade the European Commission that timber imports should be banned in 2004. Davies said:- "The lawyers told me then that it couldn't be done, but unless the people who buy the timber are forced to check the source we will never curb the criminals. The pressure has been kept up and now EU governments have agreed to try and halt the destruction of forests."

The market for illegal timber in Europe is estimated to be worth over £1 billion. The EU's 27 members account for 20% of world-wide illegal timber imports.
Do you think this is a good idea? Email us to new24@southportreporter.com with your views....