One final push for weekend's Liverpool-Chester-Liverpool Bike Ride
ON Sunday, 18 July 2010, over 2,000 riders have signed up to take part in the 17th Liverpool-Chester-Liverpool Bike Ride. The ride is already on track to beat last year's total number up of riders, but anyone who hasn't yet signed up can still do so, by rolling up with their bicycles on Sunday and registering on the day.

There is a ride tailored to every level of ability, including a family ride of 25 miles, a community ride of 30 miles, a challenge ride of 54 miles and a sportive route of 90 miles. The mass participation bike ride is the only event with exclusive access to the Mersey Tunnel, which will allow participants to travel underneath the River Mersey, something which is practically impossible on every other day of the year, due to the sheer volume of traffic passing through.

Schedule for the day:-

8am - Official start

9am - final start (staggered for each route)

08:45 (till 13:30) - riders at Wirral Rugby Club feed stop

9.30am - expect first riders in at Chester feed station (and through Chester historic city centre)

09:30 - 13:00 - riders at Countess of Chester Health Park (main stop in Chester with cycle show)

11:30 - possible first finisher

12:30 – 14:00 - bulk of finishers

15:15 - last finishers

Event organisers are urging people to come along and sign up on Sunday, for what is expected to be a day of glorious sunshine. Mark Sandamas, Director of Pennine Events, said:- "With just a few days to go until the Bike Ride, it's time to get some final training in, make sure your bike is in a roadworthy condition and brush up on some safety tips. For anyone who hasn't already got their entry in, it's not too late - people can just turn up and enter on the day and register there and then."

Liverpool PCT, who partner the Liverpool-Chester-Liverpool Bike Ride are leading by example and will be queuing up at the start line on Sunday, including Gavin McLaughlin, Cycle for Health Coordinator.

Gavin commented:- "Cycling is a fantastic mode of transport, not only is it cost effective and good for the environment, it is also good for you. Cycling can help reduce the risk of some cancers, reduce stress, reduce the risk of heart disease, osteoporosis and diabetes. There are 70 of us from Liverpool PCT taking part in the Bike Ride this year as part of our Year of Health & Well Being initiative. Many of the riders are novice cyclists, whilst others in our group have been cycling for years. This just goes to show that cycling is an activity which can be undertaken and enjoyed by people of all ages and abilities."

For full details of Sunday's Liverpool-Chester-Liverpool Bike Ride, visit:- pennineevents.co.uk.

If you fancy taking part this weekend, it's not too late. There are still some media places available for all rides. For further details, contact Chloe Chaplin on:- 07967 341 343 or email:- chloe.chaplin@perfectmotion.org.

Also do let us know if you are taking part by emailing our newsroom via:- news24@southportreporter.com.
ROBBERY IN KIRKDALE
MERSEYSIDE Police Detectives are appealing for information after a woman was robbed after getting off a bus in Kirkdale on Thursday, 8 July 2010.
Shortly after 12 noon officers were called to the BP petrol station on Stanley by a woman reporting that she had been robbed by two men. The woman, who is 32 years old and from Kirkdale, told officers she had got off a bus on Lambeth Road, close to the junction with Stanley Road at around 11.40am when she was confronted by a man with his face concealed by a scarf. The man grabbed the woman and pulled her over a grassy area nearby before pushing her against a wall and demanding that she hand over her handbag. A second offender then appeared who also had his face covered. The first offender threatened the woman after she resisted and then produced a knife. The woman then let go of her handbag, which contained a significant amount of cash as well as bank cards and personal possessions, and the two offenders left the scene in an unknown direction. The woman suffered minor cuts and bruises which did not require hospital treatment, however she was left extremely shaken by her ordeal. The woman then raised the alarm at a nearby BP petrol station. The first offender is described as white, of average height and build. He was wearing a grey hooded top, a black scarf across his face and blue Adidas trainers with yellow stripes. He spoke with a Liverpool accent. The second was also white and of average height and build. He was wearing a black hooded top with a white Nike logo on it. Detective Inspector Eddie Cowan from St Anne Street CID, said:- "This was a horrific and callous attack on a young mum who was walking home. These offenders have grabbed her in broad daylight as she got off the bus, threatened her and stolen a significant amount of cash. Such serious incidents are thankfully rare and I would like to reassure the public that we are doing everything we can to catch those responsible and bring them to justice. This lady will not have been the only passenger on the bus last Thursday and I am confident someone on that bus, a passer-by or a motorist will have the incident or these two men just before or after it. I would appeal to anyone who saw anything at all suspicious to come forward and tell us. Their information could be crucial in us catching them."
Call the Robbery Investigation Team on:- 0151 777 4811 or 4809, or Crimestoppers anonymously on:- 0800 555 111.
CCTV APPEAL - ATTEMPTED ROBBERY - SEFTON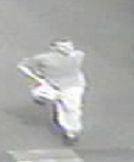 MERSEYSIDE Police Detectives in Sefton are appealing for the public's help in identifying a man who is wanted in connection with the attempted robbery of a woman in Litherland. Officers have released CCTV of a man after a 29 year old local woman was followed and confronted by an offender after using a Natwest cash machine in Sefton Road on Friday, 25 June 2010. The woman, who is seven months pregnant, had withdrawn cash at around 3.40pm from the machine near the local health centre and was walking along Hatton Hill Road when she was approached from behind and pushed to the floor. The offender then tried to steal her handbag but the victim resisted and he ran off empty-handed into the health centre car park. The victim was left shocked but was not badly hurt. She was taken to hospital as a precaution and for a check-up for her baby, which was also unharmed. Detective Inspector Paul Parry from Sefton CID, said:- "This was a particularly nasty and cowardly attack on a vulnerable young woman who is about to have a baby. She has been targeted by a man who watched her withdraw money at the cash machine before making his move. He followed her for a short distance before pushing her to the floor and trying to grab her handbag. She has instinctively resisted and he has fled empty-handed. Thankfully the victim and her unborn baby did not come to any harm otherwise this could have been even more serious. We are determined to catch the person responsible. I would also urge people to always take extra care when using cash machines and report anything suspicious to the police, and the bank or shop where the ATM is." The offender is described as a white man. with short brown or ginger hair and large eyes. He was wearing a grey t-shirt and light-coloured baggy trousers. Police are appealing for anyone who recognises the man in the CCTV stills to come forward and help the investigation. They are also reminding people to always be vigilant when using cash machines. DI Parry added:- "People should always keep an eye out for anyone loitering too closely to them at the cash machine or paying particular attention to you. Never withdraw large amounts of cash at any one time, especially in isolated areas or when alone. And always keep purses out of sight if possible and don't let yourself be distracted by using your mobile either at the machine or afterwards. It is important that people don't make themselves an easy target for criminals." Call Copy Lane CID on:- 0151 777 3165 or Crimestoppers anonymously on:- 0800 555 111.
CANCELLING THE COMMUTE
WITH the high fuel prices, increasing parking charges, congestion and stress levels, more and more people are cancelling their commute and opting to work from home instead. It's a trend which landlords should be aware of and acting upon says Belvoir Lettings, which has an office in Liverpool on Cheapside, High Street, Mill Lane and Sandown Lane in Wavetree.

Mike Goddard, Chief Executive of Belvoir says:- "As employers offer greater flexibility regarding work hours and location, a growing number of employees are taking advantage and working from a dedicated space at home. An increasing number of tenants now have a home office high on their list of criteria and landlords should be responding to this. Some landlords may not have the option of devoting an entire room to office space but for those that do a relatively small investment can add considerable letting appeal to their property."

For landlords who are interested in capitalising on this trend, Belvoir has identified the key components that need to be considered when creating an attractive working area in the home:-

► Ample phone and electrical sockets – any home worker will need a phone and internet connection, and possibly a fax machine, so sockets that enable this are basic elements of the home office.

► Furniture, or the space in which a tenant can put their own – every office at least needs a desk and some storage space and it's important to consider where furniture might go when installing sockets. Fitting out a small space is challenging but with the right furniture and a little imagination it's certainly possible.

► Lighting – every home worker needs good lighting, be it from a window or artificial. This should be considered when creating a dedicated working space; if the space is small and doesn't benefit from a window, appropriate low intensity lighting should be used.

► Colour – potential tenants will want to visualise their work area and this will be easier for them to do if the walls aren't bright pink. Try painting the space a calming cool blue or a motivational zesty yellow so that the tenant can imagine working in their office and is able to use it straight away.

Mike Goddard adds:- "Even if the space is only used for organising bills or for students doing homework, landlords need to realise the demand for a dedicated working space, the kitchen table just won't suffice anymore. With millions now working from home across the UK, landlords should be considering the changing market and making provisions for it."
PAUL PIKE MURDER UPDATE
MERSEYSIDE Police Detectives arrested a 23 year old man from Allerton on suspicion of the murder of Paul Pike on Saturday, 5 June 2010. The man who was arrested on Wednesday, 14 July 2010 and taken to a police station on Merseyside where he was interviewed. Anyone who may have information which could help detectives with their inquiries should contact the Major Incident Room on:- 0151 777 8629, or Crimestoppers anonymously on:- 0800 555 111.