Children's Centre is the pride of County
ONE of Liverpool's oldest children's nurseries is officially re-born later this week as a Sure Start Children's Centre. The former local authority Dales Day Nursery in Walton - which opened in 1968 – has been transformed with a £1.5 million investment to become County Children's Centre, offering many more services. It is co-located on the site of Arnot St Mary Church of England Primary School, providing support for local families and children from pre-birth through to the age of 11.

The official ribbon cutting ceremony will be performed by former Arnot School pupil, 87 year old Ronnie Dalglish, and one year old Louis Gayle - who attends the new Children's Centre with his mum Sophie.

Councillor Jane Corbett, cabinet member for education and children's services, said:- "This is a fantastic new facility providing top quality care and support to give our young people the best possible start in life. By bringing together many different types of services under one roof we have created a one stop shop for families, providing all the help and advice they need. Our Sure Start Children's Centres across the city are providing a crucial service and making a massive difference to the lives of many thousands of people."

The Sure Start Children's Centre includes a 48 place nursery, health, midwife and maternity services and Job Centre Plus training and employment advice for parents.

Almost all of the 970 under 5's in the catchment area have already registered, and it is also used by a wide range of other organisations including a Dad's Club and the Polish community.

The opening will be followed by a celebration Family Fun Day attended by people who use the centre.

It is one of 26 Sure Start Children's Centres across Liverpool.
NICE 'n' NAUGHTY SETS ANOTHER RECORD
NICE 'n' Naughty has been recognised once again as the Best Retail Chain for adult products in the U.K. The award was presented at this year's ETO Show at the NEC in Birmingham and is the highest accolade in the U.K for companies operating in the adult industry. Nice 'n' Naughty has now won this coveted award for an amazing fifth time in six years.

As the current holder of the E-line European Retailer of the Year award presented in Berlin last October, Nice 'n' Naughty has also repeated its previously unique feat of being champions of the U.K. and Europe at the same time. No other retailer has achieved this degree of success and Nice 'n' Naughty has now accomplished it twice.

The award was collected by Nice 'n' Naughty director, Trish Murray, who commented:- "It's a great honour for us to receive the Best Retail Chain Award from ETO because the winner is decided by the toughest judges of all -our peers and colleagues in the industry. I'd like to thank all who have supported us once again and I also want to pay tribute to the people who won us this award – the team at Nice 'n' Naughty. This is due recognition of their professionalism and hard work, so a big thank you goes to them as well. The challenge for us now is to keep on improving so we stay in contention next year!"
MFH - ANTHONY JAMES GERRARD
MERSEYSIDE Police are becoming concerned for the welfare of 34 year old Anthony James Gerrard, who has been missing from his home in Rimmerbrook Road, Gateacre since Thursday, 24 June 2010. Anthony was last seen at around 11.55pm at his home in Gateacre. Anthony is described as 6ft 2" tall, of stocky build with cropped ginger hair and brown eyes. He has a 1.5in scar in his hairline, a tattoo of two hearts on his left shoulder with "mum and dad" written underneath. He was last seen wearing dark blue jeans, a grey t-shirt, black jacket and black shoes. Anthony is known to frequent bars in Liverpool city centre as well as New Brighton and Bootle. If anyone has any information regarding Anthony or his whereabouts they should contact Merseyside Police on:- 0151 709 6010 or the Missing Persons helpline on Missing Persons Helpline in confidence on:- 0500 700 700.
Quirky map capturing the true essence of Liverpool on display in Southport hotel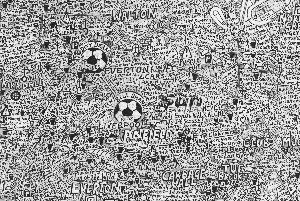 TRADITIONAL Liverpool focal points like Lime Street Station and Anfield are jostling for position next to Paul McCartney's old house and Cherie Blair's former school on a quirky map being displayed at the Ramada Plaza Hotel in Southport.

Liverpool by Stephen Walter combines the personal insights of the artist gleaned from various trips to the city with in-depth knowledge from locals. The intricate, complex map, which is on permanent display at the hotel, touches on the city's broad history, tapping into its undercurrents and unique points of interest.

The 112cm x 114cm map, situated in the lobby at the four-star hotel on Marine Lake, is geographically accurate, highlighting many of Liverpool's main roads, railway lines, built-up areas, monuments and green spaces. But Stephen has also painstakingly recorded a number of memorable viewpoints of the city to create a warts and all tour, translating its vibrant character to paper. Such highlights include the expulsion of late author Beryl Bainbridge from the Merchant Taylor's Girls' School for writing a poem about sex.

Stephen explained he had tackled the project after meticulously mapping his home city of London in a piece of work published by TAG Fine Arts. He said:- "I originally intended a short, five-day visit to Liverpool, planning to combine and juxtapose factual research with the knowledge and opinions of locals. Things didn't quite go to plan, as I ended up falling in love with a woman I met there and made numerous other friendships. I was overwhelmed by the pride and energy with which Liverpudlians talk and feel about their city. So my map was far larger and more detailed than I'd originally planned, including the quirks, idiosyncrasies, stereotypes, places of interest and etymology of place names I came across. It is a celebration of the masonry and heart of Liverpool."

Nigel Atkinson from the Ramada Plaza said:- "We are delighted to play host to Stephen's artwork, which really captures the spirit of Liverpool. It's certainly a talking point for our guests and visitors and it is a great addition to our hotel."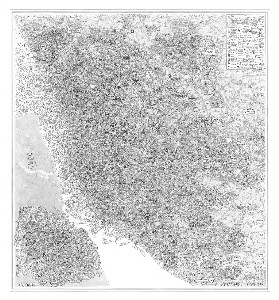 The Ramada Plaza is the jewel in the heart of the new waterfront development on Southport's promenade and is nestled close to the Victorian Pier. It boasts 133 chic rooms including eight with panoramic views of the coastline with floor to ceiling windows.

Other facilities include a fitness suite, four meeting rooms and a brasserie while its location is perfect for golfing breaks and shopping in the famous Lord Street area. It is also ideally situated next to the Southport Theatre and Convention Centre, as well as the Portland Hall Spa.