Knowsley set to bloom for 12th annual Flower show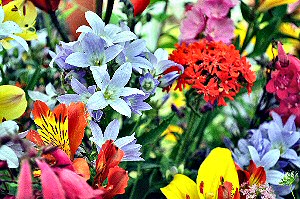 THE Mayor of Knowsley, Councillor Diane Reid has teamed up with a local fuchsia grower, Chris Bright to officially launch this year's Knowsley Flower Show and encourage Merseyside to get gardening in the run up to the flagship event.

With just four weeks to go, the countdown is on for green-fingered enthusiasts and families alike to get out their gardening gloves ahead of the North West's largest free horticultural event on Sunday, 8 August 2010 at Court Hey Park, Knowsley.

Last year's show winner, retired teacher, Chris Bright from Widnes joined Knowsley Council's Mayor to show off their own horticultural skills and announce the events that will be in store at the show which attracted more than 15,000 visitors last year.

Budding gardeners, friends and families have the opportunity to wow judges with their perfect pot plants and delightful dahlias in the floral marquee. Plus, visitors can enjoy art and drama exhibitions, learn new skills and gain free health and wellbeing advice.

The day's events include:-

► Floral and vegetable exhibitions from amateur gardeners

► Free gardening workshops for visitors

► Craft marquee

► Health and wellbeing marquee promoting outdoor activities

► Circus skills

► Giant farmers market supplying delicious fresh produce

► Displays from Hawkeye Falconry and H&M Dog Display Team

► Youth Arts Friendship Field with arts, dance and live music

► Fresh Start enterprise zone offering advice on small business start ups

► Photography exhibition which visitors can enter

Councillor Eddie Connor, cabinet member for leisure and culture services for Knowsley said:- "We're incredibly proud that this is the largest free horticulture event in the North West and is a fantastic way to get budding gardening enthusiasts and families together for a fun day out. We're always looking at ways to make the show bigger and better and the wide range of activities, from gardening master classes to careers and health advice mean that there really is something for everyone. We're delighted to call on the expertise of some of the borough's leading horticultural societies to make this an event which not only gets people enjoying gardening but helps promote the contribution that horticulture and gardening can make to improving people's health and wellbeing."

Knowsley Flower Show is 11am to 5pm on Sunday, 8 August 2010 and is free for everyone. Free shuttle buses run throughout the borough regularly, making access to the Knowsley Flower Show much easier.

For further information about the show and for details of how to enter your own displays, contact Sharon Tyrer on:- 0151 443 5641.

Details of the free shuttle buses which run to the event from Huyton, Kirkby and Prescot town centers, Whiston Village and Ravenscourt, Halewood can also be found online at:- knowsleyflowershow.com.
Avoid deadly holiday killer
THE Highways Agency are reminding drivers using the M56, A556 and M6 in Cheshire that the annual RHS Tatton Show is taking place next week.

The show is taking place this year between Wednesday and Sunday of next week - 21 July 2010 to 25 July 2010 – and drivers
travelling through the area or to the show itself are being urged to plan ahead and check traffic conditions before setting out.

Although the Highways Agency is not anticipating major traffic issues it is likely that many drivers heading to the show will use the M56, A556 and M6 during part of their journeys to the event at Tatton Park, near Knutsford.

It is also advising drivers heading to the show to stick to any signed routes to minimise the chance of delays.

The Royal Horticultural Society's website, features full information about the show including public transport options and advice for drivers.

Greg Taylor, acting Regional Operations Manager in charge of the Highways Agency's North West Traffic Officer Service, said:- "This is a long-standing event in the region's summer calendar and we are not anticipating any major traffic problems. However, we did have spells of heavy traffic along the M6 last month during the Cheshire Show and drivers experienced some delays. As usual Highways Agency Traffic Officers will be monitoring the motorway network to respond to any incidents and we will also be setting signs to advise drivers of any problems. Drivers can help themselves by checking travel conditions before setting out and by ensuring they are prepared in the event of a breakdown or being stuck in traffic in the warm weather."
Supporting the England Lacrosse team "Eight days a week"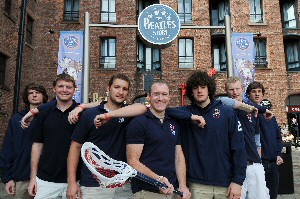 THE Beatles Story, the Liverpool-based award winning Beatles themed attraction, has become a big hit in the world of lacrosse.

It is sponsoring the English Lacrosse team in the World Lacrosse Championships, being held in Manchester next week 15 July 2010 to 24 July 2010.

The championship is the biggest ever held, with 30 nations competing during the ten day event at Manchester University Sports grounds, The Firs.

Jerry Goldman, Managing Director of the Beatles Story said:- "The Lacrosse championships will see people coming to the area from all over the World and The Beatles have a World wide appeal, so we are delighted to be sponsoring the English team in their bid for success. We're also hoping many of the visitors will become Day Trippers and come over to see us during the Championships; Liverpool is only a 45 minute Ticket To Ride by train."

Australian International footballer and Everton midfielder, Tim Cahill added:- "Music and sport are very much a part of life in this city and the people of Liverpool are justifiably proud of the history of both. The football teams are known throughout the world and, of course, The Beatles, brought so much to the city. I thought it was great that The Beatles Story sponsored my jersey too, and I would guess that it's a place that is on every visitor's list of things to do. You speak to anyone from anywhere in the world and they'll know something about The Beatles and it's wonderful that the full story is right here in the heart of Liverpool."

Certainly many of the nationalities will be catered for because The Beatles Story has audio tours available in 8 languages - English, Spanish, German, French, Italian, Russian, Japanese and Polish.

The Beatles Story is open 7 days a week - every day apart from 25 December to 26 December 2010. 9am to 7pm (last admission 5pm). For further information visit:- beatlesstory.com or telephone on:- 0151 709 1963.