VISITENGLAND LAUNCHES FIRST QUALITY SCHEME FOR HORSE RACING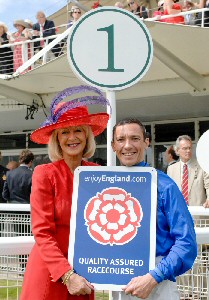 ON 4 August 2010, VisitEngland, the country's national tourist board, has set up the first quality scheme in the country for sport. The VisitEngland Quality Assured Racecourse Scheme will assess 55 racecourses in England and Wales between now and November 2010. Horseracing is the first sport to be quality assessed in this way.

In partnership with Racing for Change, the organisation charged with broadening the appeal of horseracing, VisitEngland will send independent assessors to racecourses around the country. Areas under assessment will include pre-arrival information, the website, journey planning, signage, welcome on arrival, the actual sporting event, toilets, catering and retail outlets. Having completed a full assessment, racecourses will be awarded a VisitEngland plaque illustrated by the organisation's red rose logo.

While enjoying a day at Goodwood races, Lady Cobham, Chairman VisitEngland, said:- "We know 59% of Brits feel they don't make the best use of their time. A day at the races is just one of the many wonderful sporting experiences on offer in England that can be enjoyed not only by dedicated fans of the sport, but by anyone looking for a thrilling day out."

In addition to hosting the London 2012 Olympic & Paralympic Games, England is set to enjoy a decade of sport with major sporting championships on the horizon such as Cricket World Cup, Rugby League World Cup and a host of other events including major tennis, athletics and equestrian events.

Jon Williams, of Racing for Change, said:- "We want to make racegoing an experience to be enjoyed by all racegoers including families who may not have previously considered a day at the races as a family friendly outing. The VisitEngland Quality Assured plaque will act as a stamp of approval showing visitors that a day's racing is a quality experience and great value for money."

Top jockey, Frankie Dettori, commented:- "This is a brilliant idea. Anything that encourages more people to come racing has to be good for the sport."
CCTV APPEAL - THEFT OF HANDBAGS!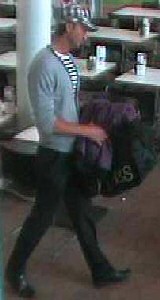 MERSEYSIDE Police have now released CCTV of a man who may be able to assist officers following a number of handbag thefts in Liverpool City Centre and Southport.

The first incident took place on Monday, 21 June 2010, at around 1pm at the Tate Gallery Cafe, Albert Dock. A woman was seated at one of the tables and she noticed a man seated near to her. A short time later, her bag is gone. CCTV shows that a man has taken her bag off the back of her seat and walked from the cafe in the direction of the Inner Quay of the Albert Dock.

On the same date a second incident took place at the Weatherspoons pub on Lord Street, Southport. The victim was sat in the pub when she saw a man sit near to her. A short while later she noticed her bag had been taken. CCTV shows that the offender puts her bag under his coat before walking out of the pub.

A further two incidents take place on Friday, 4 July 2010, and Saturday, 5 July 2010, in the Lord Street area. In both incidents, the victims bags are taken while they are seated in a pub or cafe.

The offender in all cases is described as white male, 5' 10 - 6' tall, slim build, dark collar length, on a number of occasions he is wearing a distinctive Burberry style checked baseball cap and a white t-shirt with vertical striped and a light blue tightly fitted cardigan. It is thought that the male speaks with an European accent possibly Portuguese.




Detective Constable Jonathan Barnett of Sefton CID said:- "We believe that someone may recognise the man pictured in the CCTV and we believe he may have information that could assist with our enquiries. I would urge anyone in a cafe, bar or club to make sure they look after their belongings and know where their bag is at all times. I'd like to remind people keep bags fastened, keep them close to them and to keep mobile phones safe and hidden."

Anyone who recognises this man, or who has any information about these incidents is asked to contact Sefton CID at Copy Lane Police Station on:- 0151 777 3165 or Crimestoppers anonymously on:- 0800 555 111.