Pet Project in the Parks
DOG owners are being given the opportunity to make sure their pets are in peak condition at special roadshows in Liverpool. Experts will be at the events to give dogs a health check to looking at issues such as obesity and dental diseases.

Free micro-chipping will also be available so that owners can be reunited with their pet if they lose them. The micro-chip is the size of a grain of rice and can be quickly implanted. It stores a unique number which is recorded on a national database.

Liverpool City Council's Cabinet member for the environment, Councillor Tim Moore said:- "These roadshows have been taking place for a number of years now and they are have proved to be very popular. Dog owners will want to make sure their pets are fit and healthy and I would encourage them to visit the roadshows."

Assistant Cabinet member Councillor Tim Beaumont, whose responsibilities include promoting responsible pet ownership, said:- "This is all about encouraging responsible dog ownership. Micro-chipping is a simple and inexpensive way of reuniting dogs, if they stray, with their owners and responsible owners will be keen to take part."

The roadshow will be in Wavertree Park on Saturday, 7 August 2010. On Sunday, 8 August 2010, it will be in Stanley Park, and it will be in Croxteth Park on Thursday, 12 August 2010. Events will also be held in Liverpool on Saturday, 14 August 2010, at Calderstones Park and on Sunday, 15 August 2010, at Clubmoor Community Centre in Townsend Lane.

Micro chipping, health checks, advice on neutering and responsible dog ownership will be available each day between 10.am and 4.30pm. The micro chipping is free of charge. However donations will be accepted and shared among the animal charities that are involved in the event. Dogs must be at least 12 weeks old before they can be chipped.

The roadshows have been organised by the city council working with the Merseyside Dog Forum, and in partnership with the RSPCA and the Dogs Trust. The PDSA, the UK's leading veterinary charity are offering the free health checks

Any dog owner from Liverpool or from any part of Wirral, Knowsley, Sefton, St Helens, Halton or Warrington are eligible for the checks. Anyone who wants to attend the road show but may have problems getting themselves and their pet there can call Pets to Vets who specialise in pet transportation. This service is only available to Liverpool residents and they need to book in advance. There will be a small charge to cover the travel costs. For further details call Ray Gordon on:- 07941 259754.

If residents have any other questions about the roadshows they can call the city council's Animal Warden Team on:- 0151 233 3000/3001.
DETECTIVES MAKE COUNTRY-WIDE APPEAL TO FIND MAREK'S KILLER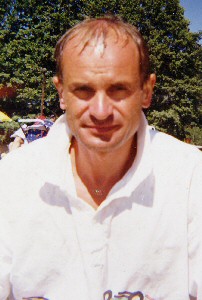 ONE year after the murder of a 51 year old Polish national in Bognor Regis, West Sussex, detectives are appealing to the Polish community across the country in a bid to find "the final piece of the jigsaw."

The message from detectives who have worked tirelessly on Operation Langton is that someone, somewhere, knows what happened to Marek Pudlowski, whose severely bruised body was found on a park bench on 3 August 2009.

"We have had so much support from the Polish community and many people have come forward to help us with our enquiries. However, many of those have now left the area and we no longer know where they are - they could be anywhere the country. We are certain that at least one person knows exactly what happened to Marek this time last year and are hoping that someone hearing or reading about this appeal may be able to give us the last piece of the jigsaw. Marek Pudlowski was a husband and a father, who was loved by his family. His daughter Agniezka Pudlowska made an emotional appeal for information last year and his family still need justice and to know what happened. If anyone, anywhere, knows something then please pick up the phone and speak to us or email us." said Detective Chief Inspector Steve Johns, from Sussex Police's Major Crime Branch.

Posters and leaflets in Polish have been distributed around the town of Bognor Regis featuring a mobile phone number that people can call with information; it will be answered by Polish speaking police officers and staff, or a message can be left in Polish.

DCI Johns also spoke to the media in Polish and made this appeal:- "Ktos wie co sie stalo Markowi Pudlowskiemu. Jesli macie jakies informacje na ten temat, prosimy o kontakt."

Chief Jim Bartlett, the local police District Commander, said:- "We have received a lot of support from members of the public within the Polish community, to which Marek belonged. We are extremely grateful for all this help and we continue to forge and develop those relationships. However, despite all the appeals we have made and the help we have received we have not yet caught the person who did this to him. We hope that by extending our appeals across the country someone will give us the vital information that we need."

Anyone with information is asked to contact police on:- 07747 016638 or email on:- contact.centre@sussex.pnn.police.uk (quoting Operation Langton).
Appeal Posters:- PDF Polish | PDF English
130,000 families in North West to lose £10 a week in housing benefit
130,000 households in the North West will lose on average £10 a week (£520 a year) as a result of changes to housing benefit announced in June's Emergency Budget.
Cuts to the local housing allowance will hit almost everyone in private rented housing who is on the benefit, says the North West TUC.
The analysis of figures from the Department for Work and Pensions (DWP) reveals the top 10 worst hit areas in the North West are: Liverpool, Blackpool, Manchester, Wirral, Sefton, Bolton, Wigan, Rochdale, Cheshire W & Chester and Cheshire East.
Worst hit of these are almost 4,000 families in Cheshire West and Chester who face losing up to £12.60 a week.
But the biggest number of families to lose out are in Liverpool where 12,620 families will be £10.60 a week worse off as a result of the benefit changes.
North West TUC Regional Secretary Alan Manning said:- "These cuts in housing benefit will hit some of our poorest and most vulnerable families, and will affect more than 130,000 households across our Region. On average, 130,000 families in the North West will find themselves out of pocket to the tune of £520 a year or £10 a week – but some of the poorest people in Liverpool, Blackpool, Wirral and parts of Cheshire will be hit even harder. The cuts have been buried in the small print of the Budget and are extremely complicated - but it is crystal clear that some of the North West's poorest families are now paying the price for the bankers recession, while the banks themselves are returning massive profits."
Housing Benefit changes:- Top 10 worst hit areas in North West
| | | |
| --- | --- | --- |
| No. of house holds | Local authority area | Loss per week |
| 12,620 | Liverpool | 10.6 |
| 12,420 | Blackpool | 11.2 |
| 10,210 | Manchester | 9.6 |
| 8,350 | Wirral | 11.8 |
| 5,340 | Sefton | 8.3 |
| 4,580 | Bolton | 10.0 |
| 4,530 | Wigan | 9.2 |
| 4,150 | Rochdale | 7.4 |
| 3,960 | Cheshire W & Chester | 12.6 |
| 3,800 | Cheshire East | 9.4 |
The proposed cuts, due to come into force in April 2011, include:-
► The restriction of the bedroom entitlement to four bedroom rates
► Capping the amount that can be claimed under local housing allowance (LHA) at between £250 and £400 a week (depending on property size)
► Removing a £15 a week excess payment for tenants who find a good deal on rents.
From October 2011, LHA rents will also be calculated on the 30th percentile of private sector rents rather than the median.
Number of households losing HB (by region or nation)
| | | | |
| --- | --- | --- | --- |
| Region or nation | No. of households | Loss per week | Loss per year |
| London | 159,370 | £22 | £1,144 |
| South East | 123,000 | £12 | £624 |
| East Midlands | 58,680 | £10 | £520 |
| East of England | 70,970 | £10 | £520 |
| North West | 130,900 | £10 | £520 |
| Scotland | 49,730 | £10 | £520 |
| South West | 83,180 | £10 | £520 |
| West Midlands | 80,140 | £10 | £520 |
| North East | 45,160 | £9 | £468 |
| Wales | 48,530 | £9 | £468 |
| Yorks and Humber | 87,310 | £9 | £468 |
| National | 936,960 | £12 | £624 |
This analysis is based on the recently published Government document Impacts of Housing Benefit proposals:- Changes to the Local Housing Allowance to be introduced in 2011-12, available to download from the DWP website.
CCTV APPEAL - ASSAULT - LIVERPOOL CITY CENTRE
MERSEYSIDE Police has released CCTV still of a man they would like to speak to in connection with an assault in Liverpool city centre on Thursday, 24 June 2010. Just before 2am a 35 year old man was assaulted outside the Reminiss Bar on Matthew Street. The victim sustained a fractured cheek bone, multiple bruises and a split lip. He was taken to hospital by ambulance for treatment. It is believed the offender walked to Victoria Street following the incident and hailed a black Hackney Cab. The victim has since been discharged and is now recovering at home. Anyone with information is asked to contact Merseyside Police on:- 0151 777 4064 or Crimestoppers on:- 0800 555 111.