Paul Heathcote and Dad Ken undertakea practise climb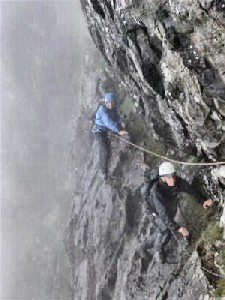 THE owner of top Liverpool restaurant chain, Heathcotes is set to take on the ultimate challenge by climbing one of Europe's most iconic Alpine mountains in aid of the NSPCC's ChildLine service.

Paul Heathcote, who owns Simply Heathcotes on Beetham Plaza, the Strand and the Olive Press Restaurant on Castle Street, will climb the 14,692ft Matterhorn on the Italy and Switzerland border with his 75 year old dad Ken Heathcote. The pair will set out on 15 August 2010 and aim to complete the challenge in 2 days on the 18 August 2010 and 19 August 2010. Paul is raising money for Childline, while Ken is donating funds to Help for Heroes. Paul hope their efforts will raise £15k for Childline.

Speaking ahead of the climb Paul Heathcote, said:- "I decided on the challenge after a moment of inspiration whilst skiing last year in Zermatt - I think it was the long lazy lunch and that second bottle of wine! My Dad also thought it was a good idea to join me but I'm not sure he had done his research. As a father of two, ChildLine and the NSPCC are very close to my heart so I am delighted that to go the extra mile to help protect children. The Matterhorn climb will be a once in a life time opportunity, made all the more special by being accompanied by my Dad!"

The 49 year old restaurant owner has recently completed a couple of London Marathons for charity and with 1 week to go until the gruelling challenge Paul is currently training 5 days a week and has been going to the gym for the past 12 months in a bid to build up his fitness for the challenge.

Paul continued:- "We are both excited and nervous at the thought of the journey ahead as 14,692ft over 2 days is a big undertaking. We know it will be a really tough challenge and we will be tested to our physical and mental limits, but it is particularly rewarding to know that by taking part we are helping to raise vital funds for fantastic charities. We'd also like to thank our family and friends for the support and encouragement offered. The sponsorship would not be possible without their support."

The NSPCC runs a number of projects in the North West including the Hargreaves Centre in Liverpool. The centre houses pioneering children's services including a team to help children, young people and their families overcome domestic violence, a families and substance support team plus Liverpool's first ChildLine base.

Alex Hanson, NSPCC corporate fundraising manager, said:- "The NSPCC's ChildLine service can be a real lifeline for so many children and young people in desperate need of support, protection and help and we are so grateful to Paul for choosing to support the charity. The money raised by the Matterhorn climb will save precious young lives and protect children from pain and distress. £1 raised for every foot of the climb could raise £14,692 for ChildLine. It could pay for a night shift worker for a period of three months, to support the children who phone ChildLine, often in desperate situations, in the middle of the night."
Anyone wanting to support Paul and Ken can visit:-

Paul:- justgiving.com/paulclimbsthematterhorn .

Ken:- kenandthematterhorn.com.

If you would like to support ChildLine, which is a service of the NSPCC, please contact:- 0161 628 1209 or email them via:-
northwestappeals@nspcc.org.uk.
SEFTON THEATRE FESTIVAL LOOKS TO THE PAST
DID you know that future US President Theodore Roosevelt fought with Jefferson Davis Jnr. as a child on Crosby beach in 1869? Or that in 1910 a third of Britain's licensed daredevil pilots were based in Formby? These, and other hidden histories, will be brough crashing into the present at the Theatre in the Rough Festival 2011, thanks to a major grant from the Heritage Lottery Fund and Express Sefton. The Sefton-based theatre company, working in partnership with the Botanic Gardens Museum, is looking for playwrights aged 13 to 25 to create new work for next year's event. Weekly playwriting workshops will be held in autumn 2010, resulting in a series of 15 minute plays for professional production at a Liverpool theatre in 2011. The writers' work will also be published, and form part of an exhibition at the Botanic Gardens Museum. For further details, go to:- theatreintherough.com.
Growing for gold
WOOLTON village welcomed some very special guests on 9 August 2010, as national horticulture experts arrive to find out what makes the area so bloomin' great.

Judges from the National Royal Horticultural Society took a very close look at all the things that make Woolton such a green, vibrant and colourful part of the city.

The prize at stake? A Britain in Bloom Gold Medal. Already six-times North West in bloom gold medallist, Woolton has once again been chosen as North West representative in the national competition - and this year aims to win Gold once more in the 'Best Large Village in the UK' category.

Despite some strong competition, Woolton is unique in that none of its rivals are part of a large city. Ward Councillor Barbara Mace said:- "The Woolton community deserves great credit for creating such a beautiful area in our city, which has gained national recognition for Liverpool. Not only do they plan and carry out the intensive work this programme needs, they also raise all the money needed to make it possible."

Residents hope to wow the judges with a range of new innovations, including an edible garden outside the Coach and Horses on Woolton Street, new rose beds on High Street, a conservation project in Lodes Pond at the Village centre and spectacular Village entrance sites. The community is closely involved in the preparation, working hard to nurture the plants, and present an immaculate village.

The competition is not just about putting up a few hanging baskets and planting tubs of flowers. It embraces everything that improves people's lives - creating a clean and green environment involving the community and encouraging young and old to work together.

This year Woolton in Bloom has been fortunate to gain the sponsorship HomeBargain Stores as well as enjoying the long-term sponsorship of Morecrofts Solicitors and the support of the Woolton business community. Woolton in Bloom also gratefully acknowledges the contribution of Liverpool City Council, Enterprise Liverpool, Glendales PLC; and Lealands Nursery.
Creamfields 2010 Is Now Sold Out!!!!
THE team behind the festival which takes place in Cheshire on August Bank Holiday weekend have put together one of the biggest dance festival line up's of the Summer, which will see performances from the likes of Ti?sto, David Guetta, Leftfield, Deadmau5, Calvin Harris, Paul van Dyk, Armin van Buuren and Swedish House Mafia to name a few. They told us that:- "We are pleased to announce that Creamfields 2010 festival has sold out, becoming the fastest selling Creamfields to date and the 2nd consecutive year the award winning festival has sold out. There are only a handful of Sunday tickets available. For all those who have missed out on a ticket for this years show, then please get in early for next year or if you cant wait that long then head to L.E.D Festival in London on Friday, 27 August 2010and Saturday, 28 August 2010, where you'll get the chance to see some of the world's biggest electronic acts perform before they head north to Creamfields! We're offering a 10% discount on L.E.D Festival tickets for all Creamfields fans who missed out on this years show. To purchase call Ticketmaster on:- 08444 775 775 and quote 'Creamfields' or click on here."