Merseyside housing associations march with Pride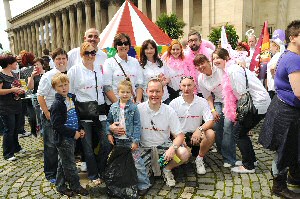 EQUALITY campaigners transformed Liverpool's streets into a rainbow of colour at the weekend for the city's first Pride celebration - and four Merseyside housing associations marched proudly beside them.

Knowsley Housing Trust (KHT), Liverpool Mutual Homes, South Liverpool Housing Group and Riverside worked together to prepare a float for the event, where the theme was 'Rainbow Circus'.

The 10 ft high character - designed and constructed by Hallangen Art, who created the Liverpool-wide charity art project Mankey Monkey - combined a house with a big top and balloons along the circus theme.

Around 21,000 visitors flooded the city centre as drag queens and samba dancers sashayed through the streets on Saturday, 7 August 2010.

They were joined by staff members from the housing associations along with representatives from the police and fire service, groups from many of the city's gay bars and clubs and various other organisations.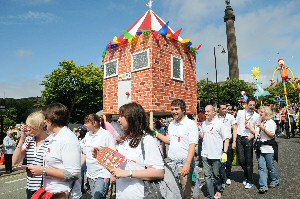 Helen Lacey, KHT's Equality and Diversity Officer, said:- "We are very proud to have had a place in the first Liverpool Pride. It was a fantastic event that brought people from all walks of life together to celebrate their differences. We strongly believe in equality and diversity and this was a great way of getting across that message."

LMH Customer Equalities Manager, Lyn Bowker, said:- "LMH was very proud to be involved in the Liverpool Pride celebrations. We believe it was an important day that helped show the rest of the UK that Liverpool is committed to celebrating diversity."

Claire Ryan, Head of Business Excellence at South Liverpool Housing, said:- "One of our values is to 'be committed to equality, diversity and inclusivity' and as the lead housing association in South Liverpool we take our responsibility to embrace equality very seriously. It's important that we understand the different needs of our customers and this was a great opportunity to meet people from a cross-section of communities."

Neil Townsend, chair of Riverside's Lesbian Gay Bisexual and Transgender (LGBT) group, said:- "As an organisation whose origins are in Liverpool, we were really pleased to support the first Liverpool Pride. We are committed to equality and our message is about 'housing for all' irrespective of sexuality or gender. It was a great fun day and family orientated – with something for everyone and a continuation of the culture celebrations for Liverpool. In supporting the event, we hope to foster greater knowledge, understanding and acceptance of LGBT communities."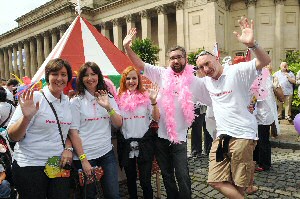 The event also included specially-themed art exhibitions, sports tournaments and a rainbow circus in the city centre.

Dance legend Robin S took to the main stage with former Coronation Street actor and singer Adam Rickitt.

And burlesque dancers brought Moulin Rouge glamour to the cabaret stage
SEFTON THEATRE FESTIVAL LOOKS TO THE PAST
"YOU are in a conflict area. Your home is about to be searched by an armed soldier or an armed robot. Which would you prefer?" Human soldiers have emotions. Robots don't. Could using robots make armed conflict more humane?

This is one of the many thought-provoking questions posed in the new online resource the British Red Cross launched on 11 August, 2010, as part of the charity's freshly redesigned website.

The latest online initiative from the British Red Cross education team can be viewed on their new website and is part of the charity's partnership with the Bonita Trust. The trust funded the Red Cross to develop an interactive humanitarian education project to engage students and teachers on global issues.

Using compelling video footage of robots in action, they respond to surprisingly challenging questions about the complex relationship between people and machines.

The videos cover the remote operation of unmanned drones, medical robots that retrieve the wounded from battle, mine detectors, armed border guards and much more.

Features of the teaching resource include:-

► Self directed learning as students choose their route through a series of videos and activities

► High quality stimulus encouraging critical reflection on key citizenship and PSHE topics

► Neutral and impartial materials, always focused on the central point – acting with humanity

► A discussion forum and video competition for students.

Announcing the launch on Wednesday, 28 July 2010, Nadia Robinson in the British Red Cross education team said:- "These short and engaging videos and thought-provoking questions and are designed for secondary school students to work through in any order. The intriguing topic of robots allows them to explore aspects of international humanitarian law as well as how people experience modern warfare."

Nadia added that:- "We are grateful to the Bonita Trust for funding the development of this innovative resource and workspace."

The philanthropic organisation, Bonita Trust has provided a £50,000 grant to the British Red Cross for the development of the interactive online resources.

Speaking on behalf of Bonita's International Advisory Board, Ruth Parasol DeLeon said:- "The Bonita Trust is pleased to support the British Red Cross by granting funding that has enabled the Red Cross to develop a user-driven online educational facility, which provides self-contained, lively and engaging resources in response to topical global events. This will provide more young people in the UK with an insight into humanitarian issues, deepening their understanding, and building their skills to enable them to become active humanitarian citizens."

The British Red Cross currently offers downloadable lesson plans and teaching materials for citizenship teachers on its website. Last year, there were over 30,000 downloads of the resources.

The website is now aiming to provide simplified functionality, better access to information and integration with social media channels.

Margaret O'Donnell, the British Red Cross head of digital media said:- "The online world is a critical platform for us to communicate with people, get them involved in our work, campaigns, raise funds and offer them opportunities to work with one of the largest voluntary movements in the world. Our new site is fast, intuitive and easy-to-navigate. We're really excited to be unveiling it today. We have always taken our online presence seriously and research shows our users do as well. We get about half a million unique visitors every week and this website has been developed to meet the needs of our growing audience. Also, a third of our website users are over 55 years of age and we have considered their views as well as the recommendations of our other website users who took our user-tests and surveys."

The dynamic new site also provides platforms of interactive media tools like blogs, Twitter, Facebook and YouTube, and provides all the latest information about the charity's work locally and internationally.
WITNESS APPEAL - ASSAULT - CROSBY
MERSEYSIDE Police are appealing for witnesses following an assault outside CADS Bar in Moore Lane, Crosby, on Wednesday, 23 June 2010. At around 7.00pm, a 30 year old man, who was drinking in the bar, went outside to smoke a cigarette. It is believed that as he stood outside he was approached by a group of people, and that he was at some point punched to the back of the head. This caused him to fall to the floor and he sustained a fractured skull as a result. Police were called to attend to the scene, but the victim did not wish to make a formal complaint at the time. He was taken to hospital by ambulance and treated for his injuries. However, he attended Crosby police station on Wednesday, 4 August 2010, stating that he wished to formally pursue the matter. The assault occurred following the England V Slovenia world cup game, and police are appealing to anybody who may have been there and witnessed the incident to call on:- 0151 777 3165, or Crimestoppers anonymously on:- 0800 555 111.