New Ambulance For St. John Ambulance Merseyside
ST. John Ambulance Merseyside has taken delivery of their newest frontline accident and emergency ambulance. The vehicle, equipped with life saving medical equipment will join the charities fleet of ambulances in serving the people of Merseyside at hundreds of public events throughout the year. The Ambulance will be operated by St. John's highly trained volunteer ambulance crews and will transport the sick and injured from the events and support work that St John Ambulance are present at across the county. The organisations Ambulances cost on average some £60,000, and that's before any equipment has been added. They are purchased following fundraising activities and in this case, a significant donation from the The Wolfson Foundation - a charity that awards grants to support excellence in the fields of science and medicine, health, education and the arts & humanities.

Mark Dean, the organisations Head of Service Support said:- "This is a welcome addition to our fleet of vehicles in Merseyside. We are extremely busy throughout the year and across the region and our Ambulances are a frontline tool in helping to keep the people of Merseyside safe, and well looked after should the worst happen whilst they are at an event. We have well trained professional crews, excellent equipment and a fleet of well-maintained and modern Ambulances – all of which help to keep us as the lead supplier of medical, first aid and ambulance cover to the regions events."

The Ambulance is being dedicated at the organisation's headquarters in Liverpool by the Rector of Liverpool, Rev'd Steven
Brookes. Following the short ceremony the Ambulance will be immediately sed at a number of events St. John are covering including motor-racing at the Aintree racecourse motor circuit.
ROBBERY - BET FRED BOOKMAKERS, BRECK ROAD
MERSEYSIDE Police are now appealing for witnesses to a robbery near to Bet Fred bookmakers on Breck Road in Anfield on Thursday, 5 August 2010.

Two women shop workers were leaving the premises at around 2.30pm when they were approached by a man who grabbed a handbag belonging to one of the women containing some of the shop's takings.

A member of the public came to the aid of the women and tackled the offender, who ran off in the direction of Hunt Street and Thirlmere Court where he was seen getting into a light blue Renault Megane car.

The offender is described as having mousey brown or red hair and was wearing a grey tracksuit with the hood up and the drawstring pulled tightly around his face.

CCTV is being examined in the area and house to house enquiries have been carried out.

Detective Inspector Eddie Cowan said:- "We take incidents of this nature extremely seriously and are appealing to anyone who may have seen this incident or knows anything about it to contact us in confidence. We will also be speaking to the management of all betting shops to offer security advice and improve security measures for staff."

Anyone with any information is asked to call detectives at St Anne Street on:- 0151 777 4811, or Crimestoppers, anonymously, on:- 0800 555 111.
Website tells spinal injuries centre's amazing story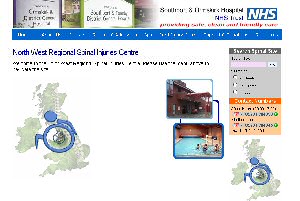 THE North West Regional Spinal Injuries Centre at Southport has launched its new website.

The centre was initially established in the town's former Promenade Hospital in 1947 but is now based at Southport and Formby District General Hospital. It admits people from Merseyside, Greater Manchester, Lancashire, Cumbria, Cheshire,
parts of North Wales and the Isle of Man with a total catchment population of more than 6.5 million.

A team of specialist medical, nursing and rehabilitation staff provide care for spinal injured patients from their initial injury and acute care through a range of rehabilitation to discharge and ongoing lifelong care. Patients have use of their own sports hall and swimming pool.

In addition, the centre is an internationally recognised centre of excellence for the treatment of people who require permanent mechanical ventilation following spinal cord injury and admits patients from across the UK for this highly specialised care.

The average age of our patients is 48 but our youngest was two and our oldest 103.

Historically, a high percentage of our patients have been young men involved in road traffic accidents. However, while the majority are still male, the number of such injuries has reduced over the last five years. We now see more patients with injuries due to falls and sporting activities with diving currently being the most common sports-related injury.

Almost half of the patients referred to the centre have incomplete damage to their spinal cord resulting in varying degrees of motor and sensory abilities below the level of injury, so each patient has a unique injury and individual rehabilitation goals.

The average length of time from first mobilising following the period of initial recovery to discharge may be between three to six months dependent on the level of the injury and any medical complications. Each patient is allocated a case manager, and through their efforts we achieve a return to home in 75% of cases.

Centre clinical director Dr Clive Glass said:- "This centre has a proud and distinguished history which is reflected in our new website as well as informing patients and families of the services that we offer."