COMMUNITY EVENT - MODEL HOUSE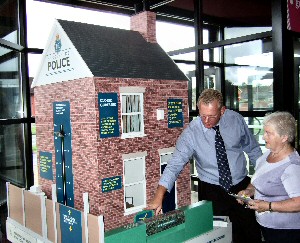 MERSEYSIDE Police officers are continuing to take their unique interactive model house out into local communities in an attempt to help people avoid becoming the victim of burglary and theft.

The 8ft tall model, which offers a number of helpful hints and tips on various aspects of home security, was on show at Mecca Bingo, East Prescot Road, on Tuesday 17 August 2010.

Over 230 members of the public were able to speak with police officers and were provided with key crime prevention advice and leaflets. They were also given a number of useful crime prevention devices such as UV pens and purse bells, whilst also being given the opportunity to win £250 worth of home security vouchers.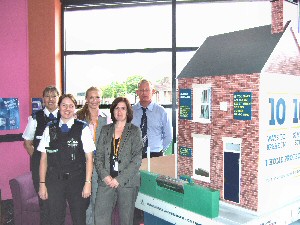 Detective Sergeant Sarah Wright said:- "The aim of the event was to deliver crime prevention and home security advice to bingo patrons. This was a great opportunity to talk to members of the community who may not ordinarily have any contact with the police."

Neighbourhood Inspector Steve Powell echoed those sentiments, saying:- "A large percentage of crime is committed by the opportunist thief – when a window is left open or a door unlocked. We hope that by holding these community events and carrying out operations, people are reassured that we are focussed on tackling the issue of burglary and that they are reminded to make their homes as secure as possible."

Local residents were impressed with the house, and welcome the initiatives that are used by Merseyside Police to raise awareness within the community. One resident said:- "I'm actually looking to increase my home security, so information such as this is really helpful. I always find it reassuring to see the police out and about in the local community, such as here and places like the supermarkets to give out information. I always try and drum what I learn from them into my family as well!"

If you have any concerns or issues you would like to speak about, then please call us on:- 0151 709 6010 and ask to speak to your local neighborhood team. Alternatively you can call Crimestoppers anonymously on:- 0800 555 111. For further crime prevention information or details on how to contact your local neighborhood policing team please visit:- merseyside.police.uk.
CRACK HOUSE CLOSURE
THE Neighbourhood Team from Walton Lane Police Station have listened and reacted to the concerns from the local community.

The concerns that were raised were complaints of Drug Dealing and Anti-Social Behaviour being committed at St Domingo Grove. During the investigation by the local police and the partner agencies one particular address, 92 St Domingo Grove, Liverpool was identified as being at the centre of these complaints.

Officers also at the same time were receiving numerous complaints of Anti-Social Behaviour and Violence connected to 9 Mark Street, Liverpool

Dedicated Officers gathered evidence from a variety of sources using a range of tactics available to the police and partner agencies to tackle Anti-Social Behaviour and Drug dealing.

Complaints were also received from the community regarding their suspicion of drug activity from one of the properties. The police reacted to this and conducted search warrants at the address of 92 St Domingo Grove.

At the conclusion of the activity and investigation the police and the partners applied for an Anti–Social Behaviour Closure Order. This order gives the police certain powers under the Anti-Social behavior Act 2003 to combat persistent behavior of that nature. Once the Order has been agreed a notice is served on the occupier. This only allows the access to the premises by the owner or named tenant up until a court date. Anyone found entering the premises before the court hearing would be arrested by the police for breaching the order.

On Tuesday, 21 July 2010, the Neighbourhood Team entered both addresses and served this notice upon the occupiers.

On the 23 July 2010, the residents of 92 St Domingo Grove attended the Community Justice Centre, a full Closure Notice was granted.

On the 29 July 2010, the residents of 9 Mark Street attended the Community Justice Centre, just before evidence was to be heard the occupiers decided to leave the property and sign documents relinquishing the property back to the Housing Association.

Neighbourhood Inspector Darren Wilson said:- "These Closures were only possible because the community had confidence in the
police and our partners to take action. This demonstrates to the community that we do listen and will use all the powers available to us to make our communities safer."

If you have any issues with Anti- Social Behavior in your area contact your Neighbourhood Dedicated Officers on:- 0151 709 6010, Crime stoppers on:- 0800 111 555 or your Registered Social Landlord.
MFH - KEVIN SANKEY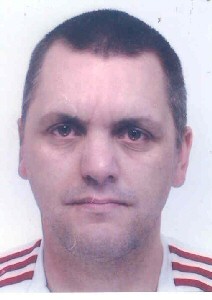 MERSEYSIDE Police are becoming increasingly concerned about 41 year old Kevin Sankey (also known as Kevin Monks) who has been missing from his home in Belle Vale since 12 August 2010. Kevin was last seen on Thursday, 12 August 2010, in Speke and has not been in contact since then. Kevin is described as being white, 6 ft 2 ins tall of medium build with brown eyes. He has shaven greying hair with stubble and has two tattoos on his arms, one LFC crest and the other of a naked woman holding a sword. He sometimes wears glasses. Mr Sankey also has access to a vehicle, a '56' plate silver Vauxhall Vectra Elite, that he may be using. He was last seen wearing a yellow t-shirt and beige shorts. He is known to frequent Otterspool promenade, Sefton park, Hale and other beauty spots. He is also known to frequent betting shops. Officers are appealing for Kevin or anyone who may have seen him or his vehicle since Thursday, 12 August 2010, or who knows of his whereabouts is asked to contact:- 0151 777 5375 or the Missing Persons helpline in confidence on:- 0500 700 700.