Alder Hey's got the X-Factor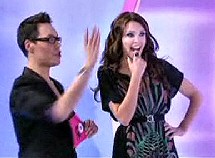 X-FACTOR favourites Alexandra Burke, Jedward, Olly Murs, Stacy Solomon, and super stylish judge Dannii Minogue have given clothes to a charity auction which will benefit Alder Hey Imagine Appeal.

The X Factor outfits will be auctioned at the Clothes Throw event at The Racquet Club, Liverpool, this October. The Clothes Throw will be hosted by British designers Kirsty Doyle and Benna Harry who will give style talks on each of the items whilst they are modelled on the catwalk for guests to bid on.

X Factor winner Alexandra Burke has given a black Ed Hardy by Christian Audigier dress and judge Dannii Minogue has given a multi-coloured Orion dress which she wore on Gok's Fashion Fix. This years X Factor is due to start on Saturday and last year's X Factor finalists have all signed an Imagine Appeal t-shirt for the auction. Alexandra Burke said:- "I'm giving a dress from my own wardrobe for the Clothes Throw auction. It sounds like a fabulous event and hope I everyone has a really good time and it raises lots of money for the Imagine Appeal."

The charity is also seeking designer clothes donations from anyone who has a piece in their wardrobe they no longer wear for the pop-up shop. Famous Liverpool boutique Cricket is donating and Kirsty Doyle has donated a designer experience day where the winner can choose something from her collection at her exclusive boutique store in Liverpool ONE.

British fashion designer Kirsty Doyle, who is a Patron of the Imagine Appeal said:- "I am really looking forward to co-hosting the Clothes Throw and it's exciting seeing all the celebrity donations coming in. The public can donate to the Clothes Throw and I think anyone who's visited Alder Hey will know what a fantastic job they do and when you see their little patients who are so brave it makes you want to do something to help. It's a very effective way for the Imagine Appeal to fundraise because they're not asking for money they're asking for something you no longer wear that's probably at the back of your wardrobe!"
To donate clothes or to attend the exclusive Clothes Throw lunch on Friday, 8 October 2010, please contact Imagine Appeal on:- 0151 252 5716.
APPEAL - SOUTHPORT RESIDENTS TO BE VIGILANT WHEN USING PUBLIC TRANSPORT
MERSEYSIDE police are appealing to Southport residents to be extra-vigilant when using public transport as it is believed that thieves are targeting vulnerable elderly passengers by engaging them in conversation, before stealing various items from them, such as purses from open handbags or coat pockets.

In cooperation with the bus operators, PCSO's regularly patrol the bus network, including routes both within the town centre and the outlying areas, in an attempt to deter people from committing such crimes. Police however are keen to raise awareness of the problem in an attempt to prevent these crimes from occurring.

Acting Detective Sergeant Gavin Mulcahy said:- "These cowardly thieves are targeting vulnerable people, particularly the elderly, and their actions leave their victim's feeling anxious and distressed. We are urging anybody using the bus network in and around Southport to be aware of their surroundings, to be extra careful with their belongings and to ensure that they know where their valuable items are at all times. We believe the thieves operate in pairs and approach vulnerable people and engage them in friendly conversation, but whilst standing unusually close to them. They rely upon people's good nature and politeness to enable them to commit their crimes and it is often not until later on that people realise they have had items stolen. We want to prevent these crimes from happening, and anybody who finds themselves approached in this way should not hesitate to move away should they feel uncomfortable with the situation. We are currently investigating these crimes and are seeking to reduce the number of these incidents by promoting a greater awareness of the problem, and to ask anybody who encounters such behaviour to please contact us with any information they may have."

Police are also particularly keen to speak to two women, described as being in their early twenties, with dark hair and speaking with Irish accents, who they believe may be able to help them with their enquiries. Anyone who has information regarding these offences or those committing them are urged to contact Merseyside Police on:- 0151 777 3165 or Crime Stoppers anonymously on:- 0500 111 555.
Southport Town and Country Fair - August Bank Holiday
SOUTHPORT not only has the Southport Flower Show but also, on a smaller scale, the return of the Southport Town & Country Fair which will be held over 28 August to 30 August 2010. The venue for the event will be again at Stanley Sports College on Fleetwood Road. Tickets are £5 for adults - or £4.50 if booked in advance via:- 01492 523410.