Children carry shameful secret of parents' drink and drugs abuse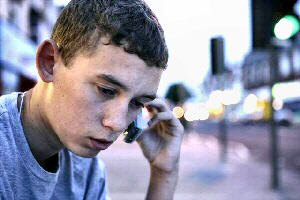 CHILDREN as young as five are contacting ChildLine because they are concerned and often scared about their parents drinking or taking drugs, a new report reveals.

Last year the free, 24-hour service took 5,700 calls from children – some still at primary school - wanting to talk about the problem. Many of them also revealed they were being beaten, sexually abused or neglected. ChildLine North West, which has bases in Manchester and Liverpool, counselled 646 of these callers from across the UK.

For the first-time, through this report, ChildLine is revealing a heart-rending insight into the lives of children who are desperately trying to cope with a traumatic role reversal where they are attempting to look after their parents, brothers and sisters. Yet despite this 'huge burden of responsibility' they are more concerned with solving their families' problems than their own.

Over 4,000 children who rang ChildLine last year said they were worried about their parents' excessive drinking. These youngsters were also more than three times as likely to mention suffering physical abuse (35%) than other children who called. And there were issues with family conflicts (20%) and sexual abuse (10%).

One 10 year-old-girl told ChildLine:- "My mum drinks all the time. She leaves me alone lots of the time. I feel scared and lonely. I look after mum when she drinks and put her to bed. She shouts and hits me. I don't want to feel pain. I want to die."

And a 13 year-old-boy said:- "My mum is an alcoholic. I need to stop mum and dad arguing and fighting. This is always happening. I feel upset at the way my dad treats her. I feel sad because she goes off for days and drinks. I have not told anyone about what is happening. I like to keep it a secret."

Christine Mellor, assistant director for ChildLine in the North West said:- "The fallout from parental drug and alcohol abuse is a ticking time bomb in many children's lives. It's vital these children are helped before lasting damage occurs. The ChildLine service has given a voice to these hidden children, many of whom feel they have a shameful secret to hide. Many have never told anyone before calling us. Children living with parental alcohol and drug problems are at more risk of harm and we need to find ways of helping them sooner. But we must also remember they can be fiercely protective of their parents. One young girl's first comment to the ChildLine counsellor was, 'I don't want anything to happen to my mother'."

Parental drug misuse was reported as a problem in the lives of 2,284 children given ChildLine counselling across the UK last year. These children were almost 6 times more likely to call about their own drug misuse themselves. They also reported physical abuse as a main problem (25%), family relationship problems (19%), and sexual abuse (8%).

One 12-year-old boy told a ChildLine counsellor:- "My dad is beating me and my younger brother; dad injects something into his arm and shouts at me and beats me. My brother and I have bruises. My teachers see this and when they ask I tell them I had a fall."

Christine Mellor continued:- "Some children told ChildLine about their parents' severe mood swings, episodes of violence, and emotional instability. Some said their parents were regularly sick, and that caring for them had affected their schooling, or prevented them forming friendships with other children. This means teachers can be well placed to ask questions and initiate help for a vulnerable child. These children desperately need help to tackle their problems but feel they have no one to turn to. So they often end up caring for their siblings and even their own parents by themselves."
CHALLENGE YOURSELF WITH A MENSA IQ TEST IN LIVERPOOL
MENSA is offering the people of Liverpool a chance to find out their own score and to see if they too can join 23,500 other members of The High IQ Society.

A supervised IQ test session has been organised on Saturday, 25 September 2010, (2.00pm) at the Britannia Adelphi Hotel for anyone interested in finding out their own IQ score for just £15.

To reserve a place on the test you can book online by visiting the IQ Test section of the Mensa website. Alternatively you can contact Helen Oliver on:- 01902 772 771 or email for more information.

Everyone who scores within the top 2% of the population is invited to join Mensa. More information about Mensa and IQ testing can be found via the Mensa website.

John Stevenage, Chief Executive at Mensa, says that knowing your IQ can be advantageous;- 'in the current climate a proven high IQ can be used by employers and higher education institutions as an additional method to differentiate between candidates. A high IQ can also provide an important confidence boost to many people.'

Mensa currently has 2,025 members in the North West region, and 69 members in Liverpool. The society welcomes people from all walks of life, with the objective of enjoying each other's company and participating in a range of social and cultural activities.

The society's aims are to provide a stimulating intellectual and social environment for its members; to identify and foster human intelligence for the benefit of humanity; and to encourage research into the nature, characteristics and uses of intelligence.
Culture's Multi-Million Pounds Boost to City Economy
NEW research has shown that cultural events staged in Liverpool during last year boosted the city's economy by £33m at a cost of only £2.5m. Independent research found that in 2009, 915,000 visitors attended cultural events spending £33,140,580.

In 2008 – Liverpool's year as Europe Capital of Culture- the visitor spend was just over £40m with the total cost nearly £11m. They attracted 1.5m visitors. However, last year's figures compared favourably with 2007 when a total of 218,000 visitors boosted the economy by £12.5m

Councillor Wendy Simon, Cabinet Member for Culture and Tourism, said;- "These are remarkable figures and dispel any fears that there would be a hangover following the Capital of Culture year. Last year for every pound we invested in culture events, the city's economy got more than £12 back. This demonstrates graphically the huge economic impact of cultural events. And it is perhaps not surprising that the Prime Minister has singled Liverpool out as an example of how economic success can be achieved through cultural-led tourism. In recent years the city's economy has benefited by tens of millions of pounds through the various events which have taken place. The money which has been invested in them has been repaid many times over. It also shows that there is a lasting legacy from the Capital of Culture year. Clearly we were not going to attract the same level of audience or visitors spend we did in 2008 but last year stood up incredibly well and we will be working hard to maintain that high standard."

The research for 2009 was conducted by Vector Research with the Mersey Partnership (2007) and BDRC(2008) carrying out the work in previous years. It also looked at the profile of visitors attending events which can be used in future marketing to attract more visitors to the city.
Southport Aikido Club is growing!
FOLLOWING the very successful startup Southport Aikido Club are going to be running a second weekly training session. So far we have been holding one training session a week at Dunes Leisure Centre on Saturday mornings but from 24 August 2010, we will also be training every Tuesday. We have teamed up with the Unite Martial Arts Academy on Tulketh Street and will be holding Aikido lessons every Tuesday evening from 7.00 to 8.30.
Aikido is a defensive martial art that is suitable for people of all ages and abilities whether you are interested in keeping fit ,want a means to defend yourself or simply want an enjoyable way to wind down after a long day. Take a look at our website www.southportaikido.co.uk for more information or come along to one of our classes to see what we do or email me enquiries@southportaikido.co.uk us for more information. Children's classes are planned for the future but for now we can only take 16s and over.