Merseyside Tornado – Saturday October 2 2010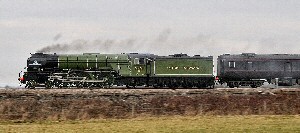 STEAM railway history will be made when the newly built steam locomotive Tornado departs from Merseyside with a special charter train for London on Saturday October 2. The 'A1 Class' steam locomotive will haul a lovingly restored set of luxury carriages configured in the style of those, which during the Pullman steam train era, formed the historic Royal Scot train.

Steam locomotive number 60163 is a brand new engine which was built at Darlington between 1990 and January 2009 when the iconic 'new build' Peppercorn A1 Pacific (4-6-2) received the approval of the Rail Regulator and was accepted by Network Rail, thus allowing it to be used on the national railway network. Tornado, named after the Panavia Tornado military jet fighter plane, is the first mainline (standard gauge) steam locomotive to be built in the UK since British Railways built their last steam locomotive in 1960.The locomotive was built by the A1 Steam Locomotive Trust, a charitable organisation founded in 1990 specifically for that purpose.

Tornado is not simply a replica of the London North Eastern Railway 'A1 Class' locomotives (built in the late 1940s) but is a new millennia development of the original design. As such Tornado incorporates improvements made possible by 21st century engineering techniques, whilst still replicating the appearance and sound of the original design. The original class of A1 Pacific locomotives numbered 49 engines, but unfortunately none escaped the cutting torch in 1966 as BR systematically scrapped its steam fleet. Tornado is thus considered to be the 50th member of the class. It is numbered accordingly, following on from loco number 60162, which was the last British Railways numbered 'A1'.

The very special 'A1' Pacific October 2 charter from Liverpool will be a first for Tornado! In addition the Merseyside Tornado will also be the first ever steam hauled excursion to depart/return to/from Merseyside's newest transport interchange! The choice of Liverpool South Parkway is an excellent one as the comparatively new station (near to Liverpool's John Lennon International Airport) is well served by connecting local train and bus services, and importantly the traveller friendly modern facility boasts ample parking facilities.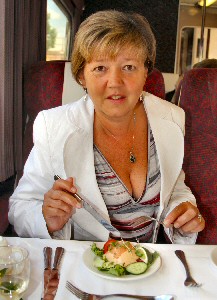 After a breakfast time start The 'Merseyside Tornado' will also pick up (and set down) at Runcorn, Crewe, Stafford and Lichfield Trent Valley (importantly all stations with good parking facilities/rail connections). The initial plans envisage a mid day arrival in Euston, allowing a 4 hour stop over in the capital.

The HF Railtour formula for steam hauled mainline specials is perhaps a little different in that it is based on providing passengers with not just a memorable journey in comfortable top quality rolling stock, but in presenting 'Fine Dining' experiences in both the Pullman style and First Class Plus sections of their trains. The carefully chosen 'on train' menus feature only the best of freshly prepared British produce augmented by top quality wines.

Travellers aboard the Merseyside Tornado will be greeted in the Pullman style dining section by champagne before starting the day with a Full English, and all the trimmings. Savoury elevenses, featuring home made soup and freshly cut sandwiches will also be served, prior to the train's arrival in London. There is a lot to see and do during the capital stop over after which passengers will be welcomed back to their reserved seats with complementary 'bubbly' before Tornado hauls the train back north. During which a five course dinner will be served, with complimentary wine, port or brandy on offer.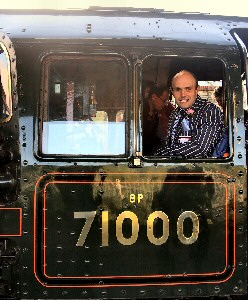 Travellers in First Class Plus will be served tea and coffee with fresh Danish Pastries during the outward journey and as Tornado retraces its steps back to Merseyside they can avail themselves of a traditional full English Afternoon Tea. In addition a high percentage of standard class seats (to suit the rail enthusiast/day tripper) with buffet car facilities will be included in the make up of the Merseyside Tornado. The chosen itinerary covers a wide catchment area thus giving a great many patrons an opportunity to travel in style behind the unique 'A1' steam locomotive. More details can be found by visiting:- hf-railtours.co.uk.
Merseysiders Urged To Step Up To Battle For "The Splashes!"
MEN, women and children from Merseyside are being urged to step up and defend their country's honour on Saturday, 21 August 2010, by competing in what has been called the "Battle for the Splashes!".

It might not be an Ashes summer for the cricket, but it's certainly a Splashes summer. The old England-Aussie rivalry will be in full swing in the Lake District on Saturday, as English pride is well and truly at stake and it may just be a Merseysider who wins the spoils this year, in true Freddie Flintoff spirit!

Ever since audacious Aussie Craig Mounsey and son Finn stepped up to skim the winning stone, in the men's and under 11s event respectively, at the 2009 All England Stone Skimming Championships, English bulldogs have been biding their time to make sure that any Aussie interlopers are on a sticky wicket this year.

The 21 August 2010 Championships will be staged at the Wateredge Inn, at Waterside, Ambleside and the stones will be skimming across Lake Windermere with great gusto, from 11am and until 5pm, in an attempt to reclaim what is being dubbed "The Splashes" trophy.

The All England Stone Skimming Championships run to exactly the same rules as the World Stone Skimming Championship and are open for entry to absolutely anyone. Competitors just turn up and skim their stones and chance their arm – just as the Mounseys did last year.

The stones thrown must be no more than 3 inches in diameter and are provided for competitors. The stone must be skimmed across the water so that it bounces at least 3 times, but it is not the number of bounces that ultimately counts, but rather the distance travelled. The stones must be skimmed within designated lanes marked out by buoys and the judges' decision is final! There is a separate competition for men and women and children can enter in 2 age groups – under 11s and under 16s.

The All England Stone Skimming Championships are run by registered charity, the South Cumbria Rivers Trust as a fundraising event, with money raised from small entrance fees of £3 for adults, £2 for under 16s and £1 for under 11s. The event attracts hundreds of participants across all categories, but it is clear some have the edge.

Organiser Ben Lamb says:- "To skim a stone successfully, the thrower should aim to hit the water at an angle of 10-20 degrees, with a clever flick on release and typically from a bended knee stance. It would seem that Poms have not caught on to this quite as much as our Aussie rivals, but we are banking on some crafty Liverpudlian to maybe restore our national pride. Last year we were pretty disappointed that men, who supposedly wear the 3 lions on their shirt with pride, allowed an Aussie to win the spoils. However, it is just a rumour that we are going to put any Aussie competitors off by shouting "Aussie, Aussie, Aussie, buoy, buoy, buoy", to make their stone go out of bounds!"
Schools In The North West Prepare For The Simple Wellbeing Challenge
PUPILS at 62 secondary schools in the North West are set to 'bin their bling' and lose their luxuries as they take part in The Simple Wellbeing Challenge, a self esteem boosting and skincare education programme that strips the classroom back to basics.

In the biggest school challenge of its kind, The Simple Wellbeing Challenge will assess how much appearance and modern gadgets affect teens' self esteem and provide effective measures for teachers and parents to support them day-to-day.

Following a successful pilot, which took place at one school in Blackpool involving just 12 pupils, Simple, the UK's No. 1 Facial Skincare brand, has made it possible for these secondary schools to take part from September 2010.

As well as educating teenagers in the North West about the importance of skin health, the challenge will see pupils surrender 21st century material trappings such as gadgets (like MP3 players, mobiles and games consoles), make-up, fake tan and hair extensions and sign-up for voluntary work. Their self esteem levels will be measured before and after the challenge using the proven 'Rosenberg Scale', which showed dramatic increases as high as 90% during the pilot at Baines High School in Blackpool.

Psychologist, Emma Kenny, who is spearheading the campaign said:- "With the ever increasing access to modern technology and the peer pressure which comes with it, teen self-esteem is at an all time low. On a parallel, wearing make-up and fake tan, and bringing gadgets into school, is at an all time high. I have witnessed firsthand the pressures that teenagers face today, from both a physical and psychological perspective, due to these luxuries. When you strip these back to basics, it's amazing the positive effect that a more simple daily distraction-free routine can have."

The Challenge will last for three months as part of the Personal, Social, Health and Economic (PSHE) Personal Wellbeing curriculum. Once completed, participating schools will receive Simple Wellbeing Accreditation. For more information visit:- simple.co.uk. Would this idea work in schools on Merseyside? Email us your views to our news room via emailing:- news24@southportreporter.com.
Merseytravel - European leaders on climate agenda
MERSEYTRAVEL is spearheading a major European initiative to develop strategies aimed at reducing the carbon footprint of countries in the area known as the European Atlantic Arc. Merseytravel is the only UK organisation represented in the project called Climatlantic which also includes experts from Portugal, France, Ireland and Spain. There are four main fields being covered by the project:- energy, social behaviour, mobility and territorial management. Merseytravel will concentrate on social behaviour and Chief Executive Neil Scales said:- "It is a field in which we are pioneers through our education initiative in schools and we shall be able to offer our colleagues some valuable experience.Our Your Choice programme, for example, teaches youngsters to think about road and rail safety in a responsible manner and is aimed at reducing anti-social behaviour, including vandalism, on public transport. And we have long been at the forefront of promoting sustainable transport and more active lifestyles through schemes such as Bikeability and Act Travelwise." The Climatlantic project is being funded by the European Regional Development Fund and its proposals will be presented to the Government's of the participating Governments next year.d