ARRIVA LAUNCHES NOVEL TALENT SEARCH
BUS company Arriva North West is searching for a talented young writer in Liverpool. The company is urging children aged 16 and under to get their thinking caps on and come up with a bus themed short story. Debra Mercer, marketing manager for Arriva North West, said:- "A lot of children start using the bus for the first time when they go to secondary school. We really want to encourage them to use their journey time for reading as people tell us they really value the time they get with their books on the bus. That's why we'd like children to come up with a short story about a memorable bus journey. The winning entry will then be given to other young people who catch the bus. The story could be about the first time they went on a bus, a special trip, or completely made up - it's up to them!" As well as having their story shared with other young bus users and published on the Arriva website, the winner will also get a laptop and free bus tickets. Three runners up will also get free Arriva bus tickets. The deadline for entries is Sunday, 19 September 2010 and the story must be bus themed and between 500 and 1000 words. Anyone who wants to enter should email their short story and contact details to:- shortstory@arriva.co.uk or post them to:-

Arriva Short Story Competition; HTPR; 1 Wrens Court; 53 Lower Queen Street; Sutton Coldfield; B72 1RT; UK

Arriva North West's reading campaign comes after the Arriva School Bus visited five primary schools across the UK to give children a lesson about travelling safely and the environmental benefits of public transport. Five buses were turned into mobile classrooms, visiting primary schools in Luton, Manchester, Leeds, Burton-on-Trent and Stockton-on-Tees. Year Six pupils were given entertaining and educational sessions about using the bus.
OTTERS POOL HARVESTER WANTS TO BRING OUT THE BEST
THE manager of the Otters Pool on Otters Pool Drive often welcomes guests who are celebrating achievements, and now he wants to formally recognize the contribution made by individuals who inspire, encourage and support those around them.

Local people are being urged to nominate anyone they think worthy of the Bring Out The Best Award. The manager of the Otters Pool will present a special trophy to the winner, as well as reward their success with a complimentary family meal.

Paul Sutton, manager of the Otters Pool, said:- "We'd really like to reward the unsung heroes of Liverpool by making a fuss of them! The winner could be anyone from a Brown Owl to a sports coach or lollipop lady. Either way, we're looking forward to receiving lots of entries nominating our local stars. At Harvester we believe we bring out the best in our guests because they come together to enjoy our freshly prepared and great value meals. We hope our Bring Out The Best Award will create a real buzz in the community."

People who want to nominate someone for a Bring Out The Best Award should visit:- harvester.co.uk/bring-out-the-best-awards. The deadline is Sunday, 12 September 2010.
The Friends of Old Christ Church To Hold Flea Market
ON Saturday, 4 September 2010, The Waterloo Flea Market starts again at Old Christ Church, Waterloo Road, from 9.30am to 1.00pm.
Letters To Editor:- "Southport's Paula Performing at Mathew Street Festival
Photos wit thanks to FMES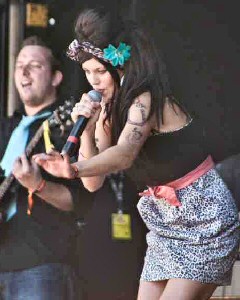 "I am PAULA Delaney aka Amy Housewine, from the Southport based Miss Allen and the FMES. We are tribute band to Amy Winehouse, Lily Allen. I was please to be asked to performed on the Williamson Square Stage at Mathew Street Festival on Monday, 30 August 2010. The crowds, the atmosphere and the entire event were something all of us in the band will all remember for a long time, it was absolutely fantastic. The sun was shining and everyone was in really good spirits. From the town hall in the morning, we were overlooking the streets of Liverpool and it was very quiet, and the build up to the performance was fantastic. As we came to do our first show performing our tribute to Amy Winehouse, Williamson Square was packed out and what a fantastic response we had from the crowd, joining in, singing, dancing & clapping. Our second show as Miss Allen, was even busier, with people being stopped from entering the square as it was too full. As we stepped out onto the stage, with the mass of people looking back at us, we could not have had a bigger buzz. It was simply outstanding. Thanks to everyone for all your support, videos, photographs and mostly for coming to see us." Paula Delaney & the FMEs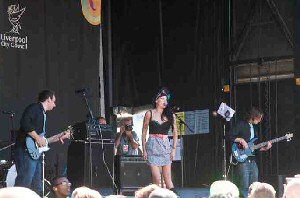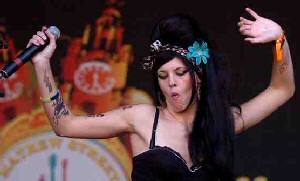 See our coverage of the event by clicking on here.