North West MEP Sajjad Karim Raises over £150,000 towards Pakistan Floods
SAJJAD Karim, Conservative Member of the European Parliament for the North West of England, has raised over £150,000 towards the flood relief effort in Pakistan following a fundraising dinner he held in Manchester on Sunday, 5 September 2010.

The event, held at the Sheridan Suite on Oldham Road, was attended by over 1,000 people and smashed the £125,000 fundraising target set by Mr. Karim. The Sheridan Suite donated the venue and all the food for evening.

Sajjad, who is also the Chair of the European Parliament Friends of Pakistan Group, ran the fundraiser in association with the charity, SAHARA for Life Trust. The charity aims to give aid and offer support to those most affected by the floods in remote areas of Pakistan.

In addition to an Iftaar dinner there was a grand auction, where items on offer included a signed Wayne Rooney Manchester United shirt and a signed Amir Khan boxing glove. Guests were entertained by International Bhangra pop music star, Abrar Ul-Haq. Mr. Ul-Haq is also the Chairman and founder of the SAHARA for Life Trust.

Speaking following the event, Sajjad said:- "I am absolutely delighted with how much money we managed to raise in one evening and I give my heartfelt thanks everyone who attended and donated to the cause, especially the Sheridan Suite who donated the venue and the food. Despite the success of this event, the recent announcement of a further surge in flood waters in southern Pakistan means we must continue to show our support as, over the coming weeks, more people are set to be displaced and the effects of disease and hunger will continue to spread. I call upon the international community to continue to support and give aid to the 20 million people who are affected by the flooding and I call on every individual to give what they can to help those affected by the worst humanitarian crisis we've seen in decades"
Holland's give fans a chance to be a VIP on Coronation Street!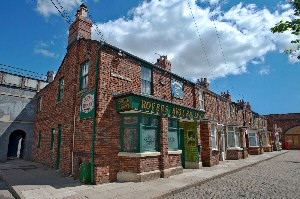 HOLLAND'S Pies, the North West's best known producer of pies and puddings, is going to give pie and Corrie fans a real flavour of 'The Street' in more ways than one in September. Not only will their fans have an opportunity to tuck into 3 new Limited Edition Coronation Street Pies, they'll also get the chance to take a stroll down the nation's favourite street, join the stars for filming and see if they can beat the editor's cut!

The 'Be a VIP on Coronation Street' competition comes as part of Holland's partnership with ITV to celebrate the show's 50th anniversary. It will be launched to coincide with Holland's limited edition Coronation Street pies, including the Rovers Beef and Veg Hotpot, the Rovers Chicken, Leek and White Wine Pie and the Rovers Steak and Ale pie, which will be on sale across the nation in selected retailers from September onwards in frozen 4 packs.

Leanne Holcroft, Brand Manager of Holland's Pies explains:- "We knew that with the Limited Edition Corrie range we had great pies, but we realised that we had to match that with great prizes. Now, the 'Be a VIP on Corrie' competition offers devoted fans of Holland's Pies and Coronation Street the kind of prizes that dreams are made of."

All Holland's and Corrie fans need to do is pick up a pack in store, then enter the online free prize draw to be in with a chance to win the star prize of taking part in the filming of Coronation Street. The competition will also include 49 exclusive Corrie prizes to be won; including Coronation Street set tours, signed Corrie scripts and branded Coronation Street merchandise such as aprons and oven gloves.

The iconic pie company is one of Coronation Street's 'Best of British' brands promotional partners, brought together to help celebrate the 50th anniversary of the soap and 'Be a VIP on Coronation Street' is just one of many promotions planned throughout the course of 2010 to highlight the history of Britain's longest running soap and the partnership with Holland's.

Leanne continues:- "The celebrations don't end here. We have a range of exciting events still to come later in the year including The Manchester Food & Drink Festival, where we will be giving the famous festival a touch of Corrie magic in October!"

Holland's employs 370 people at its Lancashire base and is part of Northern Foods. The company enjoys a 60% share of the market in the North West, an area where 98.9% of people have heard of Holland's Pies.

'BE A VIP ON CORONATION ST' is a free prize draw. Holland's & Corrie fans can find out more detail on how to enter by picking up any of the chilled individual and 4 pack range in supermarkets or by logging onto hollandscorrie.co.uk.
North West MEP Sajjad Karim Raises over £150,000 towards Pakistan Floods
ONE of Merseyside's most impressive hotels has a new General Manager. Enda Rylands, 37, who has worked in the hospitality sector for almost 20 years, says he is very excited to be joining the four star Ramada Plaza Hotel in Southport and maximising its huge potential. "The Ramada Plaza is a stunning hotel with so much to offer and is positioned in a fantastic location. I am extremely excited to be joining the hotel's successful team." End told the media. The Ramada Plaza, which is under the management of then hospitality, is set in the heart of the new waterfront development on Southport's promenade close to the Victorian pier. It boasts 133 stylish rooms including eight with floor to ceiling windows offering panoramic views of the coastline. Other facilities include a fitness suite, four meeting rooms and a brasserie. It is ideally situated next to Southport Theatre and Convention Centre and the Portland Hall Spa. Before being appointed as General Manager, Enda worked in a variety of positions in locations around the country, most recently as General Manager at Chevin Country Park Hotel in Leeds. He believes that what makes a good hotel is value for money. He said:- "The most important thing is that a guest walks away from the hotel with a smile on their face, feeling as if they have enjoyed a great experience and real value for money. This is what we will be continually seeking to achieve at the Ramada Plaza in Southport."
TALES FROM HAUNTED LIVERPOOL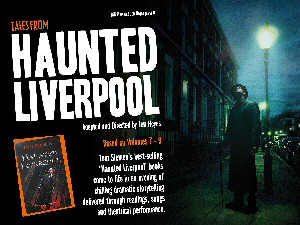 WITH Halloween and dark nights fast approaching, 'Tales from Haunted Liverpool' returns for its 4th and FINAL instalment of Tom Slemen's creepy and unusual tales from the banks of the Mersey. The sell-out and much sought-after evenings of dramatic storytelling will reach their final resting place in St George's Concert Room at St George's Hall from Friday 15 October 2010 to Sunday 17 October 2010.

This grand finale ends the popular series of productions, which have thrilled audiences, the press and most importantly the Slemen fans, during its Nov 2009, March and June 2010 runs. Director Jen Heyes, and the brilliantly versatile Liverpool cast will again bring to life the most thrilling stories from volumes 7-9, the final 3 volumes in the No.1 chart-topping series of books.

Heyes' unique mix of cleverly delivered readings, performance, and haunting musical interludes transports the audience into Liverpool's dark supernatural past. Performing up-close to the audience and with the actors utilising every inch of the stunning Concert Room at St George's Hall, this is the final opportunity to hear the Slemen series of books brought to life on dark October nights.

'Tales from Haunted Liverpool' has been performed by some of Liverpool's best loved acting and musical talent, and this finale is no exception. The autumn production will feature the crème-de-la-crème from the series, Brian Dodd, (who has appeared in all four "TFHL" productions) Roy Carruthers (1st and 2nd series) and Eithne Browne (from the 1st series).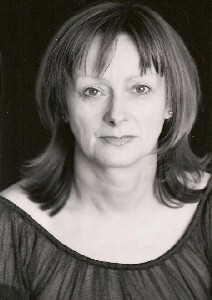 To top off this combination of home bred talent is Nice Guy Eddie and Twopence To Cross the Mersey star, Emma Vaudrey, who will join the pool of actors for the fourth and final series of one of Liverpool's most popular theatrical events.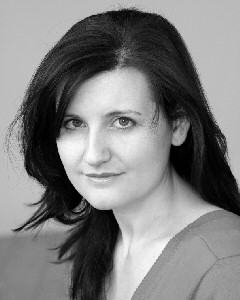 The production takes place in the ornate Concert Room of St. Georges Hall. The Grade I listed building has had its fair share of famous patrons, including Charles Dickens himself, who also performed dramatic recitals of his work in this space. The hall is widely regarded as one of the finest neo-classical buildings in the world and has been painstakingly restored to its former glory in the last decade. Now resuming its place as one of the most sought after venues in the North West.

Tom Slemen has written 9 books in the "Haunted Liverpool" series among numerous other specials on spooky happenings in the area. The books have regularly been number one in the Liverpool bestselling book charts. Slemen has recently created an online "ezine" which is available from his website. This online magazine is a menagerie of unsettling tales about ghosts, time-travel and the paranormal, all with a local connection.

Jen Heyes is the founder and director of Cut to the Chase Productions and has built up an extensive portfolio in theatre production and direction including September in the Rain at the Floral Pavilion, Lorca's Blood Wedding at the Liverpool Playhouse , Wall Talks (commissioned or the 800th birthday of the city of Liverpool) Talking Heads (finalist Scouseology Awards), Therese Raquin (winner of The Daily Post and Echo Arts Award 2000, and nominated for Best New Talent). She is also the artistic director for the RLPO Spirit of Christmas concerts 2010.

The production is sure to end with a very scary bump in the night!
PERFORMANCE INFORMATION
Tales from Haunted Liverpool (Vol 7-9)

St. George's Concert Room North Entrance, William Brown Street, Liverpool, L1 1JJ

Friday, 15 October 2010 to Saturday, 17 October 2010, Evening only at 8pm

Tickets £13 (Stalls and Curves Seating) and £11.50 (Balcony)

You can book now in person at Liverpool Echo Arena Box Office, on the ACC Live Hotline on 0844 8000 400 (Mon-Sat, 9am-9pm and Sun 10am-4pm) or online at:- echoarena.com

For more information visit:- stgeorgesliverpool.co.uk
Sponsored by Bluecoat Press