Top Liverpool chef raises Thousands of £''s for ChildLine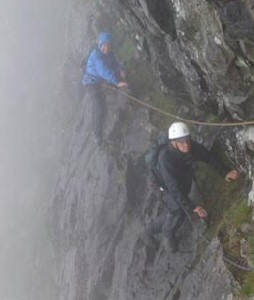 THE owner of top Liverpool restaurant chain, Heathcotes has attempted to climb the Matterhorn, one of Europe's most iconic Alpine mountains where he hopes his efforts will raise £15,000 for the NSPCC's ChildLine service.

Paul Heathcote, who owns Simply Heathcotes on Beetham Plaza, the Strand and the Olive Press Restaurant on Castle Street, went out to climb the 14,692ft Matterhorn on the Italy and Switzerland border with his 75 year old dad Ken Heathcote. The pair set out on the climb on 18 August 2010, but were prohibited from climbing due to adverse weather conditions however the week still involved climbing two mountains over 4000 meters and 1300 ft.

Paul, 49, said:- "It was really gutting not to be able to climb - for the first two days we couldn't even see the mountain. It snowed constantly – hard to believe in the middle of summer, it has only ever happened once before in the past 10 years. When eventually cleared there was a foot of snow at 2000 metres and 3 metres of snow on the Matterhorn so an avalanche risk was a certainty, however we did 4 climbs, one of which we had to trek 5 kilometres over a glacier in deep snow and then climbed rock and ice to the top at 4,100 metres and then of course you have to do the same again going down and back. Besides being tired, there was some satisfaction in completing, but the Matterhorn remains elusive – perhaps next year."

The father of two decided to the climb after a moment of inspiration whilst skiing last year in Zermatt. He is a keen sportsman, he has previously completed a couple of London Marathons for charity and for this challenge he trained 5 days a week and attended the gym for 12 months in a bid to build up his fitness for the Matterhorn climb.

The money he's raised will help to fund the NSPCC's ChildLine service, the UK's free confidential 24 hour helpline for children. Liverpool has a ChildLine base at the Hargreaves Centre in Everton and the NSPCC Helpline for adults concerned about a child is based at Salford Quays in Manchester.

Alex Hanson, NSPCC corporate fundraising manager, said:- "Many thanks tp Paul for his efforts in raising money for ChildLine. The money he's raised will save precious young lives and protect children from pain and distress. As a volunteer-led charity we rely on the generosity of the public and this is a fantastic donation that really will make a difference to children's lives and help ensure we can answer even more cries for help from children across the region."
For more information about supporting ChildLine, please contact:- 0161 628 1209 or email:- northwestappeals@nspcc.org.uk.
Charities won't be able to cope with the Army's cull of 5,000 wounded heroes
TONY Banks, an ex-paratrooper and campaigner for services charity 'Combat Stress' said that the Army is putting too much pressure on charities by expecting them to care for 5,000 wounded troops.

"Until now, troops wounded in Afghanistan but medically unfit for service have been given desk jobs or light duties," said Mr Banks, who served with 2 Para in the Falklands. The MoD briefing paper leaked yesterday says that 5% of the Army's strength is no longer fit for combat. Inevitably, as the war in Afghanistan continues that figure will increase but the Army has a responsibility for care for those men."

The MoD seems to be preparing itself for a media storm surrounding any attempt to discharge wounded servicemen.

"Difficult decisions will inevitably need to be made about individuals who already have a significant media profile. These will require careful handling," writes Belinda Vern, a senior civil servant at UK Land Forces headquarters.
"Many of these men will also be suffered from mental scares that have not had time to surface yet. On average it takes ex-servicemen 14 years before they approach Combat Stress for help. How do we know that charities will have enough money to care for these troops long term?" said Mr Banks, who is also MD of Balhousie Care Group.

General Sir Richard Dannatt, the ex-head of the Army, had promised that soldiers disabled in combat would stay with their units. Mr Banks is currently working with the board of the 'Enemy Within' appeal which hopes to raise £30 million for Combat Stress.
VICTIM SUPPORT'S GALA DINNER PROMISES A TOP NIGHT OF ENTERTAINMENT IN LIVERPOOL
BBC Radio Merseyside's Sean Styles will MC an entertainment-packed evening at Victim Support's annual gala dinner at the Adelphi Hotel, Liverpool on Saturday, 2 October 2010.

All money raised will be put towards helping local victims and witnesses cope with the effects of crime and find the strength to move on with their lives.

For just £35, guests can enjoy a three course meal and expect a top line-up of entertainment. Acts include Britain's Got Talent dance group, MD Productions, male vocalist Scott Johns, female vocalist Karen from girl band Victoria Park and 2007's Popstars The Rivals runner up, Andrew Coleman who recently got as far as 'boot camp' on this years X Factor.

There are, some great items up grabs in the charity auction, including a Tiffany necklace, a signed Steven Gerrard shirt, Robin 'The Grim Reaper' Reid's boxing boots, a powerboat experience for two on the Mersey and Queens and Albert Docks, as well as an Aphrodite Spa treatment day. Attendees can also enter the raffle and take part in a number of games including Heads and Tails and Sit Down Bingo.

So far, confirmed guests include the Lord Mayors of Liverpool, Knowsley and Sefton, the Lord Lieutenant of Merseyside and the Assistant Chief Constable for Merseyside. But there are plenty more spaces available for people to come along.

Carol Bennett, Victim Support's Finance Officer in Merseyside, said:- "Tickets are now on sale for what is set to be a brilliant evening for all who attend. We're really grateful to all who have donated prizes for this year's raffle; there are opportunities to win some excellent gifts and experiences. We also have a huge line-up of people who have volunteered to be part of the evening's entertainment. We hope to raise £5,000, which will make a huge difference to the lives of crime victims and witnesses."

Doors open at 6.30pm with a drinks reception, and the event starts at 7pm and finishes at 1am. Tickets cost £35 per person, and spaces are still available, including full tables of ten. So if you are interested in attending please contact Carol, Johanne or Keri on:- 0151 353 4000 or via email.
PCS AND UNISON FORGE ALLIANCE TO FIGHT CUTS
TWO of the UK's biggest public sector unions, UNISON and PCS, representing 1.7 million workers, have pledged to forge a powerful alliance to fight back against the coalition government's cuts to jobs and services.

The unions are joining forces to campaign, co-ordinate and, where possible, take action in unity and support of each other.

The government's assault on the public sector threatens the livelihoods of 750,000 public sector workers. Job losses are already leading to drastic cuts to services that people rely on especially the poor, the old and vulnerable.

The unions will campaign together to build support for a realistic alternative to the cuts agenda. One that would protect and create jobs to secure the economic recovery, tax the banks, big business and the super-rich. They will also campaign for the non-renewal of Trident, to put an end to wasteful spending on consultancy and agency staff, against expensive privatisation, and to build a fairer society.

UNISON general secretary Dave Prentis said:- "This is no paper policy, this alliance has teeth. Working together we can build an effective fighting machine to combat the cuts and protect vital jobs and services. And, when the circumstances are right, we will take action together. Across the country UNISON will work with the PCS to promote an alternative economic vision to the Con Dems' monosyllabic cuts agenda. We want to build a fairer future for all, not just a haven for the super-rich."

PCS general secretary Mark Serwotka said:- "The millionaires in David Cameron's cabinet insist that we are 'all in this together'. But low-paid public sector workers and other vulnerable members of our society do not share this view when they can see the government's plans seek to punish them for the mistakes of bankers and financial speculators. Our alliance with UNISON is a crucial first step towards building the kind of united opposition that will be needed to oppose the government's spending cuts that will tear communities apart and destroy the public services we all rely on. PCS is committed to an alternative programme of economic growth, collecting the £120 billion in taxes avoided, uncollected and evaded each year, creating jobs, curbing the use of civil service consultants and reducing waste."

The unions are setting up a national liaison group to promote joint activity and co-ordinate a national campaign together. The group will work with the TUC and co-ordinate public sector alliances across central and local government.

To forge the partnership further PCS and UNISON are organising a There is an alternative event with the aim of bringing together trade unionists, politicians, academics, voluntary and community groups.

Across regions the unions will twin officers and organisers, developing regional campaign teams, regional events and roadshows building on links with voluntary groups.

At local level the unions will develop support links between members and activists including joint workplace and public meetings and joint local activities.