EXCLUSIVE SCHOLARSHIPS UP FOR GRABS AT TOP NORTH WEST THEATRE SCHOOL
THE North West's leading school of performing arts, Scream Theatre Schools, is offering young people in the region a unique opportunity to apply for 2 exclusive scholarships. The school, which has close links with leading entertainment organizations including the Disney Channel, Nickelodeon, BBC and ITV, is on the lookout for the next big star and is urging young performers aged 8 to16 to get in touch.

Scream Theatre Schools, based in Blackpool, has been cultivating talent since 1998 and previous successes include Kelsey-Beth Crossley from Emmerdale, Brad Kavanagh from the Disney Channel and Jessica Bell, star of St Trinian's 2 - The Legend of Fritton's Gold and the forthcoming Hollywood blockbuster, Harry Potter and the Deathly Hallows: Part 1.

The exclusive scholarships will provide budding young performers with the opportunity to train with industry professionals in the disciplines of drama, dance and singing at the school's Triple Threat Academy. The scholarship will also include representation from the region's biggest kids agency, Scream Management, which is based in Manchester's MediaCityUK.

Sessions take place every week during school term times, with the full scholarship covering course fees for one academic year and the half scholarship covering a percentage of the fees.

Helen Stannard, principal at Scream Theatre Schools, commented:- "We are delighted to be in a position to offer two scholarships and expect competition to be extremely fierce. We are on the lookout for the next big thing and there are many opportunities in the North West for the right talent to make a successful career with us. These scholarships offer the chance to become part of the Scream family and join one of the most successful theatre schools and casting agencies for children and young people. We are looking for someone with outstanding ability and potential who is committed to making it big in the performing arts industry and we can't wait to discover what young people from Southport have got in store for us."

Anyone who thinks they have got what it takes should submit a personal statement in no more than 300 words why they think they would be an ideal Scream Scholar and how they would benefit from a scholarship. Applicants should include information on achievements, aspirations, experiences and passion for any particular area of the arts.

Successful applicants will be invited to an audition process on Saturday, 9 October 2010, where they will get the chance to show off their performance skills to an independent judging panel, which will include industry professionals from Television, film and Theatre.

The deadline for entries is Friday, 1 October 2010 and applications should be submitted by email or by post to Helen Stannard, Principal, Scream Theatre Schools, 11 Wareham Road, Blackpool, FY3 7XG.

To find out more about Scream Theatre Schools please call:- 01253 309 060 or visit:- screamtheatreschools.com.
NSPCC mean business as they call for Southport companies to rise to the £1600 Network Challenge
BUSINESSES across Southport are being challenged to raise £1,600 to recruit and train more counsellors for ChildLine North West. Open to all local businesses across the region, the 1600 Network Challenge involves local companies committing to raise £1,600 within six months to help support the NSPCC's work in training ChildLine counsellors.

The NSPCC will provide help and support to companies looking to take up the 1600 Network Challenge and will work in partnership with local Southport companies to develop CSR activity through employee engagement, community activity and developing environmental impact.

ChildLine is a service provided by the NSPCC and it costs £1,600 to recruit and train a volunteer ChildLine counsellor who in their first year will be able to help up to 200 children thorough their worries and distress.

By working with the NSPCC local businesses can help make a valuable contribution towards changing a vulnerable child's life. There are many ways to get involved, including employee fundraising, recycling used printer cartridges and old mobile phones, setting up a payroll giving scheme or offering a gift in kind. Alternatively local business leaders can set up a business board to inspire others to raise money to help end cruelty to children.

Amanda Gilmour, NSPCC corporate fundraising manager said:- "With the help of public and corporate support, ChildLine is already there for thousands of children and young people, but we need to keep developing our services to reach even more young people and help them access the support they so desperately need. We are challenging businesses to sign up to our new 1600 Network Challenge to help us protect even more vulnerable children. We know companies find working with us extremely rewarding and I am always amazed by some of the fun, creative activities companies undertake to support us! By working together with the local business community we can make a big difference to local children in the North West and help ensure no child's cry for help goes unheard. Get involved today and help make a difference."

To find out more on how your business can take part in the 1600 Network Challenge please contact Amanda Gilmour, NSPCC corporate fundraising manager on 0161 628 1209 or by email.
Southport Access For Everyone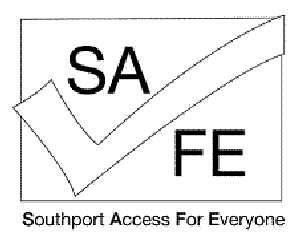 THE next meeting of the Southport Access For Everyone forum will be held at the Community Room of the Southport Fire Station at the corner of Manchester Road and Lord Street, on Thursday 23 September 2010 at 7.00 pm. People who experience access problems to the town's facilities because of a disability are welcome to attend and discuss their problems. The premises are fully accessible for wheelchair users. Enquiries:- 01704 567046 or 01704 570237.