School libraries are too often a wasted resource
MANY school libraries are underutilised resources that do not fulfil their potential to improve literacy levels and support pupil learning and attainment.

This is a key finding of the School Library Commission, chaired by Baroness Estelle Morris, and jointly established by the Museums, Libraries and Archives Council and independent charity the National Literacy Trust. The Commission's report, School Libraries:
A plan for improvement finds that while school libraries have a unique role in raising pupils' literacy levels, promoting reading for pleasure and improving their access to knowledge, in many schools the library is a wasted resource because it is poorly embedded in the infrastructure of the school and absent from school development plans.

Baroness Estelle Morris says:- "For too long school libraries have been an underutilised part of the education landscape. This report aims to show everyone involved in education, from school librarians to central government that a well-managed school library is an essential part of any school's success. As the school landscape is set to change drastically it is essential that benefits of this vital resource are fully understood."

Sir Andrew Motion, Chair of Museums Libraries and Archives Council, says:- "School Libraries form an absolutely vital part of every child's education, and it is strictly speaking essential that they are protected, expanded, diversified, and enriched - by the cultivation of time-honoured means, as well as the accommodation of new media. They are nothing less than the rooms young people enter in order to discover the world."

New National Literacy Trust research of 17,000 young people undertaken for the Commission demonstrates the importance of a high performing school libraries for pupil attainment. 8 out of 10 good readers use the school library. This shows that school libraries that do not perform to the highest level will have significant implications for pupil achievement.

The report reveals that 31% of members of staff responsible for school libraries in primary schools have no specialist knowledge of children's literature. In response, the Commission recommends that training and continuous professional development of teachers and library staff in children's literature and child development is essential to enable them to work in partnership to effectively support the curriculum and deliver a tailored and cohesive library service for children.

The Commission promotes a number of recommendations to governors, headteachers, sector bodies, and local authorities. Key recommendations include:-

► The Department for Education should endorse the role of school libraries and schools library services in supporting the new government's renewed commitment to literacy.

► Headteachers and school governors should recognise the contribution that the school library makes, building it into the delivery of the curriculum and the overall school plan. Every governing body should have a governor with designated responsibility for the school library.

► School librarians should work proactively with teachers to plan and deliver the curriculum. School librarians are recommended to review their own professional development to ensure they develop an understanding of teaching and child development.

► Professional and support bodies need to ensure that all school librarians who are professionally trained in librarianship can undertake training in teaching, learning and child development.
► Local authorities need to recognise school library services as a cost effective way of providing expertise and skills around reading and information literacy to schools. They need to use school libraries as local agencies of school improvement with a particular focus on improving literacy standards.
► Campaigners, champions and authors have an important role to play. The Commission feel that effective campaigning in the future needs to argue for changes in the model of school libraries as well as for increased demand for their services from school and education leaders.

National Literacy Trust Director, Jonathan Douglas, says:- "In the current economic climate, all areas of the school need to work at their optimum levels. School libraries have a central role to play but many are currently not being given the opportunity to fulfil their true potential. The goal of the National Literacy Trust is to transform lives through literacy and we believe that school libraries are key in helping us to ensure every single child gains the literacy skills they need to live a successful, fulfilling and happy life. We hope our report will have a lasting effect on school library practice in the UK."

Museums, Libraries and Archives Chief Executive, Roy Clare, says:- "Time spent in libraries is invaluable. School libraries, like public libraries have the capacity, if used properly to transform lives, encourage attainment levels and boost the potential of everybody. MLA hopes the recommendations of the School Library Commission will be considered carefully, especially by the decision makers responsible for the success of our education services. As public libraries face similar challenges, it is vital that we all share and draw on some of the solutions that will be found in the government's Future Libraries Programme."
TICKET TO RIDE EVEN EASIER WITH ARRIVA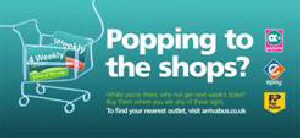 PEOPLE in Liverpool now have even more options when it comes to buying their Arriva North West bus tickets while they shop. Arriva North West has expanded its ticket buying network so that customers can now use epay or Payzone outlets to pre-purchase their Weekly or 4-Weekly Savers before they get on the bus. This complements the existing arrangement with PayPoint, so there are now three high street electronic payment systems to choose from, making buying your bus ticket even more convenient.

Debra Mercer, marketing manager for Arriva North West, said:- "Adding Payzone and epay to our ticket purchasing network means it will now be even easier for our customers to buy tickets while they shop and help speed up boarding. These new purchasing options are in addition to using PayPoint outlets, the facility to buy tickets on arrivabus.co.uk, and through our new mobile ticketing service."

Arriva was the first UK bus operator to introduce mobile phone ticketing for all its regional services in November 2009. The technology means that m-ticketing can be used on almost all networks allowing customers to buy Daily, Weekly and 4-Weekly tickets via their mobile phones. People in Liverpool using the m-ticketing service can save 10% off Arriva 4-Weekly saver tickets.

Tim Allen, epay UK Sales Director, said:- "epay's independent retailers provide an extensive range of products and services for their customers, including mobile top-up, payment services, calling cards and the Central London Congestion Charge.

The addition of Arriva bus ticketing further strengthens this product offering whilst also supporting the local retailer by giving the consumer another reason to visit their local epay store. Furthermore, this partnership also offers Arriva access into epay's extensive multiple retailer base which will in turn ensure greater convenience to the consumer through a wider distribution network."

Linda Cook, Director of Bill Payments at Payzone, said:- "The new service will make a big difference to many Arriva customers who prefer to take a "one-stop" approach to shopping. With thousands of Payzone terminals located in local shops and longer opening hours, Payzone's partnership with Arriva will further improve accessibility to essential services and help customers to save money by buying weekly and 4 weekly tickets in advance of travel."
Pupils invited to access free cervical cancer jab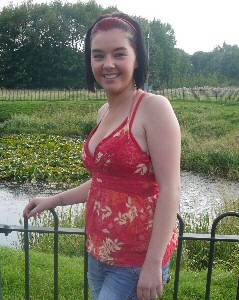 A city schoolgirl is urging others to protect themselves against cervical cancer by taking up the free HPV vaccine. Girls aged 12-13 in the region will be offered the vaccination against Human Papilloma Virus (HPV), by school nurses from NHS Liverpool Community Health. Beth Pauls, aged 16, from West Derby, was given the vaccine at St John Bosco Arts College in Croxteth, and is now encouraging others to have it as well.

The vaccination programme is delivered mainly through secondary schools, and consists of 3 injections that are given over a 6-month period. The HPV vaccine protects against 2 types of human papilloma virus, which can lead to cervical cancer.

Beth said:- "I didn't really know what it was when people first started talking about it, but when the vaccine programme was delivered in our school, it was at around the same time that Jade Goody had also been diagnosed with cervical cancer. I just thought I would be on the safe side and get it. At first, my Dad didn't like the thought of it, as he didn't see why I should need it, but my Mum felt that if it could prevent cervical cancer then it was important to do it. In the end, that was my view – that if it was something that could help you out in years to come, then why not get it. All my friends do, and we all speak about it together."

Liz Kinsella, Immunisation Facilitator at NHS Liverpool Community Health, said:- "Around 950 women die from cervical cancer each year in the UK, which is why it is so important for girls to protect themselves by having HPV jabs. Anyone with any concerns who would like to discuss the vaccination before deciding whether to have it should speak to their school nurse, GP/practice nurse or call 0151 295 3144/3146."