Makes Sense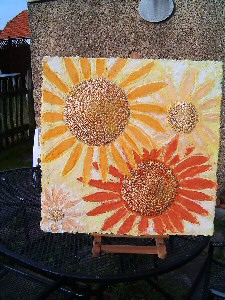 SOUTHPORT'S first ever multi-sensory art exhibition is being hosted by local art gallery.

The exhibition, by Diane Johnson and Paula Hardman, will include a variety of sensory pieces:- "our aim is to make art inclusive and accessible to all."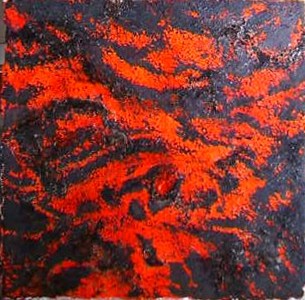 As well as visual works of art there will be scented pieces and an audio piece. Many of the visual art works are donned with Braille, to indicate the colours used in the piece.

Artist Diane Johnson is very passionate about the environment:- "I use non-toxic painting techniques. My colours are made from Earth, Chalk and Flowers, which I grow and process to extract their colour. Many of my pieces are on recycled home made paper and my Frames are also all reclaimed timbers."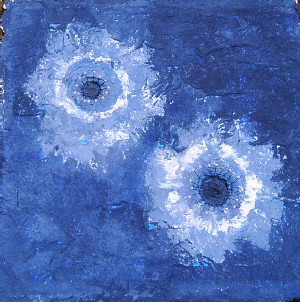 The artists will be attending the open evening and invite locals to pose questions and enter discussions on art and the environment.

The 'Makes Sense' exhibition, which runs for two weeks, opens on Friday, 15 October 2010, at 7pm. For more information contact Painter Paynter on 01704 546999 or visit:- painterpaynter.com.
Open Auditions for 'The Wedding'
PERFORMERS, both professional and amateur, are invited to audition for 'The Wedding' a brand new musical show which will premiere in Port Sunlight in January 2011. Participants will be directed by Philip Parr, a professional theatre director with more than fifty shows to his credit all over the world, including shows at Glyndebourne and the Sydney Opera House. He also runs a specialist company - Parrabbola - which has produced six other community theatre shows. 'The Wedding' is being co-produced by the Aspire Trust in association with the Wirral Council for Voluntary Services and the Royal Court Theatre, Liverpool. The Wedding' is being written, produced and performed by a core team of professionals but there will be plenty of opportunities for Merseyside people to get involved. This is going to be a phenomenal opportunity for local actors, singers, musicians and dancers to have their talents nurtured by a world-class director. This is not like the X-Factor - we're not just looking for professionals and wannabes. There will be opportunities for people of all levels of experience and all ages from 16 to 106, because the show is based on the real lives of local people. The historic Hulme Hall in Port Sunlight will be the venue for 'The Wedding'. The show opens on Thursday, 13 January 2011 and runs until Saturday, 22 January 2011. Auditions will take place on Friday, 24 September from 4.00pm until 8.00pm and Saturday, 25 September and Sunday, 26 September from 10.00am to 4.00pm at the Oldershaw School, Wallasey. For more information, contact by email or by calling on:- 0151 639 9231.
Take the Pledge on European Day of Languages
ON the day schools across Europe celebrate the annual European Day of Languages, CILT, the National Centre for Languages, goes live with its national campaign to raise awareness of the importance of language learning in the UK.

The Languages Work Pledge is an online campaign for businesses and individuals to sign up and show their support for improving our nation's intercultural and language skills for employment and the UK economy.

"Signing the Languages Work Pledge is a simple and practical way to ensure that the importance of languages and intercultural skills to business in the UK is kept at the forefront of the Government's agenda. Research has shown that more and more companies are looking for multi-lingual employees with an understanding of other cultures and we need to ensure that the provision is there for young people in the UK to learn these vital skills. If they don't have language skills they will be at a disadvantage when competing in today's jobs market. The European Day of Languages on 26 September 2010, celebrates the 6000 languages spoken around the world, and provides the opportunity for schools and communities to promote language learning and the rich culture that lies behind every language. This year over forty countries across Europe are coming up with all sorts of imaginative ways to join in the festivities through music, drama, dancing, poetry, bilingual board games, and even using Twitter for language learning. There are link ups between a schools in Italy and Australia who are holding Harmony Day 2010 and schools in Poland and the UK who are focussing on English sayings and proverbs." said Michelle Brassell, CILT's Employer Engagement Adviser.

"The European Day of Languages is a great way of firing enthusiasm for learning a language among young people. It is an opportunity for them to find out that learning a language can be fun and a real boost in their future career. There are more and more opportunities for workers who can speak another language both in the UK and abroad" said Teresa Tinsley, Director of Communications at CILT.

Everyone in the UK can join in this year's celebration of the European Day of Languages. If you value languages as a business or an individual sign the Languages Work Pledge at:- pledge.languageswork.org.uk
Local business helps disadvantaged youngsters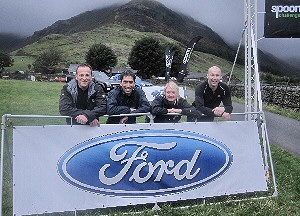 POLAR Ford on Sherdley Road, St Helens, has helped put a smile on the faces of disadvantaged youngsters around the country by sponsoring a Ford team in a race which faced a range of dramatic obstacles including the longest lake, the steepest tarmac road pass and the highest mountain in England – all as part of the Ford Great Lakeland challenge.

The team endured 10.5 miles of canoeing along Lake Windermere, 25.5 miles of cycling over Wrynose and Hard Knott Pass as well as running eight miles over the 3,208 foot Scar Fell Pike.

The combination of times achieved in the separate challenges and the £6,000 pledged in sponsorship were enough for the team to achieve 2nd place at the 14th annual Ford Great Lakeland challenge. The fundraising event is now set to raise £70,000 for the Wooden Spoon charity to help disadvantaged youngsters around the UK.

"The support we have had from Polar Ford and other Ford dealers will help Wooden Spoon continue its excellent work around the country." said team captain Nick Themistocleous

Polar Ford's regional director Jim Higgins said:- "We are very pleased to support such a worthwhile cause. The money pledged will benefit children and young people in our local community and around the UK."

The Wooden Spoon Society has distributed more than £15 million to over 350 national and local projects since 1983 enhancing the lives of over 500,000 children.
LIMITED EDITION ROCK ON SALE SOON!

WE are just putting our finishing touches to our new online shop that will be selling lots of locally made products and other useful things with a Merseyside connection. This is just on of the lines. It is a Limited Edition Wrapper, one of only 1000 to be printed. It has a very special photograph of the FA Cup as it came in on the at Liverpool Airport after the 2006 FA Cup win.