Last ever public flight for the incredible Avro Vulcan?
THE last airworthy Avro Vulcan, one of the most popular and iconic examples of British aerospace engineering, could make its last public flight on 26 September 2010. Following successful restoration by The Vulcan To the Sky Trust, the legendary cold war bomber has packed airshows for the last two summers, helping to make them the second most popular visitor attraction after football. But now due to a substantial drop in donations during the recession and poor weather that stopped her flying at several profitable events this year, the Trust must raise £400,000 by the end of October 2010.

In 2010, over a million people watched the Vulcan fly. "That makes this amazing aircraft one of the most popular attractions in the UK, but we survive on a tiny fraction of the budget of comparable heritage activities and receive no Government support," points out Vulcan To The Sky chief executive Dr Robert Pleming, who hopes to see the plane fly for the Queen's Diamond Jubilee in 2012.
With the Vulcan now well established as an airshow star, the Trust has developed a business plan that will provide substantially greater commercial revenues from 2011. Combined with public donations, it is hoped that this will give her a secure future. "This will allow us to increase the role the Vulcan plays in teaching science, technology, maths and Cold War history and in inspiring the young engineers of the future," says Pleming. "Today though, 2011 looks a long way away."

The Avro Vulcan is an iconic example of British aerospace engineering at its world-beating best. The design brief was issued by the MoD in 1947 and the plane flew for the first time in 1952, just eleven years after the first flight of its predecessor, the Avro Lancaster. Its impressive list of technical achievements includesbeing the first successful large delta wing aircraft (leading directly to Concorde), innovations such as anti-lock brakes,and an agility that was so close to a jet fighter's that it was given a fighter-style control column in place of the traditional bomber pilot's yoke.

Success as a Cold Warpeacekeeper meant that the Vulcanmighthave flown its entire service life without ever entering combat if it hadn't been for the Falklands Conflictin 1982. After a marathon 4,000 mile flight supported by eleven Victor tankers, Flight Lieutenant Martin Withers and hiscrew released the bombs over Port Stanley Airport that forced Argentina's Mig III fighters off the island and initiated the campaign that recaptured the Falkands. Two years later, the last Vulcans were withdrawn from service.

Today, only one Vulcan is left flying: XH558, owned by the Vulcan To The Sky Trust, a Registered Charity. Returned to the air in2007, shehas become an airshow phenomenon. "People forget that airshows attract seven million people annually. That's second only to football," says Dr Pleming. "An appearance by the Vulcan builds even on this remarkable level, typically increasing attendance by 20-40 percent. Airshow organisers talk about 'the Vulcan Effect' and have described the aircraft as a national treasure."

But it isn't only the passion that people have for the aircraft that Pleming believes makes it an important part of our heritage. He sees it playing an important role in education and training, funded by commercial activities from sponsorship, hospitality and merchandise through to integration with apprenticeship schemes, motivational activities for management and VIP 'money can't buy' events for top-level incentive schemes and wealthy enthusiasts. The first of these activities are now being rolled out.

Flight Lieutenant Martin Withers DFC (he won the Distinguished Flying Cross for his heroic Vulcan mission to Port Stanley) is a passionate supporter of the educational role of the plane. "Part of our mission is to ensure that young people learn about the knife-edge fear of the Cold War," he explains. "If I had been ordered to press the button that releases the nuclear payload, there would almost certainly have been no Britain left to fly home to.The Vulcan is the most powerful symbol of a remarkable period in British history that we must never forget"

Withers is also passionate about the aircraft's growing role in technical education. "This is one of the most iconic pieces of aerospace technology ever, and it is thoroughly British. The Vulcan fires young people with a passion to develop and build world-beating technologies. And we can help give them those skills through training modules that call upon the extraordinary knowledge, rigour and precision needed to restore and maintain the world's only flying 'complex' heritage aircraft."

TheTrust hopes to fly the aircraft for at least two more display seasons, including the year of the Queen'sDiamond Jubileein 2012, which is also the 60th anniversary of the first flight of the Vulcan and the 30th anniversary of its heroic role in the Falklands conflict. "The airframe has limited time before it will no longer be possible to renew its Permit to Fly," explains Dr Pleming. "After that, we hope to develop a museum and educational centre around the plane, funded by conference, leisure and other commercial activities."

"But if we don't make it through October," concludes Dr Pleming, "The tremendous opportunities offered by this magnificent aircraft will be lost forever."

Win an incredible flight with the Vulcan

Only a handful of people outside Vulcan Bomber Command will ever know what it is like to fly alongside the incredible Vulcan delta-winged cold war bomber. Being one of those people, as a passenger in a unique twin-seat commercially licensed aerobatics plane piloted by a former Red Arrows air ace, is the incredible prize being offered by the Vulcan To The Sky trust. Tickets are just £5.58 each and can be purchased at:- vulcantothesky.org.

If you want to be more certain that your name will be added to the exclusive list of people to have flown with the Vulcan, you can bid for the only other seat available. The auction is being held on ebay (ebay) and closes on Friday, 24 September 2010.

Subject to weather, technical factors and the health of the fortunate winners, both flights will take place on Wednesday, 29 September 2010.

Further Information

Experience the Vulcan at:- youtube.com/watch?v=NNDZvpScfIw

Learn about XH558 at:- vulcantothesky.org and sign her 50th birthday card

Help to keep her flying at:- vulcantothesky.org/donate.html

The incredible history of the Vulcan and the struggle to keep her flying is told at:- thunder-and-lightnings.co.uk/vulcan/history.html

Find out about Coventry Airport's Help For Heroes day at:- flyincoventryairport.com/vulcan_press_release.html
Take the Pledge on European Day of Languages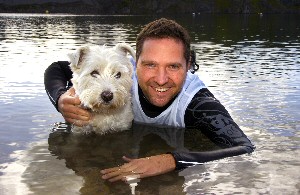 DISAPPOINTED swimmers who lost out when the Great North Swim was cancelled are getting a chance to take part in another big event – and raise money for one of Britain's best loved charities.

More than 9 000 swimmers were left disheartened when poison algae forced the cancellation of the Great North Swim at Lake Windermere in Cumbria – punching a big hole in the region's tourism income.

Now Guide Dogs are giving frustrated competitors the chance to gather for a one mile open water event at Capernwray Dive Centre in Carnforth on 2 October 2010.

Organiser Tracy Dixon says:- "Many of us at Guide Dogs were saddened when the original swim was cancelled, as we knew that the swimmers had been training for months to take part in this major event. But safety obviously comes first. That's why we are so pleased to be able to offer people an alternative. Capernwray Diving Centre is a superb location with crystal clear waters and an estimated water temperature of 16 degrees Celsius – even in October."

The Guide Dogs Events Team tested an open water swim with over 70 swimmers at the venue 2 weeks ago. The feedback from participants was extremely positive. Heidi Lund a swimmer who came from Bournemouth said:- "I just wanted to thank everyone involved for organising the alternative swim in Capernwray last Saturday. It was so much fun, and so much more personal than I imagine the Windermere swim would've been! Plus the added bonus of the balmy 19 degrees water! I can't imagine the calls and organisation and planning that went into arranging an alternative on such incredibly short notice, but would like to pass on my sincere thanks. I travelled up from Bournemouth, so the alternative was a fantastic arrangement for me. Well done to all involved who pulled this off, I am incredibly impressed!"

The head of events funding at Guide Dogs, Peter Emmett, tested the Capernwray waters with his trusty terrier Digger (pictured) and pronounced the water safe.

"It was an amazing swim in lovely, clear water. I really hope that we can help the region's tourism economy with the one mile open water swim on October 2 at Capernwray. Let's turn an ecological problem into a victory for everyone in the North West – and help raise money for a wonderful cause."

All surpluses from the event will go to fund the guide dog service, which brings independence to thousands of blind and partially sighted people but receives no government funding.

The event also provides an important opening event for Guide Dog Week, which is from 2 October 2010 to 10 October 2010, and is the main focus of the charity's fundraising events.

The first wave of swimmers will take to the water at approximately 5.30pm, however participants can arrive as early as 4.45pm. To pre book and guarantee your place in this fantastic new event there will be a nominal fee of £25 for adults and £10 for children (under 18's). Call a member of our events team and book now on:- 0845 600 6787 or email Ellie on ellie.mann@guidedogs.org.uk. Alternatively, participants can pay on the day at the increased price of £35 for adults and £15 for children.
Number crunching world record attempt in The Wirral
THE NSPCC are asking schools in The Wirral to help them smash a Guinness World Record by taking part in this year's Number Day, sponsored by Vosene Kids, on 3 December and being a part of a record attempt for the world's biggest maths lesson.

NSPCC Number Day is celebrating 10 years of raising money to help children who have been abused or are at risk of abuse. To mark the anniversary organisers are encouraging as many schools as possible to join in the world record attempt by holding a special maths lesson at 11am on Friday, 3 December 2010.

The Whitby High School, South Wirral and St George's Primary School, Wallasey took part in Number Day last year raising £1,285 for the NSPCC. Hopes are that this year's anniversary event will build on the success of previous years and raise even more to protect vulnerable children and young people from abuse.

Teachers can sign up online now for their Number Day pack at:- nspcc.org.uk/numberday. The pack contains all the information needed to take part and is filled with fun curriculum-based maths fundraising activities for all ages.

Mel Holland, NSPCC schools fundraising manager said:- "Number Day is a fantastic way to get children engaged with maths. This year is even more exciting as we aim to break the world record for the biggest maths lesson and the Number Day record for the amount of schools taking part."

Mike Jatania, CEO for Lornamead, brand owner of Vosene Kids comments:- "Helping families is very close to our hearts. Supporting the NSPCC Number Day is our perfect chance to help children and schools make a difference and raise money while having fun and learning. We're delighted that we can be part of such a worthwhile event and are looking forward to helping raise record funds this year."

Mel Holland said:- "We are encouraging those schools that don't want to take part in the World Record attempt to still get involved by using the Number Day packs. They are full of great fundraising ideas including Vosene Kids sponsored maths exercises that can help raise even more money for children that will set a new record for the amount of money raised through the event."

Number Day packs will be available from October 2010. For more information visit:- www.nspcc.org.uk/numberday.