Liverpool Lime Street – Station of the Year 2010
LIVERPOOL Lime Street Station has been awarded the prestigious title "Station of the Year" at the National Rail Awards 2010.

Councillor Mark Dowd, Chair of Merseytravel said:- "The upgrade to the station has been a massive success, and was not before time; some of the station had remained untouched since before Beatlemania. We are committed to the people of Liverpool and Merseyside. They deserve a first class rail service – with stations to match and as a gateway to the city, Lime Street station is now fit for purpose for both commuters and visitors alike."

Neil Scales, Chief Executive of Merseytravel added:- "We are delighted that the work and investment in Lime Street Station has been recognised with this award. If it hadn't been for Merseytravel's initiative in the beginning, this project would have been many more years down the line. These works are important if Lime Street Station is to reflect the changing, growing face of Liverpool and the wider region. Lime Street is now a truly impressive gateway to the city which is why we chose it as the site for one of our most impressive works of Public Art featuring Ken Dodd and Bessie Braddock."

The National Rail Awards celebrate excellence and achievement in the railway industry and in selecting Lime Street Station as the 'Overall Station of the Year' and 'Large Station of the Year', the judges felt that "The front of the station, with it's magnificent arch, now fully restored, presents a splendid spectacle from the approach and is one of the best in the country."

Merseytravel has recently completed a £2.6m refurbishment scheme to the interior of the station, working with partners Virgin, Northern Rail and Network Rail, updating and enhancing facilities city's gateway station. Merseytravel's contribution to the work included relocation of the taxi road, installation of a new first class lounge, a striking new piece of public art, new tiling and refurbishment of the travel centre.

Originally built in 1836, with a rich architectural heritage, the exterior has also been greatly improved, working with partners Liverpool Vision, Liverpool City Council and Network Rail, Merseytravel have delivered a contemporary frontage and open vista befitting a 21st century station.

Judges citation:-
There are nine terminal platforms, while the concourse is wide, spacious, light and airy. The huge glass screen allows plenty of light to flow on to the concourse, which is relatively unencumbered.

There are plenty of seats, as well as left luggage facilities, a chemist, bookshop, food store and range of catering outlets.

Virgin west Coast has its own dedicated platforms for its services to London, and its own first class lounge and waiting rooms, recently opened as party of Lime Street's major refurbishments. These facilities are excellent.

Pedestrian access is easy, as is access by car or taxi.

As for public transport, the city's Merseyrail electrics serve the station, and buses run along Lime Street itself.

Although the station is rightly very focused on serving today's needs in one of the UK's major conurbations, Lime Street has a rich architectural heritage.

The first station opened in 1836, but soon needed expansion. Today's north vault was opened by the London and North western railway in 1867, while the south vault was added in 1874. The station frontage is a splendid example of its age.

The whole station is of a very high standard..
80 more nurses as Trust wins top marks for finances
SOUTHPORT and Ormskirk Hospital NHS Trust is one of the country's top-performing NHS organisations when it comes to managing taxpayers' money.

The Audit Commission scored the Trust as "performing strongly" following an inspection earlier this year and operating well above minimum required standards. The Trust is now ranked at the highest level the Commission can award and has moved up its rankings every year since 2006.

This consistent improvement has come while the Trust has continued to invest strongly in patient care - for example, by employing an extra 80 full-time nurses over the past four years.

In reaching its conclusion, the Audit Commission inspected the Trust's financial reporting and management, its financial standing, internal controls and whether it delivered value for money.

Trust chairman Sir Ron Watson CBE said:- "The Audit Commission's verdict is a further indication of the quality service the Trust provides for local people. I would like to thank all our staff who have made this excellent result possible which is an important contribution to the high level of patient care the Trust aims for."
Thomas and Friends™ Pull in to Vue Southport for 'Misty Island Rescue'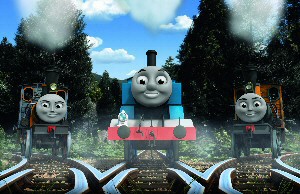 VUE is bringing the exciting new children's adventure Thomas and Friends:- 'Misty Island Rescue' to children nationwide. The feature-length screenings will be shown at 64 of Vue's 68 cinemas across the country on 2 October 2010 and 3 October 2010 at 10.30am.

Children and adults alike can enjoy another adventure from the classic character, this time in the latest Computer Generated Imagery (CGI), making Thomas's exciting escapade more life-like than ever before. Fans will also get to hear the voices of Thomas and his fellow characters unlike in the original episodes.

In this all-new Thomas & Friends 60 minute film, Thomas gets the honour of travelling to the mainland to collect special wood needed to help build the new Search and Rescue Centre. There is no room on the boat so Thomas has to be pulled along on a raft.

During the journey the chain breaks from the raft and Thomas wakes to find himself in a strange place called 'Misty Island'. While looking for a way to get back to Sodor, Thomas meets three new friends know as the 'Logging Locos', they want to help Thomas return to Sodor. Will the engines on Sodor be able to find their missing friend?

"Last year we showed Thomas & Friends: Hero of the Rails over just one weekend and we were over-whelmed by the interest, with all of our screenings selling out," said Mark de Quervain of Vue. "This new adventure is sure to be just as popular so people should book now to avoid disappointment!"

Tickets for Thomas & Friends:- 'Misty Island Rescue' are on sale now. For information on listings and tickets go to:- myvue.com/thomasandfriends.