Drop in water complaints, but still more work to be done
THE Consumer Council for Water revealed that complaints to water companies in England and Wales reduced by nearly 17% last year, extending the trend of declining complaints to the industry, and bringing complaint numbers down by nearly a 3rd in the last 2 years.

In the past, the water industry had developed a reputation for rising complaints, which began before the Consumer Council for Water was formed. But from the start the water watchdog worked hard to put pressure on poor performing companies to make improvements. While results are beginning to look promising many companies still have further to go if they are going to turn complaint numbers around completely.

Water companies with a considerable drop in complaints last year included Southern Water, with 39% fewer complaints, Veolia Water Central, with 30% fewer complaints, Anglian Water, with 27% fewer complaints, and Severn Trent Water, with 23% fewer complaints compared to the previous year's figures.

Other water companies with already low complaint numbers improved even further last year, including Northumbrian Water, with a 28% drop in complaints, and Veolia Water Southeast, with 21% fewer complaints. Portsmouth Water, Hartlepool Water, Cambridge Water, and Bournemouth and West Hampshire Water continued to receive very few complaints when taking into account the population each company serves (complaints per 10,000 customers).

However, there are still a number of water companies that need to make further improvements. For example, despite reductions in complaints last year, South East Water, United Utilities, and South West Water still received nearly double the industry's average number of complaints per customer served. Furthermore, numbers of complaints have not dropped to the level that they were before a dramatic rise complaints began. On average, water companies are only part way through what the Consumer Council for Water sees as an appropriate recovery, as complaints are still 33% per cent higher than they were in 2004.

Dame Yve Buckland, Chair of the Consumer Council for Water, said:- "Water customers are used to hearing about year on year rises in complaints, but we've been working hard to put pressure on water companies, particularly those with poor complaint numbers, to improve their performance. We are beginning to see progress from many of them. Unfortunately, there are still a few companies who are letting their customers down when it comes to service. Despite a 9% drop in complaints, South East Water continues to be one of the worst performing companies in the industry. It is particularly poor for a smaller company that only provides water, and is not involved in the sewerage side of the business. Although complaints to United Utilities dropped by 16% last year the company is recovering from a period of high numbers of complaints. It has a lot of work to do to bring service levels more in line with the rest of the industry. South West Water's complaints dropped by 5% last year. But the company's higher than average complaint numbers have traditionally been linked to it's higher than average prices, and South West Water must work harder to prove to customers that their services are good value for money. Furthermore, while complaints in England have dropped, in Wales it is a different story, with water complaints to Dŵr Cymru Welsh Water up by nearly six per cent and Dee Valley Water up by 44%. Many customers are satisfied with the service provided by their water company, but if something goes wrong, we know that customers want the problem to be sorted out, and quickly. The industry still has much more work to do and we will continue to call for improvements to ensure that the year on year trend of rising complaints is well and truly behind us."

In the 5 years since the Consumer Council for Water began, it has helped customers secure over £10 million in compensation and rebates from water companies and taken over 78,000 complaints about water companies' services. The water watchdog has also encouraged companies to share their profits with consumers, worth an extra £135 million in benefits through extra investments or reduced prices for consumers...
Email us your views on this report...
THINK TRAVELWISE ON DAYS OUT ACROSS MERSEYSIDE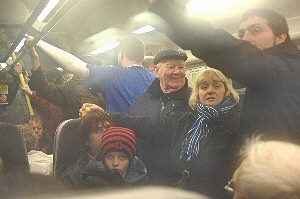 PEOPLE from across Merseyside are being encouraged to consider alternatives to the car, as part of TravelWise Week over 20 September 2010 to 26 September 2010. The annual sustainable travel awareness week – held to coincide with International Car Free Day on 22 September 2010 - is this year focussing on leisure time, encouraging people to travel by cycle, foot, bus or train when going on days out in the area.

To encourage people to think more creatively about their journey options, TravelWise organised a photography competition and the winning entries will be on display at the World Museum, Liverpool during TravelWise Week.

Photographers were invited to submit images of popular Merseyside landmarks and visitor attractions, incorporating a more sustainable alternative to the car – walking, cycling or public transport – into their picture.

Michael Fahy of Waterloo, who works at McBurney Refrigeration at Sandhills, was awarded first prize in the competition, which was judged by Councillor Mark Dowd, Chair of the Merseyside Integrated Transport Authority. As well as having his work on display at the World Museum, Liverpool, Michael has won an overnight stay for two at the Malmaison, Liverpool.

Runners-up prizes were awarded to Patrick Ferguson of Prescot, who will receive a Big Mersey Adventure Annual Family Pass, and Claire Trantom of Bromborough, who has won dinner for two at Halligan's Restaurant, Oxton Village. The under 16 age category was won by James Foreshaw, a pupil at Sherdley Primary School in St Helens, who will also receive a Big Mersey Adventure Annual Family Pass. All winners and runners-up will also receive a copy of their photo on canvas.

All the entries will be displayed at the World Museum, Liverpool during TravelWise Week and the ten shortlisted entries can also be viewed online at:- www.liverpoolecho.co.uk/environment.

Neil Scales, Chair of Merseyside Transport Partnership, said:- "We want Merseyside residents to make the most of their leisure time and hope that, away from the hustle and bustle of the working week, people will take the time to consider the alternatives to jumping in the car at the weekend. We have some of the UK's most exciting visitor attractions in Merseyside and TravelWise, with the support of funding from the European Regional Development Fund (ERDF), has been working with them to make it easier for people to reach their sites without using the car. A walk or cycle ride makes the journey part of the fun of the day and gets families out and about in the fresh air, as well as cutting congestion. We hope that members of public enjoy seeing what local photographers produced when asked to capture the best of what Merseyside has to offer."

Other activities being organised as part of TravelWise Week include a TravelWise roadshow, which will visit leading visitor attractions to give people information on sustainable travel and personalised travel advice to help with journey planning.

A TravelWise Bike Time ride on Sunday, 26 September 2010, will explore quiet routes around Crosby, showing budding and more experienced cyclists how pedal power can help people discover new parts of Merseyside.

The TravelWise roadshow will be at the following locations during TravelWise Week:

Southport Eco Centre 23 September 2010.
Anglican Cathedral 25 September 2010.

The Bike Time ride on Sunday, 26 September 2010, leaves Blundellsands and Crosby train station at 2pm.

Call:- 0151 330 1290 or visit:- LetsTravelWise.org for more information on TravelWise Week and advice on healthier, greener travel across Merseyside.