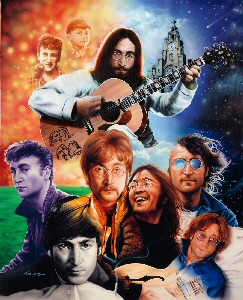 LIVERPOOL'S favourite son John Lennon is remembered in his hometown at the Official 30th Anniversary Memorial Concert.

Musical stars of all eras will unite on stage when the 'John Lennon Tribute Season' closes with a unique and emotional charity concert finale LENNON REMEMBERED, on Thursday, 9 December 2010, at the Liverpool Echo Arena. All proceeds from the concert will go to the Alder Hey 'Imagine' Appeal, Radio City's Cash For Kids and The Mathew Street Festival.

LENNON REMEMBERED will take place in John's birthplace 30 years on from his tragic, early death which shocked the world, and will commemorate what would have been his 70th birthday. The Memorial Concert, organised by The Cavern Club in association with Chas Cole, of CMP Entertainment, will form the climax of two months of celebrations of John Lennon's unique contribution to the cultural landscape, not only of the city of his birth, but also his immortal position in global popular music.

John Lennon's significance and appeal continues to span the generations, and musicians from every era will congregate on stage to remember, celebrate and perform unique versions of Lennon's most famous songs – and, no doubt, one or two forgotten gems alongside them as well.

Performers confirmed to appear will be announced in the weeks to come, as this event unfolds and undoubtedly builds momentum and becomes a highly-charged, long-awaited tribute to one of the City's, best loved sons.

John's half sister, Julia Baird, has whole-heartedly backed the Concert – along with the whole John Lennon Tribute Season. She said:- "This will be a very emotional evening, not only for our family, but I'm sure it will be a very special night for the other performers on stage and for the audience, as we all unite in our love for John and his wonderful, immortal music."

Bill Heckle, Director of The Cavern Club said:- "We have enjoyed many great musical nights in this City over the years, but an evening dedicated to John, attended by those who knew and loved him, as well as those who worked with him, plus the thousands of fans who, purely and simply, have been touched and moved by his music throughout our lives, will really make it into something special."

A Liverpool and worldwide occasion not to be missed and a celebration and emotional evening of the musical legend himself, LENNON REMEMBERED.

PERFORMANCE DETAILS - LENNON REMEMBERED
Liverpool Echo Arena - Thursday, 9 December, 7.30pm
Tickets:- £27.50, £19.50 (plus a limited number of higher priced gold circle tickets)

How to Book:- In person at The Echo Arena box office, Monarchs Key, Kings Dock Liverpool, L1 4BX or alternatively call:- 0844 8000 400 or click:- echoarena.com.
Wayfarers Unwrapped Charity Fashion Show Postponed
THIS show was scheduled for 30 September 2010, but due to what organisers say are "circumstances beyond our control", the event has had to be postponed. As of yet we do not know what the problem was, but we are happy to let you know that they will be running the event in March 2011. Further details will be sent nearer the time...
Local Woman Shares Advice on How to Save Pounds and Pounds!
LOCAL resident Emily Jones, from Southport in Merseyside has been shortlisted as one of 15 finalists in a nationwide hunt to find Britain's Savviest Shopper 2010. There have been almost 6,000 entries to the competition launched by Nectar in May this year and Emily's savvy shopping tip has put her in the running to win the coveted title as well as a shopping weekend in Paris

Nectar has searched high and low to uncover all the different ways we Brits save our pennies and find out how we treat ourselves thanks to our savvy spending habits.

Emily is one of 15 regional finalists chosen by a panel of savvy experts including Jasmine Birtles, founder of moneymagpie.com, and Justine Roberts, co-founder of leading parenting website Mumsnet.

Emily loves to get something for nothing and loves a deal. She collects Nectar points at Sainsburys everytime she gets her groceries and also through other online retailers at nectar.com. She has been able to buy a variety of games for her Wii with the points she's collected – getting the most out of her shopping.

Emily also buys some of her household items from the local pound shop:- "I save a fortune on cleaning products in the pound shop as I don't pay a premium for them and they're just as good as expensive ones. I'm really careful with my money and make sure that I also use online cashback sites and money off vouchers. I never go out without using a voucher whether it's for a meal or to the shops.

When it comes to treating myself with the money I've saved, as well as my Wii games, I love jewellery and in particular my charm bracelets. With the money I put away thanks to my savvy spending, I've managed to buy lots more charms and I've filled up four bracelets already, you can hear me coming in the high street!"

The savvy shopping trend is not only alive in Southport, it's sweeping the nation. A recent survey carried out by Nectar reveals that in order to save money, 32% of people in the North West just like Emily are using loyalty cards and vouchers where they can to make their money go further. In addition 40% of people are selling things on ebay that they no longer use, a sign that we are shopping with our heads rather than our hearts.

Claire Chandler, Head of Customer Marketing at Nectar comments; "Britain is clearly full of savvy shoppers. The entries we've received for Nectar's Search for the Savviest Shopper 2010 range from the more logical to some very imaginative hints and tips on how to curb your spending so you can have more money to treat yourself. According to our research Emily joins 39% of the nation who also use savings from their savvy shopping to go out for a meal at a restaurant. It can be extremely satisfying to watch those pennies rack up and you only need to make some very simple, often very small changes."

Emily's savvy shopping tip is now displayed on the Nectar website and the residents of Staffordshire can get behind her and help her win the much coveted title of Britain's Savviest Shopper. Go online to nector.com to vote for Emily!
The finalist will be announced in October and will win a weekend break for two to Paris on the Eurostar, spending money and 40,000 Nectar Points to treat themselves with.